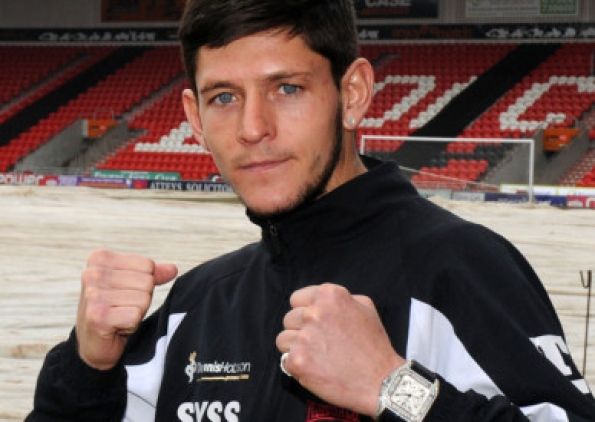 British boxing's newest world champion, IBF bantamweight title holder Jamie McDonnell is at the top of his game and on the verge of the big unification fights that will guarantee him financial security for the rest of his life, but it was not so long ago that the Doncaster fighter felt he had no future in boxing.
McDonnell, 27, was crowned world champion after his points win over Julio Ceja in his home town's Keepmoat football stadium in Doncaster earlier this month, but it hasn't been all plain sailing for him and he still cant believe he is a world champion!
After losing his 10th and 11th fights, first to Chris Edwards in December 2007 for the British super-flyweight title and then to Lee Haskins in March 2008, both on points, McDonnell was in the boxing wilderness and couldn't see where his future lay in a sport he wasn't taking too seriously. But all that was to change and the boxers fortunes began to change and with it his attitude to his career.
But after joining up with new coaches Dave Hulley and former pro, Stefy Bull in 2009, McDonnell totally turned his career around, going onto win British, European and Commonwealth titles, before claiming the world title in what has been a tremendous turn around. "There was no vision for me back then," McDonnell told the Doncaster Free Press. "I couldn't see myself doing anything.
"I always knew I had it in me but I'd never trained hard, never dug in and never put everything into a proper training camp.
"I'd never done anything right until I started training with Dave and Stefy in 2009."
A year after joining his new coaches, McDonnell was offered a shot at the British title against champion Ian Nappa, on the line that night was the vacant Commonwealth belt too. The Yorkshireman narrowly outpointed London stylist Nappa that night and getting his hands on the Lonsdale belt that night in Essex, was his springboard to the top.
But McDonnell admits that when he was offered the fight with Nappa for the British title, he didn't even know what one was! McDonnell was never a boxing fan and never followed the game. He did it because he was good at it and it was a wage, but he soon realised winning titles would increase his fight purses and it became serious, although McDonnell explains, he still cant believe he is a world champion.
"I didn't know what a British title was. I don't follow boxing at all," added McDonnell.
"To be honest, when I won that I thought 'hello, a nice bit of money here, particularly when I got the European title fight straight after.
"But as soon as I beat Jerome Arnould for the European title my attitude changed.
"He was the first kid with a really good record I'd faced and I dusted him away. I stuck to a game plan and it was easy.
"That's when I knew I wanted to be a world champion and that I was capable of doing it.
"I knew I wanted to knuckle down and make something of myself."
"It hasn't sunk in yet. I'm world champion. I just can't believe it.
"It still hasn't sunk in that I won all those other belts so I don't think this will ever sink in."
Watch the Full Fight, when Jamie McDonnell defeated Julio Ceja to win the IBF world title continue to the next page.