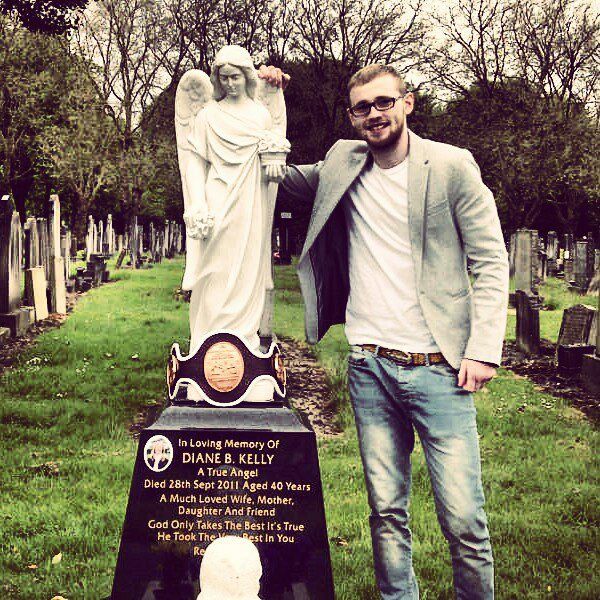 Unbeaten Manchester light-middleweight Jimmy 'Kilrain' Kelly won his first professional title on Friday night, when he outpointed (79-75) Atherton's William Warburton over 8 rounds, at the Wythenshawe forum, and the first thing young Jimmy did was to take his new British Masters Bronze light-middleweight belt to his late mothers graveside.
Jimmy's mam Diane passed away in 2011 after a battle with cancer, she was Jimmy's biggest fan and went to all his amateur fights. Diane was a big inspiration for Jimmy and she was the first person on his mind as soon as he lifted the belt. Diane never got to see Jimmy fight professionally, she passed six months before he made his debut. But as always, the morning after his fight he made the short journey to Southern Cemetery and this time he had a shiny new belt in hand and how proud she would have been.
"It feels amazing winning the first belt as a professional and I look at the belt with pride, but I want more." Kelly told BritishBoxers.
"I took the belt to my mums grave stone the next morning and the feeling was emotional. I look forward to many more times like that and taking the Lonsdale belt but all in good time.
"I just want to get the rounds and build my experience up, I've won the masters bronze and now I want to win the silver and the gold and then go for the major titles."
Jimmy was originally lined up to face Birmingham's Max Maxwell, but the veteran pulled out a week before the fight leaving team Kelly looking for a suitable replacement opponent and in came the tough Warburton.
"My point of view was I thought I won every round." said Kelly. The referee gave a few rounds even, but watching it back I certainly think I deserved a clean sweep.
"But its all experience and Warburton knows how to survive, hes tricky and in over 50 fights has only lost twice by stoppage. He also knocked-out Chris Higgs last year, Higgs was unbeaten in 12 at the time so I knew he could be dangerous if I lost any concentration, but I always felt in complete control and I'm happy with the performance and thankful to Chris for giving me the experience."
Whats Next?
"(coaches) Ensley (Bingham) and Maurice (Core) were very chuffed with me and happy that I got the rounds under my belt and showed good endurance and stamina and it will push me upwards.
"Training for the fight was very hard so a good rest is needed, I'll have a nice relax with my dad, sister, girlfriend and friends, who I have missed the last eight weeks. When I get back I'll meet with the team for some food and bounce ideas off each other and see where we go from here, but I want to keep busy."
On the undercard
Champs Camp gym mate of Kelly, unbeaten (6-0, 4KOs) featherweight 'Ruthless' Ryan Doyle (pictured) had his first fight in in six months when he outpointed Michael Escobar winning every round (60-54) against the tough Spanish based Nicaraguan who took Scotty Cardle the distance in February.
Doyle, 21, has a good selection of punches and this exciting prospect hits hard. But Escobar knows how to survive and Doyle needed the rounds. It was a good all action fight and Doyle came forward all night looking to back up his smaller opponent behind his good jab. Escobar didn't come to lie down and was constantly looking to get off his own shots. But Doyle tucked up well and always was in control of the fight. The last round both went for it which topped off a really good match-up.
Doyle is developing into a good professional, he is a strong well built featherweight, with good skills, and his determination and self belief will see him make a big splash at domestic level in the next couple of years. Doyle has had trouble getting matched up and has had fights fall through at the last minute. He will need to keep busy now if he is to develop into the fighter I think he can. Doyle is a prospect to certainly keep an eye on.
Another local fighter you might also want to make a note of is Kofi Yates, a light-welterweight rookie, now 2-0, after outpointing Nuneaton's regular ring campaigner Kristian Laight  over four rounds (40-37) 
This Ricky Hatton lookalike, is not to dissimilar in style either to the 'Hitman' and likes to get inside and work to the body. Hatton was ringside at the Wythenshawe forum with his son Campbell and must have liked what he saw in Yates, who is all action and always fights on the front foot. Yates put in a good shift against the seasoned Laight to rack up his second win since turning pro in March. 
Salford's former European super-featherweight champion Steve Foster Jr. was back in action since his British title challenge defeat to Gary Buckland last December, winning all four sessions against Aylsham's Scott Moises (40-36).
Foster has recently switched trainers after working with Maurice Core and Ensley Bingham for the last  few years, he is now being trained by former British and European light-middleweight champion Jamie Moore and is being lined up for a another title fight soon.
Liverpool super bantamweight Anthony Smith took his record to 4-0, after outpointing Fenton's Brett Fidoe over 4 rounds (39-38)
Daniel Watson outpointed Rick Boulter over 4 rounds
Sam Omidi outpointed Drew Campbell over 4 rounds
Click continue to watch the full fight card video from the Wythenshawe forum