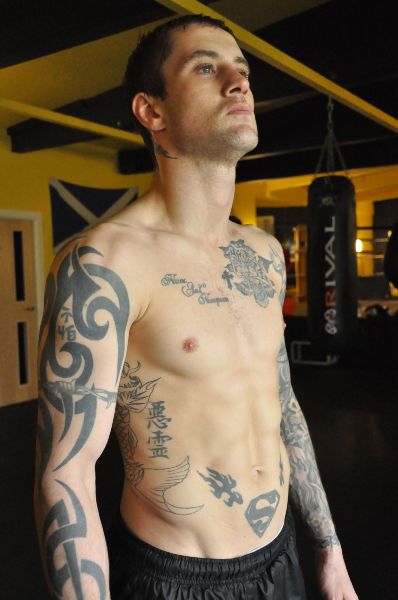 Ricky Burns paid tribute to his opponent Jose Gonzalez after the Puerto Rican gave him a difficult old time in his Glasgow home on Saturday night, and for a while looked like he was going to separate him from his WBO lightweight world title. Burns did well to tough out an hard fight and retain his belt, but his performance has got him thinking, that maybe he needs to go back to the drawing board!
The champion shown what he is made of once again and came through a fight that he was losing, like a champion, to break Gonzalez' will and persistance, after taking all his challenger had, coming back to turn the fight in his favour.
At the end of the 9th round Gonzalez slumped on his stool, he looked dejected. Knowing he had hit Burns with everything and given all he had, and the Coatsbridge man was still standing and getting stronger, and injured or not Gonzales realised this was the champions territory and he had nothing left.
And that was the last we were to see of Gonzalez, who in-front and with just three rounds left to see out to take the title, he quit sighting a broken wrist, but as tough as he was it seemed Burns just knocked the fight out of him through pure heart and determination to avoid defeat and losing his belt.
Burns, in front of his amazing fans who had brought the house down on his introduction, was constantly troubled for most of the fight by Gonzalez' counter punching style, that at times looked world class and had Ricky looking void of ways to get a grip of the action and turn the fight around.
Gonzalez, with his switch hitting style and long reach was able to judge his range perfectly, he was landing while himself always out of range and had Ricky hitting thin air a lot and getting frustrated. "I knew going into the fight he was a good boxer and that he could punch, and he was a very heavy hitter in both hands, and we knew he was going to be awkward. I take my hat off to him, he's a class, class opponent, very good technically and very hard to hit." Burns said.
"We couldn't get much footage of him, the only clips we could get were of him knocking boys out. I thought he would have been a come forward fighter, but his arms were so long. He caught me with a few good shots, but I proved I can take a good shot. He did hurt me in that round, but that's when I just decided to stand my ground and trade back with him.
"Maybe I was guilty of over stretching as well. I'm out there to make the fight exciting, but maybe I need to go back to the drawing board a wee bit."
The turning point of the fight!