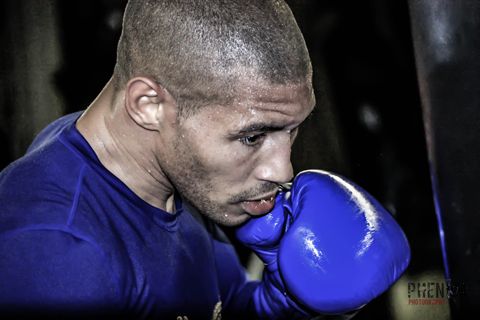 Ashley 'Treasure' Theophane is the former British light-welterweight champion. He won the belt by defeating Lenny Daws on points in Febuary 2011 at Wembley Arena. After two successfull defences against Jason Cook and Ben Murphy, Theophane lost his Lonsdale to Darren Hamilton in a close decision in May 2012.
Since then the Londoner has had two comeback fight and is set to establish himself again not just domestically but on the world stage again. BritishBoxers.co.uk caught up with Ashley who is in America training, we find out what he has been up to and what his plans are for the future, including his take on the current British boxing scene.
You last fought in Luxembourg a first round KO win and you won the 'Global Boxing Council welterweight title' – That was in December 2012, so nearly six months out of the ring. Why the inactivity and what have you been doing since then?
I've spent nine weeks in Las Vegas training at the Mayweather Boxing Club, training with Floyd himself and I was flown to New York City for 2 weeks by former world champion Luis Collazo who fought Ricky Hatton, Andre Berto and Shane Mosley.
This year I've sparred former two weight world champion Celestino Caberello, former world champion Luis Collazo, world number 5 Shawn Porter, world number 15 Vernon Paris, the money team's Mickey Bey, US Olympian Errol Spence Junior, former world number 5 and 2x US amateur champion Semajay Thomas. These are some of the best boxers around.
I've had a fantastic and productive year in America so far. No other British fighter is getting this quality work. If that's lack of activity then I don't want to be busy.
I've been working hard in the gym to become a better fighter. I'm respected State to State and coast to coast in America. The work I put in the gym is of the highest order with some of the best coaches in the business.
Ashley sparring with Shawn Cameron at Gleason's Gym June 4,2013
S0 you really living it up in America? Good on you!
I wouldn't say I'm living it up. I work everyday. I'm one of the hardest working sportsmen in the world. My childhood dream was to fight and train in America. That's what I'm doing.
Were you meant to box on 18th May in Essex?
I was due to fight on Miranda Carter's left jab promotion but the show was cancelled due to unforeseen circumstances, which was a shame. Britain's top promoters Frank Warren, Eddie Hearn and Mick Hennessey have all cancelled shows. it happens in boxing.
Are there any Fights in the pipeline for you?
A promotional group in New York offered me a promotional contract last week and I was offered an eight round fight on Bernard Hopkins undercard at the Barclays Centre in Brooklyn in July. There's been talk of fights in New Mexico, El Paso, Missisippi and Washington.
There is loads in the pipeline. It will be announced at the appropriate time.
What is your plan for the next few years of your career or do you not think that far?
The plan is the same as it has always been, to fight the best fighters in the world. I'm one of the best fighters in the world and I want to continue where I left off when I beat Delvin Rodriguez who went on to fight for the world title after I beat him and I chose to win the British championship but now I'm back. I put in great performances in sparring against great fighters.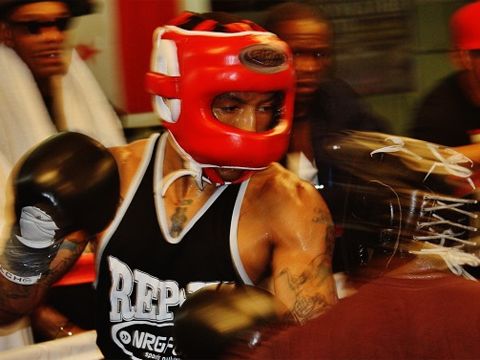 Its about doing it in the fights when the lights is bright. My team are working on this but these things take time. I may want to fight a fighter but he may not want to fight me. Professional boxing is a business first and foremost and the fans need to realise this.
Floyd Mayweather has been a professional boxer for 17 years. I've only been a professional for 10 years. I'm far from retirement! My best performances are ahead of me.
I'm currently an ambassador for Wellman Vitabiotics which have an advertisement campaign featuring yours truly in 15 magazines a month in the UK. GQ, Esquire and Mens Health are some of the magazines you might see me in.
I'm also an ambassador for Ted Baker, NRG Fuel and High5 Nutrition. I'm living my childhood dream. I'm one of the best british fighters around so its only right I'm associated with the best of British companies.
When I'm in the UK I will also be working more alongside Steve Bunce on BoxNation Television as a pundit and doing motivational talks in schools, youth centres and at sport events.
What is your view on the current British Boxing Scene?
We have four world champions and loads of world ranked fighters. It's okay! British boxers don't seem to travel well when they come out of their comfort zone and leave the British shores. They've become a laughing stock in America. They need to look at this problem and solve it.
Which of your British boxing counterparts do you admire presently?
Carl Froch is an amazing athlete. He will fight anyone, anywhere, anytime and David Haye is another British fighter who is incredible. Winning world titles on foreign soil is not easy as we have recently seen. I admire both of these warriors.
Which British boxers coming through the ranks have caught your eye and who do you feel fans should look out for?
I recently met Olympic gold medallist Luke Campbell at Gleason's gym in New York and he is a major talent. He also trains with Carl Froch's trainer which can only help him to climb the mountain of professional boxing.
What do you think about Carl Froch taking on one of his British rivals, there has been talk of Groves, DeGale even Cleverly at catchweight! Are these fights you, the fans would like to see or should Froch concentrate on Ward, Kessler III ?
Carl does not need them. I think it would be an easy nights work for him so why not. He's been in loads of super fights and deserves some easy nights at the fights.
Kessler, Ward and Bute are the fights for Froch at 168lbs. I'd like to see him fight Pascal again or even Chad Dawson, Bernard Hopkins or Tavois Cloud at 175lbs. What Carl has achieved over the last 5 years, he should be a superstar in the UK.
Can I get your views on these potential British match-ups, do they excite you as a fan and who wins and why?
David Haye v Tyson Fury?
I know David from the amateurs and I've met Tyson a couple times. They are both nice guys. I think David would win by knock out. He is above any British Heavyweight currently around. Only Evander Holyfield has been undisputed cruiserweight champion and gone onto win the Heavyweight title. David Haye isn't appreciated for his boxing achievements as much as he should be.
Carl Froch v George Groves?
Carl is another fighter who is above any British fighter in his weight division. I think he would win.
Scott Quigg v Carl Frampton?
It is an even fight and any of them could win.
Amir Khan v Kell Brook?
Amir Khan has proved he is world level even if he is going through a shaky time right now. I've been in the ring with better fighters than Kell. Kell has the talent against lower level opposition but as he's yet to fight the level of fighters Khan has I'll have to go with Amir.
Frankie Gavin v Denton Vassell?
I've not watched much of these two fighters. Its a good fight for both guys. Very even!
Martin Murray v Matthew Macklin?
Murray and Macklin are highly respected Stateside. It would be a great fight and I'd love to watch it.
Gavin Rees v Anthony Crolla?
Gavin Rees has fought at a much higher level than Anthony. Anthony is a good fighter who is always entertaining. Its a big fight for him. I side with Gavin on this one.

Are you still enjoying Boxing as a fighter and as a fan and what events are you looking forward to?
I started boxing as a fan. Nowadays I'm only interested in the big fights in my weight division and the big fights around the world.
I love boxing as a fighter. I love what I do. Very few fighters around the world get to my level.
I'm more appreciated and respected as a fighter in America. This was always my goal so I'm actually living the dream I had in my head as a four year old kid watching Mike Tyson. I wanted to fight and train in America with the best and this is what I'm doing.
I receive so many messages from fellow boxers and just normal people about how I inspire them to achieve their own goals. That's good enough for me and helps me to keep pushing hard in the gym.
Continue to Read more on Ashley and more training footage.