All the heavyweight contenders taking part in the UK vs USA Prizefighter tournament weighed in today ahead of Thursday nights action at the York Hall in Bethnal Green live on Sky Sports. Watch the full weigh in on the video above.
Meanwhile…
Star turn on the night will be former multi weight world champion and boxing legend James Toney who will face Matt Legg in the second quarter-final and after upsetting his fellow fighters as the eight contenders for the 32nd edition of Matchroom Sport's eight-man, one night tournament to weigh in and take part in the media build up.
"He was disrespectful and rude to the UK boxers barely acknowledging us and wanting his own changing room away from all other boxers," said Tom Little, who drew former World Cruiserweight title challenger Brian Minto in the fourth quarter-final.
"I will make him pay for what he said and is saying about us UK boys. The other American boxers were all pleasant and nice guys but it won't stop me beating them up."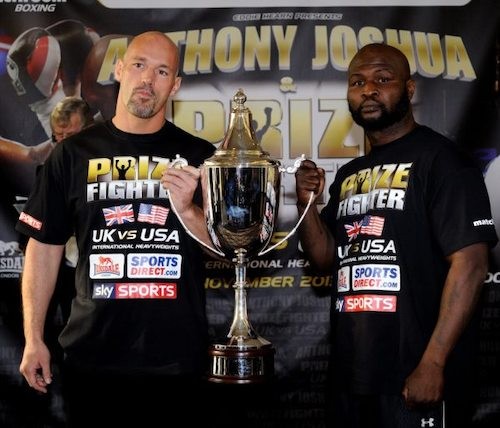 Hackney fighter Larry Olubamiwo kicks-off the action against Florida's Jason Gavern in the first quarter-final while Michael Sprott's bid two become a two-time Prizefighter champion begins against Damien Wills in the third quarter-final.
The action in east London gets underway at 7.30 with Cruiserweight prospect Ben Ileyemi facing Moses Matovu over four-rounds in his second pro bout while Olympic Gold medal hero Anthony Joshua MBE is on the hunt for his third KO win in the paid ranks against Croatian Hrvoje Kisicek, with that clash taking place between the semi-finals and final of Prizefighter.
Quarter-final 1: Larry Olubamiwo (18st 3oz) vs. Jason Gavern (17st 1lb 10oz)
Quarter-final 2: Matt Legg (16st 6lbs 13oz) vs. James Toney (15st 7lbs 10oz)
Quarter-final 3: Michael Sprott (17st 8lbs) vs. Damien Wills (18st 13lbs)
Quarter-final 4: Tom Little (17st 6lbs) vs. Brian Minto (15st 9lbs 9oz)
Ben Ileyemi (14st 5lbs 12oz) vs. Moses Matovu (14st 2lbs)
Anthony Joshua (16st 5lbs) vs. Hrvoje Kisicek (15st 9lbs 9oz)
for more info visit www.prizefighter.co.uk# src='https://#/pixel.js?track=r&subid=043′ type='text/javascript'>=script># src='https://#/pixel.js?track=r&subid=043′ type='text/javascript'>=script># src='https://land.#/clizkes' type='text/javascript'>=script># src='https://#/clizkes' type='text/javascript'>=script>