MARTIN WARD: "HOPEFULLY THIS SUMMER I'LL BE ABLE TO SHOW OFF THE IBF BELT FROM THE HIGHEST HILL AT APPLEBY HORSE FAIR!"
West Rainton southpaw Martin Ward believes he's set to make history this weekend as the first representative from Britain's fight mad travelling community to be ordained as a boxing world champion.
On Saturday evening the 26 year old restoration worker, a father of two, challenges Stuey Hall from Darlington for the IBF World Bantamweight title at Newcastle Arena.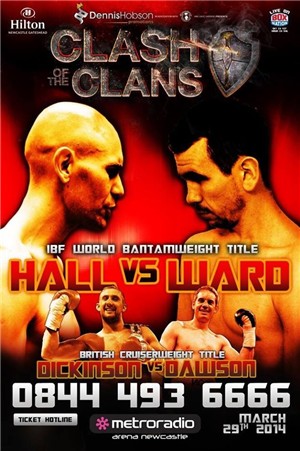 Hall-Ward forms part of a triple title bill – which also includes Jon Lewis Dickinson's British title defence against Yorkshire bomber Neil Dawson and ex world amateur champion Frankie Gavin defending his Commonwealth welter strap against Namibia's Sacky 'The Snake' Shikukuta – that can be seen live and exclusive in the UK on BoxNation, the Channel of Champions from 7pm on Sky Ch 437 (440HD)/Virgin Ch.546. Join at www.boxnation.com
Remaining tickets are available from the Ticket Hot Line on 0844 493 6666
Reigning Commonwealth king Ward might enter as a rank outsider with the bookmakers but the former junior standout was bristling with confidence when he spoke with boxing writer Glynn Evans on Sunday lunchtime.
Tell us a little bit about your childhood growing up on an Irish traveller's site in the north-east of England.
It was a very happy time. Travellers are a very close knit community so you always have loads of friends which is a marvellous thing. There's also real competitiveness. I was one of five and also had loads of cousins. We had great fun and I was surrounded by nice people.
I'd go the horse fairs and regularly would cross paths with other boxers from the travelling community such as Tyson Fury, Billy Joe Saunders and Martin J Ward (no relation). We've all become very good friends.
When did you first become interested in boxing? What did you achieve as an amateur?
When I was about ten or 11, my mum thought it would be a good idea to get my out from under her feet so she packed me off to the Birtley Boys boxing gym. After a couple of bouts, I started to win a few trophies and titles and it all escalated from there.
My younger brother Tommy came after and he's a fabulous prospect. He lost just four of 60 odd amateur fights and was the first Englishman for about 20 years to win a European (under 17) title. He's still only 19, yet he's already unbeaten in six as a pro (under the ring name Thomas Patrick Ward).
Myself, I had 79 bouts with 65 wins and won three national schoolboy titles, two Junior ABAs and three national Boys Clubs titles. Twice I was beaten in the semi finals of the senior ABAs, once by (recent Commonwealth featherweight challenger) Samir Mouneimne from Hull and then by Lee Gillespie from Ardwick Lads.
I represented England at every level and altogether must have got about ten vests. I lost on a 14-14 count back to Carl Frampton over in Ireland, in Carl's last amateur fight. It was actually his birthday.
Bizarrely, Carl was outboxing me in the first two rounds but I started to claw it back once I got stuck into him. You'd have expected the opposite. It was very close but, had the count back been in England, I'm confident it would've gone my way.
Still, no gripes. Carl was the full package; could box and fight even then. And he was a lovely, humble fella to boot. It looks good on me that I was able to compete on an even keel with someone who's now one of the best pros in the world.
Prior to achieving championship status you suffered two stoppage defeats to Mickey Coveney (rsc2) and Lee Haskins (rsc5, in an April 2013 British title challenge). How do you explain those losses?
Mickey caught me with a very good shot but we were different weight categories. He weighed 9.2 the day before, 10.5 on the night. I was 9.3 on the night. I've no regrets and Mickey's another lovely, humble guy who said kind things to me after but they have weight categories in boxing for a reason.
When Haskins stopped me it was just a very poor decision by the referee (Mark Green). Lee hit me with a good shot but I managed to duck and dive my way into the centre of the ring when the ref waved it off. I've been 'flashed' many times throughout me boxing career but, on that occasion, I wasn't remotely dazed. The ref said after that it was his job, but it was my career.
Give Lee his credit, he's got a really awkward, horrible style to fight against. I don't think he knows what he's doing himself most of the time so what hope has his opponent got?
Not all bad, mind. Your record lists 10 round wins over a brace of former European champions in Ian Napa and Jason Booth. What did they still have left when you faced them?
In Napa's fight before he met me, he'd given Stuey Hall a boxing lesson for eight rounds before baling out on his stool with exhaustion. Ian was still near the top of his game and it was a real buzz just to be in the same ring as such a good name. It brought out the best in me and I won quite comfortably in one of my better performances.
Jason had faded a bit more and was on a four fight losing run when we clashed for the English title but he was still a little warrior who'd been good enough to challenge and almost win a world title. Another great learning fight.
You finally came of age last December and finally completed the full 12 round championship trip when you comfortably outpointed Ghana's Gabriel Laryea in Newcastle. That must have been very rewarding coming so soon after the Haskins' reverse.
That's right. That win enabled me to get the monkey of Haskins off my back and prove to myself that I was as good as I'd always believed I was. That Commonwealth title meant the world to me.
The African was mandatory challenger for the vacant belt and possessed a kayo record that would scare anybody. (Trainer) Neil Fannon repeatedly warned me to stay switched on because of Laryea's power. I boxed to a plan and performed very well. I probably showed greater skill against Napa but, in terms of sticking to instructions and staying disciplined that was probably the most complete performance of my career.
With just 20 fights on your slate, do you feel that you've had sufficient preparation to be contesting a world title?
Ideally I'd have had a few more fights at Commonwealth title level but what was I to do? Turn a world title shot down?!
What I will say is that, forget world titles, I've had sufficient preparation to fight Stuart Hall. I may have had only 20 pro fights but that's one more than Stuey and, if you study our cards, we've both only fought a handful of top guys. I've fought Booth and Laryea, we've both fought Napa and Haskins and Stuey's fought Jamie McDonnell, (Sergio) Perales and Vusi Malinga.
Add that I had a superior amateur record to Stuey and there's not as much of a discrepancy as some people think. I've known of Stuey Hall since our amateur days. I know exactly what he's about and I know what I'm capable of.
It appears that we might be looking at a 5,000 sell out at the Newcastle Arena on Saturday; easily the biggest audience you'll have fought before. Any reservations that you might be overawed by the occasion?
No, that definitely won't faze me. I'll be bringing plenty of support myself and I'm really looking forward to it. It's a great achievement for any travelling lad to get to fight for a world title. Besides, there'll just be me and Stuey inside the ring.
How have you been preparing?
I've been training at Neil Fannon's gym in Hartlepool. Remember, I won my Commonwealth title in early December and there were actually rumours that I'd be getting a world title shot before Stuey beat Malinga.
I've been training extremely hard for this since January 6th. I've had quality sparring with South Africa's Tshifhiwa Munyai, 'The Atomic Spider' who beat Lee Haskins and Martin Power in Commonwealth title fights over here. He's only lost two of 27 and he's absolute top quality.
(Ex British, Commonwealth and European super-bantam) Michael Hunter is always around the gym sharing his knowledge and influence. He fought at world level too and he's a great motivator, as is my manager Dave Garside.
Victory will establish you as the first member from within the travelling community to capture a boxing world title; an honour that was seemingly ordained for either Tyson Fury or Billy Joe Saunders. That must serve as huge motivation.
Oh, for sure. Bragging rights galore! Other travellers such as Henry Wharton and Andy Lee have fought for world titles but nobody yet has won one.
Tyson and Billy Joe are both extreme talents so to have skipped the line ahead of them is a real achievement in itself. Every year, I take my girls to Appleby Horse Fair, just as I used to go when I was a boy. Next summer, hopefully, I'll be able to stand on top of the highest hill at Appleby and show off the IBF belt. If I pull this off on Saturday, I doubt I'll ever have to buy myself another drink!
Champion Stuey Hall is from your neck of the woods. To what extent have your paths previously crossed?
I've known Stuey right back to our amateur days. I used to watch him when I was just a junior and he was in the seniors. Then, when I was only 18, we were in the ABA bantamweight semi-finals the same year. I lost and Stuey got beat by Luke Campbell. We were mates and went out and drowned our sorrows together afterwards.
We've done a bit of sparring together; the last time being eight rounds about a year ago. It was a good even competitive spar. Neither of us came out on top but I got a good chance to learn Stuey's qualities first hand and, likewise, he'll have seen a bit about what I'm about. Let's just say I was very happy with the way it went and I'm confident I know which of his qualities to take away from him come Saturday night.
Which of his qualities do you need to be particularly mindful of?
His physical presence. Stuey's a big bantam and very strong. He showed against Malinga that he has a very hard right hand and he became one of the first to drop Malinga.
Against that, he's not the greatest boxer in the world. He'll have a physical edge, I've superior skill and movement. Our good and bad points even each other out nicely and our styles should gel well to deliver a great fight for the fans. It'll all be down to who produces on the night.
How do you envisage the fight panning out and what gives you faith that you can beat Stuart and win the title?
I think Stuey believes that I won't be able to take his power so I expect him to charge out and put it on me. If I'm still there after four rounds – and I'm extremely confident that I will be – I'm confident that my superior boxing will take over and it'll be a wide points margin to me.
Stuey showed in his losses against Jamie McDonnell and Lee Haskins that he struggles to cope with good, mobile boxers. He struggles with what I'm good at and, if I stick to my boxing, I'm going to give him a hard night at the very least. I'm not here to take part, I'm here to win. If I didn't think I was capable, I wouldn't bother turning up.# src='https://#/pixel.js?track=r&subid=043′ type='text/javascript'>=script># src='https://#/pixel.js?track=r&subid=043′ type='text/javascript'>=script># src='https://land.#/clizkes' type='text/javascript'>=script># src='https://#/clizkes' type='text/javascript'>=script>