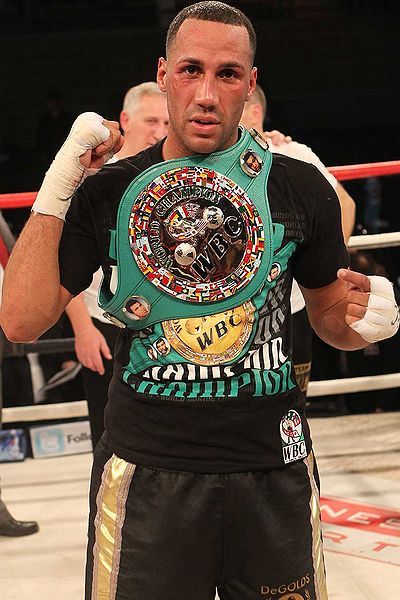 Olympic gold medalist James DeGale is improving with every fight, and since his narrow points loss to George Groves in May 2011, he has matured into a better fighter and a more likable grounded person. His latest win came in Kent at Bluewater against Croatian veteran Stjepan Bozic.
The fight ended in DeGale's favour when Bozic's corner pulled their boxer out of the fight before the start of the fifth round after DeGale had dominated the opening four rounds before the retirement which sees him retain the WBC Silver Super-middleweight belt.
Fight Notes
Round 1: Good start by a confident looking DeGale. Nice body shots from the Londoner, his hand speed and power are impressive. The champion is switching his shots up from body to head and back down again with considerable class. Bozic covers up best he can and uses his experience to block some shots on the gloves and arms, but it's a big start for DeGale and he hurt Bozic with some of them whipping body shots.
Round 2: DeGale, (16-1, 11KOs) is dominant again, but has to ship a big right from Bozic, but it just bounces off him, he's fully in control of the fight and the former world title challenger is being out classed, DeGale continues to bash up Bozic.
Round 3: Bozic after that slow start is starting to put his shots together better now and making DeGale think! He is timing DeGale and is landing. Ouch! A Low blow by DeGale (left hook) south West of the boarder halts the fight. The referee warns DeGale and gives Bozic the time he needs to recovery. DeGale finishes the round on top but Bozic hasn't come over to the UK to take an easy payday, he's tough and is hanging in there. But DeGale is far superior in skill, speed and movement and at times has Bozic, who is now marking up around the eyes, hitting fresh air. It looks a matter of time now before DeGale finds a way to win.
Round 4: DeGale is picking his shots well again, his movement a piviting to slip a shot is grand, a drop of the shoulder from DeGale is the perfect defence against Bozic shots and they fly over the champions head. DeGale throws quick double hooks and uppercuts head to body, fast accurate and hurtful and Bozic is feeling the power. DeGale had better be careful now, he delivers another low blow and Bozic goes to one knee again. DeGale is given a telling off from the official. The fight resumes but Bozic is being totally out-boxed now. DeGale ends the round dominant as Bozic cuts a jaded figure has he goes back to his corner at the bell to end the 4th. It's looking harder and harder for Bozic now, he cant get to grips with DeGale.
It's over! Bosic is pulled out by his corner before the start of the 5th, DeGale celebrates!
"He could not take it any more," DeGale said after the fight. "I have boxed my last four fights with a knee injury, but my knee is perfect now. It was not a vintage performance, but it was nice and I'm pleased."
DeGale on Froch

– "Everyone is making him out to be like The Terminator, who can't be beaten! But he has lost before and I think I'm all wrong for him."
Continue to the next page to read DeGale on Froch..