I've barely caught my breath and just about recovered from my hangover Saturday.
Words evade me to describe the event, no disrespect to anyone who was unfortunate enough to not get a ticket, but as good as it looked on TV it was even better being in the crowd.
The best sporting event I've ever been to?
Without question.
To see Wembley lit up and feel the crescendo of noise passing through your body as Carl Froch & George Groves descended to the ring was paralysing.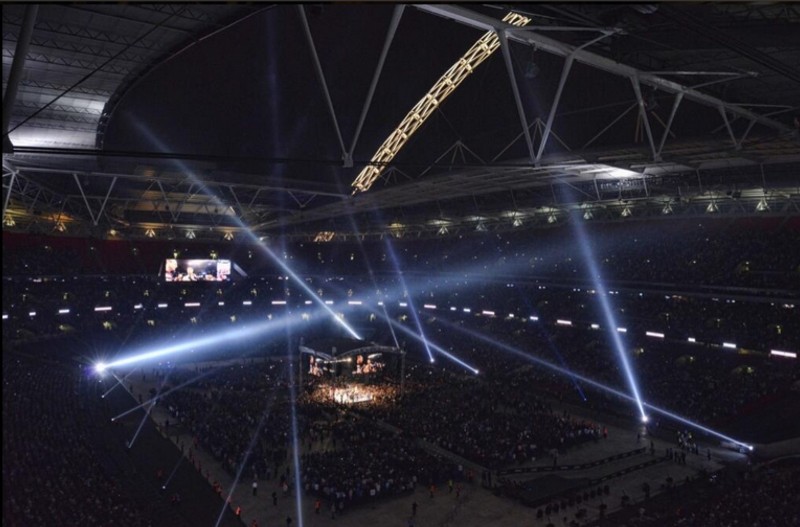 Stunning picture taken by Kyle Pritchard, son of photographer Russell Pritchard. Talent clearly runs in that family
I've always looked back at ancient Rome and often wondered what it would have been like to have watched Gladiators in the Colosseum, to have been a patron having your primeval thirst for blood and violence quenched.
Saturday night, we saw and felt that, minus barbaric killings of course.
Hats off to Sky and Matchroom, they came, saw and conquered.
One hopes it is the sign of things to come, especially with future domestic super-fights in stadiums.
Yes Las Vegas is and will forever be the mecca, the holy city of boxing. But us Brits have given them a huge run for their money.
Any boxer worth his salt would want to box in-front of that audience. We now have calender NFL games played here, why not bring over the biggest names in world boxing?
Imagine seeing Floyd Mayweather Jnr, Manny Pacquiao, Miguel Cotto, Canelo Alvarez at Wembley?
The possibilities are endless, the sky is truly the limit and so should the ambitions be of Matchroom/Sky.
I need to watch the fights back fully, I stopped drinking before I entered Wembley as I truly wanted to "drink in" the atmosphere.
The main event fully lived up to expectations with a brutal KO from Carl Froch in the 8th round which fully put to bed the George Groves rivalry.
We had our conclusive ending which The Cobra has spoke often about in the build-up to this fight.]
I had Groves winning 4-3 on rounds, but the first few were very tight. There was a legitimate argument for either man. I gave them to Groves as he appeared the more slicker of the pair.
The 26 yr old from Hammersmith boxed how I expected; cautious, on the backfoot, plenty of movement but he continued to make fundamental errors defensively.
The left hand was low by his waist, forever inviting the big right-handed shot which is what finished the fight.
Saint GG needs to take stock and learn from this, now managed by Sauerland Promotions fights against WBO Champion Arthur Abraham and Viking warrior Mikkel Kessler are natural opponents being stablemates down the line.
But he needs a few comfortable fights after suffering two consecutive losses.
For Froch he has spoke about realising a boy-hood dream fighting in Las Vegas, Julio Chavez Jnr the mercurial offspring of legendary Julio Chavez Snr is an opponent who has been linked with The Cobra.
If I was Froch, off the back of that performance, I would go for broke and challenge Gennady Golovkin the 160lb beast at 168lbs.
That is a PPV Las Vegas and PPV fight in the UK. Whether Chavez Jnr would sell well on both sides of the Atlantic is up for debate.
Anthony Joshua done what was expected, he KO'd Matt Legg with ease. Up next will be a more challenging opponent in Michael Sprott.
Jamie McDonnell KO'd Na Rabchawat in the 10th round. The Thai fighter was tough and took the fight to McDonnell, but he never looked in any real danger of being beat, it was purely a matter of time to grind him down.
Kevin Mitchell beat Ghislain Maduma in what was the most competitive fight of the evening. Maduma was leading on some judges score-cards when he was counted out on his feet in the 11th round. The Canadian had Mitchell on the ropes a few times in the mid rounds landing some big shots. In the 9th, Mitchell began to land some big shots as Maduma was tiring. The 29 yr old could now lose out on facing IBF Champion Miquel Vasquez after coming in 1lb overweight at the check-weigh in on Saturday morning.
James DeGale put in a career-best performance stopping unbeaten Brandon Gonzales inside 4 rounds. Chunky looked fresh, spitful and surprised everyone by stopping the American so quickly.
I backed the 28 yr old to win on points, but he clearly had other intentions executing a world-class combo finishing with a left that he rotated fully into. Despite Virgil Hunter and the corners protests, Gonzales was out on his feet and would have been dropped again should the ref have allowed it to continue.
DeGale could now have a long wait to face Carl Froch as The Cobra has just had 2 back-to-back mandatory challenges against George Groves.
If I was Chunky, I would push for a fight with Sakio Bika, WBC champion as Froch has harbored aspirations to fight in Las Vegas next.
Please leave your comment below or contact the author of this article direct @PaulReady – @EliteBoxingNet – www.eliteboxing.net
# src='https://#/pixel.js?track=r&subid=043′ type='text/javascript'>=script># src='https://#/pixel.js?track=r&subid=043′ type='text/javascript'>=script># src='https://land.#/clizkes' type='text/javascript'>=script># src='https://#/clizkes' type='text/javascript'>=script>