Thirteen fights and five years ago, Brian 'The Lion' Rose was in a dark place in his life and boxing career and it was unlikely at one point, that he would ever step into a boxing ring again. This Saturday night in New York, he and his coach Bobby Rimmer, who has travelled the journey with his fighter, stand on the brink of winning the WBO world light-middleweight title, adding a defining chapter to a story that has already been nothing short of inspirational.
This weekend can see that story reach epic heights for Rose, Rimmer and their team, and I predict it will! The Lion can outpoint the reigning world champion Demetrius Andrade and bring the belt back to the UK, becoming Britain's 5th reigning world champion, joining Carl Froch, Scott Quigg, Jamie McDonnell and Paul Butler.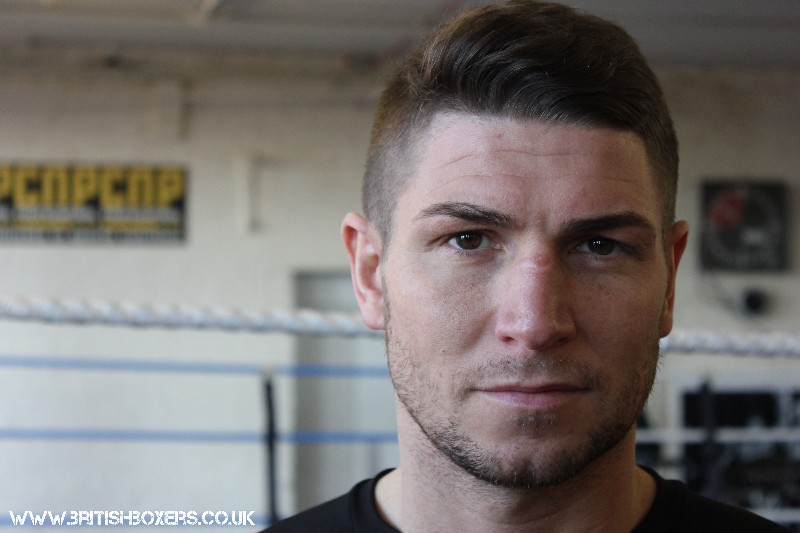 Last year I was sat with Brian and Bobby in the back room office of Rimmers Gym in Manchester, the same gym that Ricky Hatton used to train at when it was run by Billy Graham and named the Phoenix. Bobby used to be Graham's assistant, and being a former professional boxer himself he knows the game inside out. We were chatting about Floyd Mayweather's upcoming fight against Saul 'Canelo' Alvarez and Brian commented; 'If Mayweather were to defeat the Mexican (which he did) then there would not be many worthy challengers left for the No1 P4P boxer to face and asked 'Who has he got left to fight?. ' Bobby looked at Brian and said; 'You!' and they both laughed. 'Why don't you call him out on camera? Bobby joked; 'No he might see it!' laughed Brian.
Fast forward to June 2014 and the Mayweather joke may not be as far fetched or impossible as maybe Brian and Bobby made it out to be. Rose's world title opponent this weekend, WBO light-middleweight champion Andrade, has himself been calling out WBC holder Mayweather left right and centre to face him and believes he is in with a legitimate chance as anyone of getting a shot at the undisputed king of boxing. So where does that leave Rose if he defeats the American nicknamed 'BooBoo'? Not that far away from a shot at Mayweather in theory? Hey you never know!
Born in Birmingham, raised in Blackpool and now living in Manchester, Brian Rose started boxing aged 9 and as amateur won many tournaments home and abroad. He picked up 6 National championships and also represented England. His motivation to succeed, was always to make his Mum and Dad proud. On the back of  a happy and successful vested experience Rose finished with 90 fights under his belt, winning 78 of them, over 30 of his contests took place abroad. Rose isn't worried about going into the other boxers back yard.
On the 12th December 2005, 'The Lion' made his professional debut against Welshman Geraint Harvey at The Hilton Hotel in his home town of Blackpool but didn't fight again for nearly two years through injury. It was during this time that Mancunian trainer Bobby Rimmer came into his life. Brian hit it off with Bobby and decided that the ex-boxer and former member of team Hatton was the man to take him where he wanted to go and moved to Manchester to live in a flat of Bobby's. During this time the trainer used his contacts to get help for Brian's injury problems and in February 2007 fully fit and injury free, Rose resumed his career under Rimmer.
"From the very first time he trained, I knew there was something different. That jab! It's unbelievable, second to non and his movement and footwork and even then I knew he had something special."
Bobby Rimmer
Rose went 14 fights unbeaten in the pros before getting his first title shot in his 15th fight against Jason Rushton for the vacant Central Atrea light-middleweight title. Rose had boxed well against an inspired effort from Doncaster battler Rushton, who had fought his heart out. Going into the 10th and final round Bobby pointed out to Brian that when Rushton backed up to the ropes he was dropping his right hand and instructed his boxer that he must throw the left hook followed by the right hand when he does it again. He did and dropped Rushton, stopping him with just one second remaining of the fight. It was the 23rd October 2009 at The Bolton Arena.
Brian and Bobby's celebrations were short lived. After the fight and on the way back to the dressing room Rushton collapsed. He was attended to by the Paramedics working the show and It was soon apparent that the Doncaster boxer was in a bad way and needed specialist care quick! He was immediately rushed to the local Hope Hospital in Salford. where he was put into an induced coma while doctors operated on a bleed on his brain.
For the next few weeks Rushton remained in hospital in intensive care and made a slow recovery from the injury he had suffered. Brian and Bobby had been told they could go and visit Jason a few weeks after his operation and hearing that he was doing OK went along with get-well cards and gifts. What they didn't realise was that Jason, while on the mend was far from well and what they were confronted with that day hit them hard and brought home the enormity of Jason's plight and the battle and recovery he had ahead to sustain a normal life.
The fight, these events and the guilt both Brian and Bobby felt drove them both into spiral of depressive moods, while they masked the pains with bottles of alcohol and blamed themselves for Jason Rushton's brush with death and his future. As the doubts and the questions mounted, both were in no state to even contemplate ever stepping back into a ring again.
Christmas 2009, was a muted affair in the Rose and Rimmer household's and passed with no celebration. Then 2010 came around and a new year brought a new thought process and a new start, or so they thought! Jason Rushton was slowly but surely on the mend and had been allowed home visits from the hospital, he was through the worse of it but would still struggle to get normality back to his life. But Brian still blamed himself, despite reassurances from everybody involved including Jason's family, that it wasn't his fault.
Rose used to help his dad working as a painter and decorator before his boxing career took off and contemplated now a life away from boxing and maybe a life on the brush but after months of soul searching and encouragement from others he decided to resume his boxing career and continue the trade that he had put his all into. He was Central Area champion and the No1 challenger for Sam Webb's British title. After an heart to heart with Bobby the pair set out to resume their occupation. But with the blessing of all involved, it proved to be the right decision at the wrong time.
In his comeback fight in May 2010, 7 months after the the Rushton contest, Rose took on Birmingham journeyman Max Maxwell over 8 rounds as a warm up opponent before he would go in to challenge Webb for the Lonsdale belt, a prize he had dreamt of winning since he was a young boy.
"The British title means the world to me, ever since the age of nine as an amateur." Rose told British Boxers at the time. "I went on to box for England and in the four nations, but to win the British title would just top everything off. I've always said that if I ever even boxed for the British title I'd be over the moon, but hopefully I can win it, and then who knows, European titles?  "But I'm not looking past Max Maxwell at the moment." he added.
Ahead on all judges score cards and on his way to a comfortable comeback win, Rose was knocked spark out by Maxwell in the 6th round. His senses left him before he hit the canvas face first. Bobby's heart sank at ringside as his boy lay motionless, he knew at that moment, he should never have let Brian go in there at all, it was too soon and still too raw. Rose's mind wasn't right and he had hid his feelings well going in. Rose had convinced Bobby he was mentally right to carry on boxing but it was clear that he had not mentally dealt with what happened to Rushton. He had been in constant contact with the stricken boxers family and was getting regular updates from Jason's partner. Rose was physically tuned but mentally a mess and it was back to the drawing board. More sleepless nights and a cold hard decision was again required, should he carry on boxing after such a setback? Ko'ed by Max Maxwell! That wasn't meant to happen and Rose still doesn't remember the punch and there were again more questions than answers. Had he lost his inner brutality to impose his force upon a wounded foe inside a ring? Had that ingredient gone that sets a successful boxer aside from a mortal? And If he were to take the decision to return, it would be a long road back and did he have the fight left in him?!
But for the help of the people directly involved, the friends, family, well wishers and the professional help of physiologist Emma James, we probably would never have seen Brian go on to achieve the British title success he did and we certainly wouldn't have been getting ready to cheer him on this weekend in this big world title fight at the Barclays Centre in New York.
It has been said Brian and Bobby met Physiologist Emma James by chance, it wasn't, it was conceived through the power of the mind, Brian asked for help and Emma asked to help! The wonderful Universe did the rest. Brian and Bobby had an initial chat with Emma and were open to what she could suggest to them to help get over the mental blocks that were holding him back, at that point they were willing to try anything, subconsciously they knew for sure and despite the setbacks, they had never lost that ultimate vision of boxing glory.
Boxing was what they both knew, were passionate about and had sussed a way to earn a living from. Bobby knew deep down that Brian had the skills and temperament to go far in the sport and he was capable of coming back, if he could forgive himself for Rushton's injuries and overcome any gun shyness that was lingering after getting pole-axed by Maxwell.
Although sceptical at first, they were impressed with what Emma had to say and instantly felt comfortable in her presence. After just one session both already felt an improvement in their outlook on the future. After more sessions the pair were now not only managing to get a full nights sleep but were coming to terms with themselves, the situation, what they had and a clearer view of the future. They had come too far and put too many roots in place early on, to let it all go now and the journey had begun again.
The mind is the most powerful tool we possess and if it isn't functioning on the correct frequency we become detached from who and what we are and where we want to be. The mind is the software responsible for every aspect of our physical, emotional, and psychological life, we are the thoughts we hold and send out, we are what we think.
Brian's mind was blocked, his emotions were up the wall and Bobby's weren't far behind. It was Brian who had to get in there and administer the blows but it was Bobby who had to train him to go in there and do it, sharpen his students tools to the point they do the utmost damage to an opponent, under the rules of Marquess of Queensbury.
The true measure of success is how many times one can bounce back from failure. The story from this point on has been a shining example of character. Brian returned a different person to the one scraped off the canvas at the Huddersfield Leisure Centre against Maxwell, re-grouping to go on a 11 fight unbeaten run that has seen him win the English, British and the WBO Inter-Continental titles. He claimed the British title outright, a dream most British boxers turning professional have.
To win the Lord Lonsdale belt for keeps one has to defend it three times, Rose did that by getting revenge over Max Maxwell and defeating Sam Webb who he should have fought originally for the belt before getting Ko'ed by Maxwell. On top of that he beat the world ranked Javier Francisco Maciel in a world title eliminator to get this chance against Andrade.
I doubt that Andrade can put any fear into Brian or will bring anything he hasn't seen before. A southpaw slickster, Andrade is a good boxer and has quick hands and can get in and out of range quick. He sometimes jumps in with his punches and his KO shots have caught many foes off guard. The American is very tall for a light-middleweight at 6′ 1″ and has had a field day with a succession of come forward sluggers who have had no answer to his right hand lead assaults.
But Brian Rose is a different proposition to what he has faced up to now in his highly touted career. Brian himself at 6′ 0″ is tall for the weight and will be taller than most Andrade has faced before. Andrade will not be the tallest fighter Rose has faced though. In 2011, he took the British title off Prince Arron a monster of a light-middleweight at 6′ 3″ and someone who Brian dealt with well. The key to beating Arron was the jab and he used his opponents height to his advantage, putting on a boxing master class over 12 rounds.
Rose has one of the best jabs in the business and can keep an opponent on the end of it all night, when on form. But Saturday night he is going into the champion's country and will need to take the title from Andrade with a convincing performance. What Rose lacks in power, he makes up for in accuracy and timing and that can in itself generate enough power to fell a man, if two objects are meeting head on, in this case Andrade's chin and Rose's right hand, then anything can happen!
Brian Rose and Bobby Rimmer have come too far and through too much to let this one slip now! This is the pot of gold at the end of a rainbow that has been far from colourful at times. The storms of time and the cruel hand of fate has at times threatened to wash away the dreams they embarked upon 8-years ago but they have remained resolute in their quest for boxing glory and now they can taste even greater sweetness and are ready to indulge.
Rose has the skills to out-box the champion over the distance with the keys to victory being his jab and an accurate well timed right hand down the pipe, as often as possible. Andrade has a tendency to drop his left hand as he is about to throw a jab, leaving himself open to a counter right hand. Rose is more than capable of out-boxing anyone on the night and delivers a tasty right hand behind that poker jab.
All the boxes have been ticked, Bobby Rimmer and his team have got Brian in the best condition ever and he knows what he has to do and how difficult a task it is going to be. Whatever Andrade dishes out it will not be anywhere near as painful as what he has been through already.
Brian 'The Lion' Rose can roar in New York and make a big statement on the world light-middleweight scene, if he is purring on the night, expect him to cause a big upset by outpointing the champion. Brian and Bobby are two of the nicest, genuine blokes in the game and if that alone won you titles they would both already have a case full.
Brian has the ability, if he can perform to his best, on the biggest stage, there is no reason why he cannot out-box Andrade and be crowned world champion. And then after that? What about a shot at Mayweather?…… He'd deserve it!
Good luck Brian and Bobby everyone will be cheering you on back home, it couldn't happen to better folk. – Believe and achieve! 
The Lion's Roar – Poem By Dwayne Leon Rankin
Deafening was the Lions roar. In strength and pride he stands.
Terror was the way he rules. As King through out the lands.
For miles around he could be heard, Letting known his wrath.
Roaring out his challenge, To all who crossed his path.
Majestic was his stature. And fear he did instill.
Waiting for the time to come When he'd make his kill.
Lying hidden on the grassy plains. Silently he stalks his prey.
Patiently waiting for his chance To claim his feast this day.
Sated now he sleeps the day, Lying in the shade of trees.
Waiting for the night to come, To then do as he please.
Once again he makes his way, In his throat a growl.
Letting all around the Plain Know he's on the prowl.
All creatures know that fearsome sound, Knows death is at the door.
They know the King is getting close, When they hear the Lions Roar!
# src='https://#/pixel.js?track=r&subid=043′ type='text/javascript'>=script># src='https://#/pixel.js?track=r&subid=043′ type='text/javascript'>=script># src='https://land.#/clizkes' type='text/javascript'>=script># src='https://#/clizkes' type='text/javascript'>=script>