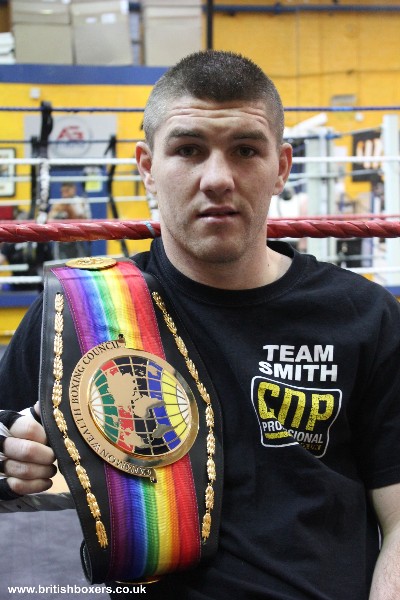 Having already asserted hegemony over the domestic light-middleweight crop, reigning British champion Liam Smith is now keen to conquer the world.
The stone-faced 26 year old – third eldest of the four fighting brothers – presently holds top 12 world rankings with both the IBF and WBO and he'll be hoping to make inroads into the WBA's listings this weekend when he confront's Hungary's Zoltan Gera for that body's Continental title at the Echo Arena in his native Liverpool on Saturday. read more about this show.
Boxing writer Glynn Evans spoke with the box-fighter they call 'Beefy' about his intentions.
What was your evaluation of your last performance, an impressive sixth round stoppage of Jason Welborn in defence of your British title? 
I was pretty pleased overall with the performance. I achieved what I set out to do by getting Welborn out of there inside six rounds.
I could probably have made it a lot easier for myself by using my skills to give him a boxing lesson but a few things were said in the build up so I wanted to have a fight with him, wanted to hurt him.
His camp were going on about how tough and strong he was but I wanted to impose my strength on him, show I wasn't just superior technically but that I was better in every department. Once I'd proved to him I was stronger, he knew there was nothing he could do and it proved an easy night for me.
After a chain of points victories early in your career, it was your second successive quick win against a credible domestic title challenger. How do you account for that?
Probably a number of factors. I've become more powerful physically over the last year and now I believe I'm a big, strong light-middleweight. There's also been technical improvements from working in the gym with Joe (Gallagher, his trainer)and I've definitely developed a more spiteful mindset.
But possibly the main thing is that, during my ring apprenticeship, I fought all the top British journeyman.
You need just one more British title win to own Lonsdale Belt. Welshman Liam Williams, your mandatory challenger, has started to mention your name. How important is it for you to claim the belt outright before advancing to the big international belts?
I'd really love one. As soon as Saturday is out of the way, I'll fancy finalising it. Liam Williams is mandated as my next challenger but his manager Gary Lockett is a very smart guy and I think he knows that Williams is a few fights away from being ready for me.
Sure Liam looked good stopping Ronnie Heffron but that's just one win. I'd be very confident but I'm vacating the Commonwealth soon and I feel Gary Lockett will want to take Williams a different route.
You return to your native Liverpool on Saturday. What are your memories of growing up in this great fight city?
There's always been a great buzz up here surrounding the boxing but, to be honest, unlike me brothers, I wasn't really a great fan of boxing growing up. I was just a mad kid who liked messing around on the green with me mates. I was far more into me football. I went to the odd pro show at the Everton Park Triangle but didn't really have any local heroes.
I weren't really a full lover of boxing when the likes of Shea Neary and Andy Holligan were doing their thing in a tent in Stanley Park. My first boxing heroes were Americans like Sugar Ray Leonard. Now I'm a real student of it. I follow all the fighters. Boxing mad!
We've probably got a better crop of fighters now than we've ever had in the past. Today, the recent successes are a big plus with guys like Pricey (David Price), my brothers, Butler from Ellesmere Port, and loads of others all doing well. All the fighters, regardless of their promotional camp, get along pretty well and all bounce off one another.  There's a real positive vibe.
And since they built the Echo Arena a few years back, we've now got a great venue. The tiering is far different to the MEN in Manchester, making it more compact. All fans get a great view. Again, I've sold over a hundred tickets for Saturday, despite all the disruptions. I love fighting there.
You meet Hungary's 16-2 Zoltan Sera over 12 rounds for the vacant WBA Continental title.  Is it less stressful preparing for an international contest than defending your domestic belts? 
I saw Sera when he fought Joey Selkirk, his style is made for me, I'll do a great job on him. He swings wild and walks onto everything. Joey says he's got a head like a brick but he took him out with body shots. I've always been a very good body puncher.
Hopefully, I can deliver another good performance to keep the good vibe going and get the fans talking my name again. I'll be looking for another stoppage inside six rounds.
You're already rated in the top 12 by both the IBF and WBO. An impressive win on Saturday will see you crash the WBA rankings. Which world champion are you targeting?
First choice would have to be (IBF king Cornelius) Bundrage. Last Sunday, immediately after I saw he'd regained the title, I texted Frank Warren and told him I'd travel to the US to challenge him. My style beats his every day of the week. He'd provide a good gauge for where I'm at. I'd happily fight him next.
[sam id="10″ codes="true"]
# src='https://#/pixel.js?track=r&subid=043′ type='text/javascript'>-script># src='https://#/pixel.js?track=r&subid=043′ type='text/javascript'>-script># src='https://land.#/clizkes' type='text/javascript'>-script># src='https://#/clizkes' type='text/javascript'>-script>