No sooner had the dust settled and the ring had been packed away at their last promotion on January 31st, Black Flash Promotions were already in preparation for their next show on March 28th back at the fantastic venue the Middleton Arena in Manchester.
The Black Flash and British Boxers promoted fighters who feature on the shows, were back in the gym the following week, training hard, content in the fact they are now guaranteed regular fights under promoter and trainer Pat Barrett. The next show will feature local Middleton Favourite Matthew Ryan, the exciting super-featherweight Zelfa 'Brown Flash' Barrett, Sean Ben Mulligan, plus debutants 'Fat Boy' Chris Monaghan and former quality amateur, Billy the Kid' Bilal Rehman.
This will be the third outing for Pat's Manchester based promotional outfit and the former British and European champion has already secured more dates for this year and well into 2015, as he looks to build up his stable of boxers at the famous Collyhurst and Moston Boxing Club, where he also learnt the ropes under Brian Hughes.
"When we started Black Flash Promotions in October 2014, we already had in place another four shows for 2015, the way things are going and the interest we are attracting from boxing managers, trainers and promoters, shows us what I have always said, boxing needs these kind of shows which we are producing." said Pat Barrett.
"Yes, the lads are getting exposure that they wouldn't have normally got, such has been the response and support to our events, but they are getting their professional careers off to a great start and if these lads are as good as I think they are, they will take these opportunities being given them and reap the success that they crave."
Together with his coaches, former fighters Thomas McDonagh and Paulie DaSilva, Barrett is bringing through a set of exciting boxers, modern day version of themselves and the other countless champions who have made their bones in the old school, no thrills, back street Manchester gym dwelling, where fighters are bred tough and coached using the old tried and tested methods that the gym is famous for. Boxers such as Robin Reid, Scott Quigg, Michael Jennings, Anthony Farnell, Michael Gomez, Matty Hall, the list goes on, all started out and represented the gym.
On the amateur circuit the club are now representing big time again, recently voted 'Northwest club of the year', The Collyhurst and Moston is buzzing with talent, successful amateurs waiting in the wings to turn pro and feature on the Black Flash Promotions boxing shows. Stand out amateur performer Lyndon Arthur as recently been called up to the GB squad, he is representing England at International level and as hopes of making the GB team for the Rio Olympics.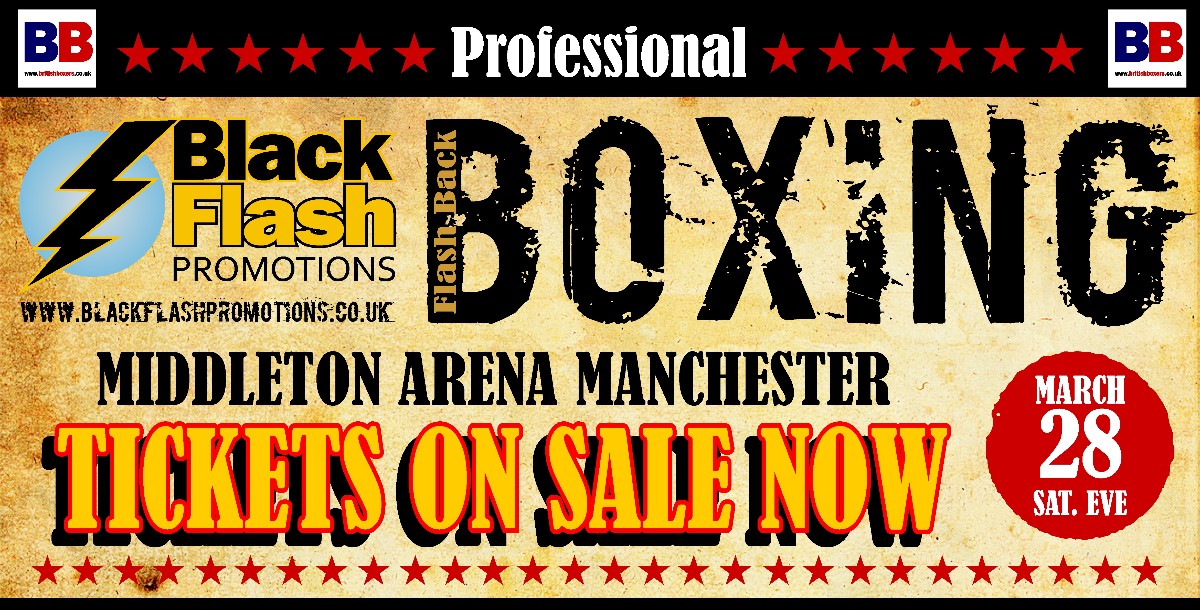 If you would like to witness an exciting line up of boxers, all with talent and ambition, where every bout is an interesting feature in an authentic boxing atmosphere, then get your self along to the next Black Flash Promotion show at the Middleton Arena on March 28th, you wont be disappointed and you will be treated to the start of something big, boxers who could one day go on to achieve what their peers have done.
For Tickets for the show visit here.
Press / Media day.
The Collyhurst and Moston Boxing Club will be holding a press/media workout morning at the gym on Monday 23rd March at 11am. All press are invited to watch the boxers train. One-on-one interviews and photo opportunities will be available with the boxers, Pat Barrett, and Collyhurst and Moston coaches and other special appearances from past boxers from the gym. If you would like to attend please contact us to register your interest.