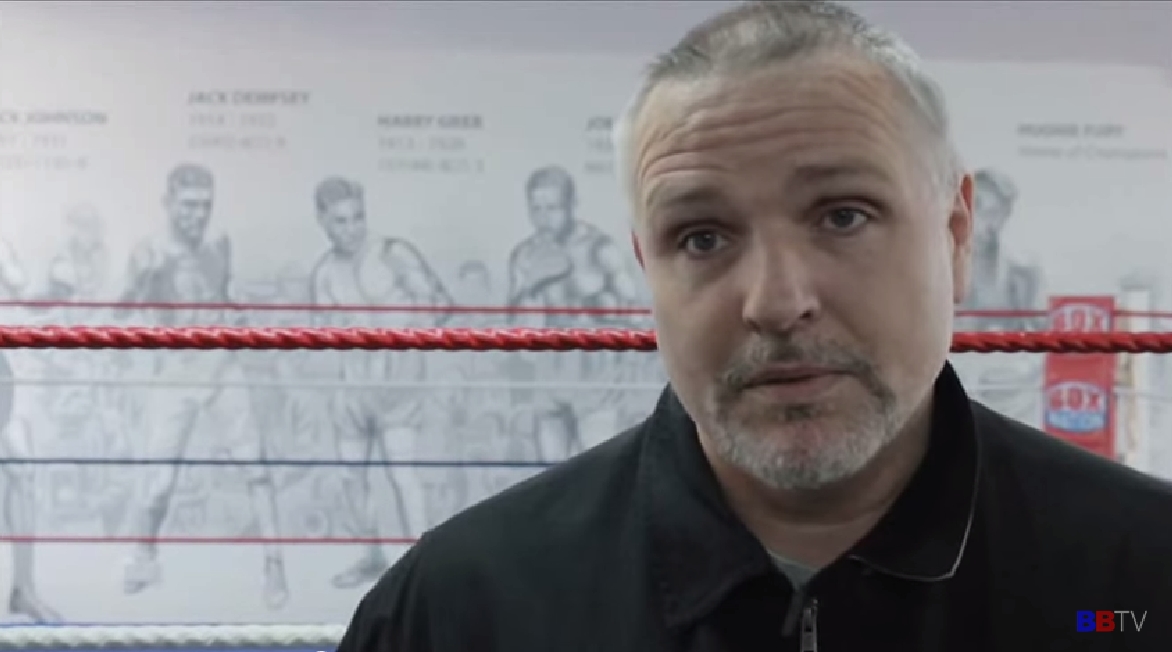 Long reigning lineal heavyweight champion Wladimir Klitschko fights a relative novice in America's Bryant Jennings on the 25th April in New York in what will be the giant Ukranian's 67th professional contest. Over a dominant career in what purists call a poor era, he has lost only three of the previous 66 fights, the last one in 2004 against Lamon Brewster. He has been a professional since 1996.  
However Klitschko is now a new father, and at 39 years old, many fight fans are sensing a changing of the guard, and there is one man lying in wait, himself confident of taking over.  
Undefeated Brit Tyson Fury is potentially the man to breathe life into the scene and take us into a new heavyweight era. As the mandatory challenger to Wladimir's WBO belt, it is he, along with America's Deontay Wilder, who is leading the charge for the next generation of guys ready to write their names into the heavyweight history books.
I was fortunate enough to chat to Tyson's trainer, his Uncle Peter, who from his base in Bolton is fast establishing himself as one of the top trainers in British boxing.  Also training his son, fast rising domestic contender Hughie, and experienced American Eddie Chambers, Peter took time out of his busy schedule to chat to me about family, his hopes for the team, and just what it is he would change about the game if he could! 
Thanks for giving me some time Peter. How are things? 
Things are very good, thank you. I'm ready for some questions! Fire away! 
Talk to me a little about your association with the sport. What sparked your love of boxing? 
My earliest memories of boxing, my interest, came through my father really. He was always keeping up with what  his uncle and his cousin and older family members were doing. Either in ring or following them to all the old fights in the boxing booths at the fairgrounds. In the old days you'd get a few shilling for boxing in those booth fights. My grandfather's uncle, this is the old days!…. He travelled all over the place to fight. He'd hop on his bike and ride for 40 miles – all he had to eat was a loaf of bread! -he'd go off and box, then bike all the way home again! Boxing was always around me. Always. It's in the blood.
It's led you to the here and now. Talk to me about your gym, (Platinum Community Centre) opened with (Amir Khan's former manager) Asif Vali, How did that come about? 
The opening was an event in itself. The mayor and the chief constable of Greater Manchester Police were there. It's a great, great thing for the community. We've got 40-50 kids in there every night. We've had some good young champions in the last year and it's all going really well. As far as how it came about, a very close friend of mine from Bolton (Asif Patel) knew Asif Vali, and so we got together to put plans in place to open up a gym.
I have only heard good things about it. 
Thank you. Not only is it our base, it's a nice facility. More importantly maybe, it's bringing in a lot of young kids, getting them off of the street and giving them a chance to achieve some positive things. For me that's one of the greatest things about boxing. 
Let's talk about your son Hughie. He was impressive last time out against Rudenko. What's next for him? 
We're looking to put Hughie in with guys from now on who are top, lets say 7, 10, 15. Opponents like that. We certainly aren't looking at any journeymen anymore, any "has-beens". He's stepping up properly. People forget he's still young (20) but even then, I don't believe in him fighting a" name" if that "name" is over the hill. What's the point? We need credible fights for him, like Rudenko was. 
So you're not afraid to take calculated risks with him? 
No, of course not. I've always said that if he's as good as we all think he is then we shouldn't have a problem. We always have a game plan. Boxing is art, it's a skill. At this level it's like a game of chess and the best player will win. 
You also have Eddie Chambers in the team. A man with a lots of experience. I've heard he's struggling for fights? What's his situation right now? 
Eddie is bouncing back and he's training hard, getting himself back up there. Things are being worked on for Eddie as we speak. He will hopefully be signing a promotional contract with one of the top promoters over there (US) to get him some top fights.  As soon as that's sorted he will be training back over here for those fights.
Tyson? How he is he? I saw his tweet about keeping the British title! Surely he's beyond that now? 
Tyson is fine, thank you. Yes. I think people sometimes forget that Tyson is actually doing some growing up. As a man and in the ring. He's not so bullish anymore in there, not making those same mistakes. To be honest, I wouldn't pay attention to the tweet. I can see Tyson vacating the British title. Once you're at his level, knocking on the door of a world title, those belts go by the wayside a bit really.
The growing up is definitely evident in his boxing. Say, from when he FIRST beat Chisora in 2011 until now. 
I agree. You've got to say that Chisora is no fool, Olly. He's no "bum" by any stretch of the imagination, but if I had to be honest with you, Tyson didn't even get out of 2nd gear in that fight (last November) It was easy for him. But he has made mistakes in the past and he has learned from them. There have been problems he had that have been ironed out. That's what we are always working on. Getting better. Even in the past, when he's done outright stupid things in the ring, and say, taken someone lightly, he's still got up and done the job. He's still here, he's not been knocked out and he's still doing it. And he's certainly not sticking his chin out these days! 
Despite his mandatory status to Klitschko, there's a belief that (WBC champ) Deontay Wilder is the more winnable fight for Tyson. What do you say to that? 
We are definitely looking at Wladimir next but yes, I'd have to agree with you there. I think Wilder IS more beatable than Klitschko. I know he's had 30-odd fights but his best win is the one against Stiverne that gave him his title. Klitschko is definitely the more dangerous opponent for us at the moment.  
Do you think he's negative, Wladimir? There's a belief his "safety-first" style is?  
If you look at his last fight for instance he was coming forward, trying to land that big right hand. He was definitely trying to be more exciting and it worked.  I think he's going to look good against Jennings too. He'll be able to boss him around and stop him, early to mid-rounds. Regarding our fight with him, talks are  ongoing with the Klitschko team. Tyson has said that's the fight he wants next, and he is his own man in that regard. 
It seems that whoever Tyson goes for, Wladimir OR Wilder, he is going to have to travel. How does he feel about that? Will it bother him? 
No, Tyson isn't bothered by the idea of travelling abroad. Not at all. To us a ring is a ring, it doesn't really matter where it is. Yet regarding the Klitschko fight, there is a very good chance that we can get that in London. We are confident of that. It ticks boxes for Klitschko and let's not forget they are business people as well as fighters. For this fight, London is where the money is.
Have you noticed any positives since his Dad (Peter's brother John) came back to the fold? 
Of course. We are family. First and foremost. I'm a family man. We all are. Tyson talks to his Dad every day, they are catching up on lost time. It's great for him, there's nothing like father and son. And my brother is now back helping me out in the gym. Everyone is pleased he's out. We can move on together again.
Now you've been in boxing a while and are now mixing at top level, what, if anything would you change about the game? 
What would I change? Mmm, good question. There are a lot of people in boxing who are afraid to speak their mind. Also if I had to be honest there are a lot of fighters who don't really belong where they are. Guys in say, the top 15 especially. Many of them don't belong there and it's down to promoters, matching them in such a way etc. Guys who can maybe only do a few rounds that are simply waiting to get knocked out! I'm not one to mention names but……. It's a shame because some promoters deny good fights to the fans. The boxing public want to see the real deal. And that's what I'm in boxing for. If you can, you fight. 
Andy Lee/Billy Joe Saunders will be the first time two men of traveller origins have contested a version of the world title. With your ties to the community, what are your thoughts on this fight? 
I think it's a very, very good fight. I enjoyed the Lee fight last weekend too. I think he's come on a lot recently under Adam Booth and full credit to him. In my opinion Saunders is also a lot better than people think he is and give him credit for. He's not got a bad chin and he knows how to box. It's a true 50/50 fight, but if I had to pick I think Billy Joe could well be the busier fighter and nick it on points. Billy Joe has got tremendous heart just like Andy Lee has shown that he has also. 
Finally Peter, what doe the future hold for the Fury Team? Say 2 years from now? 
Tyson will be the undisputed world heavyweight champion, and in two years for Hughie, I want to see him right up there in contention with the top guys in the division, ready to fight anyone. And I want Eddie up there in the mix too. But to get there we have to focus on now. We haven't achieved anything until first Tyson is stood in that ring and lifting that world title. You mentioned "top level" before. We are not there yet. I'm only in boxing for world titles, and that's our ambition. That's why I'm in it. Then and only then, will I be happy. 
Thank you for reading. Please give me a follow on twitter, I'm new there! @undilutedpoison