Name? Matthew Ryan
Nickname? Don't have one!
Record? 9 fights, won 8, lost 1, 1 tko
Weight? Light middleweight 11st
Born? Manchester
DOB? 28/11/1990
Where are you From/live:? Middleton, Manchester
Favourite current boxer? It's hard to say who is my current at the minute but I'm going to go with Floyd Mayweather
Favourite all time boxer? Ali, Thomas Hearns
Favourite all time fight? The fabulous four fights between Thomas Hearns, Marvin Hagler,  Roberto Duran and Sugar Ray leonard 
Why do you box? For the discipline, fitness and to become world champion
How did you start boxing? My dad took me to a local gym when I was a kid
Who influenced you at the start? Nobody I just wanted to fight
What amateur clubs did you box for? Middleton Select ABC
What do you recall of your amateur career? Winning the senior under 20 championships and winning the north west region belt and defending it 3 times to keep it
Why did you decide to turn pro? I felt like it was the right time to turn over and felt like I did enough in the amateurs
How would you say your professional career has gone to date? It was a slow start with no regular fights but couldn't ask for anything more now fighting for Black Flash Promotions
What are you capable of achieving in boxing? I know I am capable to win a British title but I will try my best to achieve a world title and go far
Who are the people who will help you achieve your goals? Pat Barrett, Paulie De Silva and Thomas Mcdonagh and the family and fan base I have that support me all the time with everything
What's your training schedule? Which parts do you most and least enjoy? I train at the boxing gym every Monday-Friday at 10am followed by a run or some sprints later on in the day. I enjoy the boxing training but now and then I struggle to get out the door for a run as I find that part the least enjoyable but it has to be done!
Describe your style? What are your best qualities? My style is very slick stylish boxer with great boxing skills but can also stand my ground and have a fight, my best quality is definitely my left jab 
What is your routine on fight night? Get to the venue and get myself weighed in before I down some Alkaline Fitness Water and get a good meal down me, usually I have chicken and rice and have a box of Jaffa cakes then relax before its time to fight
What ring walk music do you use? I use any that comes to mind at the time
Do you like to take part or watch other sports? Not really just boxing
Who is the toughest opponent you have faced amateur or pro? The toughest amateur fight I had was against Scott cardle in the ABA's and the toughest pro fight to date would be against George Michael Carmen who I lost too back in 2013
Who is the best you have sparred with? I have had a good few top spars with talented prospects with the lights of Brian Rose, Jack Arnfield, Matthew Hall and the Upton brothers, but overall it would be former world champion Robin Reid.
What is the best venue you have boxed at, when? The best venue I boxed at has got to be at the O2 arena in 2013
What All British boxing matches would you most like to see made? Scott Quigg v Carl Frampton, Tyson Fury v Anthony Joshua 
If you could be at just one of the above fights which one would it be? Quigg v Frampton 
Which current British boxer do you feel can become a global star in the next few years? Not really sure but going to go with Callum Smith
If you wasn't a boxer what would you like to be? Just as long as I'm happy and healthy I couldn't care
Family life and background? Live with my partner and kids who support me all the way, I have a good happy family in a happy home and I couldn't ask for anything better
Best friends in boxing? All the other boxers at Moston and Collyhurst including my coaches as they spur me on everyday 
When you are not boxing what do you do to relax? Lying on the couch or the bed with boxing on or watching a few films with my family
Favourite Holiday destination? Anywhere that's hot
Favourite TV programs? The Sopranos, Prison Break, Gotham
Film? Goodfellas, Raging Bull 
Music? I like a lot of different music just not the loud rock music
Food? I like almost any food
Gadget? iPhone 
Website/App? British Boxers
Book? I dont have one!
Football team? Don't follow football as much as I used to
Something no one knows about you? I wear my heart on my sleeve what you see is what you get with me
Motto? I haven't really got any mottos 
When is your Next fight, where and who is it against? My next fight is on the 30th of May at the Middleton arena no opponent to name at the moment 
Is there anyone who you really, really would like to fight this year? Anybody I need to fight to get me up the rankings
How can fans get intouch with you for Tickets? They can get in touch with me by Facebook, Instagram or Twitter @matthewryan_21 and my phone number is on the fight posters.
Current Topic – Mayweather-Pacquaio? Your view? I think Mayweather showed how good he actually is by making a great fighter like manny pacquaio look like an ordinary average fighter, Mayweather done what he does best which is hit and don't get hit which is what boxing is all about.
Matthew Ryan's Next Fight – May 30th 2015 – Manchester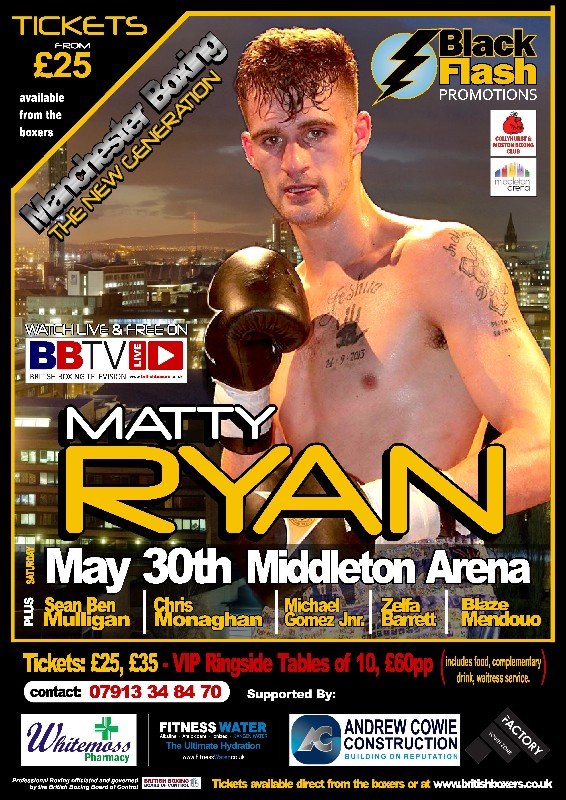 VIDEO: Matthew Ryan in Action vs Kevin McCauley
If you represent a professional boxer and would like to us to feature a 49 Question interview with them, please contact us.