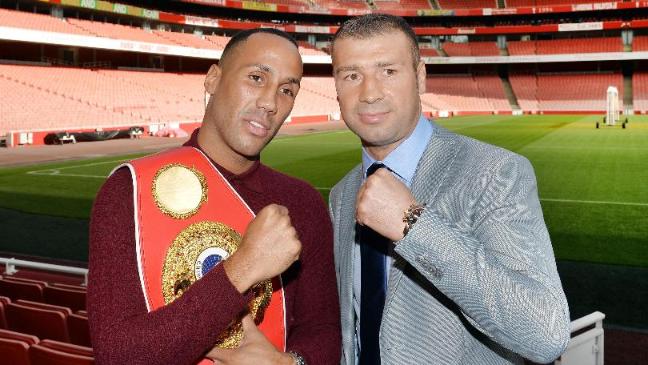 James DeGale will travel to Canada to make the first defence of his IBF world super-middleweight title when he takes on former champion Lucian Bute at the Videotron Center in Quebec on November 28.
Nicknamed "Chunky" the man from North West London went onto claim the IBF strap back in May, defeating American Andre Dirrell on points to become the first British fighter to add a world professional title to an Olympic gold medal, which he achieved in Beijing in 2008.
However, the champion has a task on his hands when he faces Bute, it will be a tough challenge as he faces the experienced seasoned veteran, the man who held the IBF title for five years before losing to Carl Froch in May 2012 via a devastating TKO.
DeGale admits it will be a supreme test, but one he believes he can win after he was quoted as saying "Bute is a world class, elite-level fighter who kept his world title for five years,"
"Anyone who can do that deserves some serious respect. I'm the champion and he will be very fired up trying to win back his old title, but I'm too young, too fast, too skilful to let that happen.
"My trainer Jim McDonnell has always said getting the world title is hard, but keeping it is even harder. I'm under no illusions about this fight, but I'm also a massive believer in my own ability and I aim to show just who is the best super-middleweight in the world on November 28."
DeGale (21-1-KO14) will be fighting on the road for the second successive fight since beating Dirrell and says he will use the experience of his 2013 win over Canadian Sebastien Demers, also in Quebec, in a bid to claim victory once again.
"I consider it a massive privilege to be a world champion, fighting for Great Britain. I went on the road to win my title and my first defence is on away soil as well, but I'm very comfortable with fighting abroad," he added.
"It is another challenge for me to overcome and in the future I can't wait to defend my title in the United Kingdom.
"I'm lucky enough to have boxed in Canada only a few years ago when I took on Sebastien Demers in Quebec in 2013. I met some great people out there, it is a lovely country and I can't wait to get back. I beat Demers in a couple of rounds and I'd take the same result again.
"Whatever happens, however I win, I'm coming back with my belt."
Romanian-born Canadian Bute, has other intentions and is intent on winning back the title he lost three years ago to the "Cobra" Carl Froch in Nottingham.
The 35-year-old (32-2-KO25) is confident home advantage could be decisive in his favour this time around as he has never lost a bout on home terrority in Quebec City.
"'I am really happy to have this opportunity at this point of my career," Bute said. "I lost my title in England against an English fighter and now, I will box in Quebec against another English boxer, for the same title I defended for five years. I am really motivated by this opportunity the regain the title I lost in 2012.
"The fact that the fight will take place in front of my fans in Quebec City, where I never lost, will be the factor that will make the difference. I give all my respect to the champion James DeGale for accepting to travel for his first defence, but the IBF belt will stay in Quebec November 28."
DeGale – Bute Head to Head