Manchester's Alex Rutter turned professional in May 2012 with renowned Manchester coach Bobby Rimmer. He then had a spell with South African Sean Krool, during this period he racked up an unbeaten pro record of 8 wins.
Rutter, 22, admits at one point he thought about quitting boxing and says he could have been accused of just playing at it, while holding down a full time job and boxing now and again. But after deciding to now give boxing his all, quieting his job and concentrating on pugilism full time, he is ready to take his profession 100% serious. Part of the process in that was finding a new coach closer to home and who he felt could move him onto the next level.
Rutter knew Pat Barrett and his stable of boxers at the Collyhurst and Moston Boxing Club in Manchester, and last year he boxed on one of Black Flash Promotion's shows, staged by Barrett. Rutter decided the former British and European champion was the person he wanted to train him and approached him with the proposition.
Barrett is an 100% no nonsense coach who expects nothing less than 100% back from the boxers under his charge and he says he has to be choosy with who he takes on, because of time issues and there is only so much space in the Moston gym. But in Rutter he says he sees something in him and rates him as a good student who has the ability to be a champion.
In this video (above) Rutter speaks about joining the Black Flash camp and training under Barrett and his assistant former pro Paulie DaSilva and with the other lads. Barrett also features and gives his thoughts on his newest member of his growing stable.
FIGHT CARD: Alex Rutter boxes on March 5th at the Middleton Arena in Manchester on Black Flash Promotions show. Topping the bill will be unbeaten cruiserweight Sam 'Nowhere2' Hyde, who will contest his first title fight when he challenges for the International Challenge belt over 8-rounds.
Zelfa 'The Flash' Barrett  has his 9th pro fight as he begins his second year as a professional.
Also featuring on the bill is, Middleton favourite Matthew Ryan having his 12th fight as he looks towards a title shot by the end of the year. Another Middleton boxer in action will be Aaron Michael Jnr, a stylish unbeaten light-middleweight prospect having his 7th fight.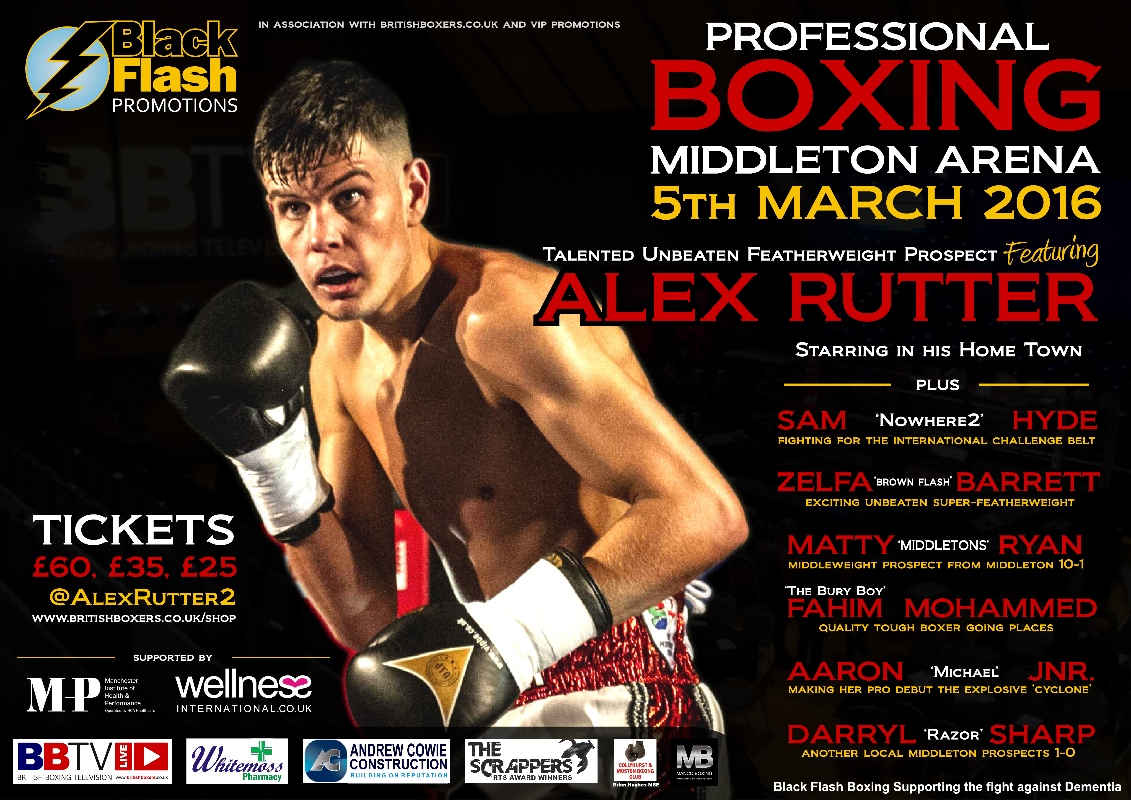 Pat Barrett trained Fahim Mohammed aka 'The Bury Boy' takes part in his 4th fight after going 3 wins undefeated. Fahim is a quality boxer with plenty of talent and is a great addition to this fantastic small hall bill.
Making up the fight bill is another local man, Middleton pro, Darryl 'Razor' Sharp, who will have his second fight after making his debut in October. Sharp is trained by former boxer Kieran Farrell and good things are expected.
Tickets are available from the boxers or Here on this website. £60 VIP Ringside (Includes food and waitress bar service) – Lower Tier £35 and Upper Tier £25 –  Purchase here and we will send them to you.