Richard Middleton speaks to undefeated super welterweight prospect Aarron 'The Marksman' Morgan ahead of his June 4th fight at London's York Hall.
Perhaps the inherent brutality of boxing will see it confined to the fringes of sporting interest for as long as it exists, however, the undeniable resurgence of British boxing in the last couple of years is showing no immediate signs of abating, with fans enjoying one of its finest ever eras. The newfound energy coursing through the veins of the sport can be felt up and down the country, in the arenas of our fighting cities where home-grown hometown heroes are cheered on by passionate fans eager to see their fighter triumph. 
The excitement surrounding the British boxing scene has made securing tickets for the biggest events virtually impossible. Punters are at the mercy of ticket resellers and their hefty premiums and television networks have responded with subscription services such as Sky Sports and Box Nation joined by terrestrial channels in a bid to profit from the sport's return to favour. The buzz has caught the attention of the big hitting American networks HBO and Showtime too, who in recent years, have given airtime to all-British affairs such as Froch vs. Groves II and Frampton vs. Quigg.
[sam id="1″ codes="true"]
Some of the credit for revitalising the sport in Britain undoubtedly goes to British promoter Eddie Hearn, whose business acumen and marketing smarts have resulted in an alliance with Sky Sports that has raised the sport's profile and provides marketable fighters with the financial recompense their hard trade deserves. Added to this, is the unquestionable talent in the domestic scene, with Britain now boasting two world champions in boxing's most iconic weight class: the heavyweight division. Success breeds interest and the the outlook for boxing looks promising with 13 world champions hailing from the shores of the UK and plenty of rising talent on the fringes of world honours; even legendary Ring Announcer Michael Buffer seems to have made the UK his second home.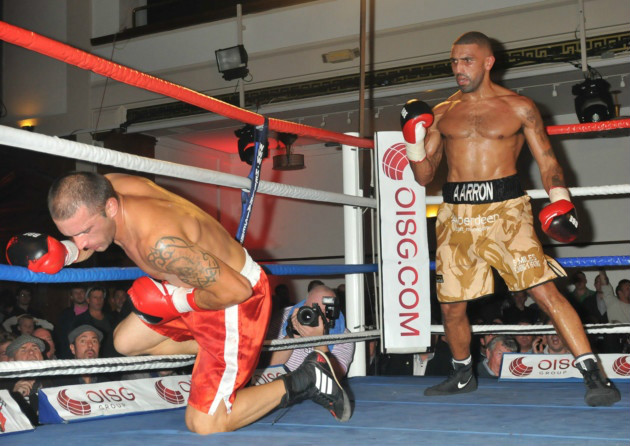 This intriguing landscape provides motivation for London-based super welterweight boxer Aarron 'The Marksman' Morgan, who is looking to extend his unbeaten record to 11-0 on June 4th at London's famous York Hall.
Morgan, (10-0, 7KOs) who fights out of an orthodox stance and stands 5 '9", has knocked out seven out of ten of his opponents and is hungry to assert a reputation as one of the top contenders in his division. The former Islington Club captain has taken to the professional ranks well after an impressive amateur career that saw him win the National ABA Senior Novice Class B title and reach the semi-finals of the Elite National ABAs. Morgan's amateur success caught the eye of the National GB boxing squad, however, after a brief spell training with the team in Sheffield, he chose to turn professional in November 2013 and hasn't looked back since. 
As we sit chatting in the office of Morgan's former amateur haunt, it's clear to see his attachment to the north-London boxing club remains strong. For Morgan, training in an environment littered with photos of his own and former team mates' successes proves motivationand it's still a club in which he plays a very active role through the coaching and mentoring of up and coming amateurs and those just looking to keep fit. 
Morgan values his amateur experience but knows the rigour and nuance of the paid ranks will require more knowledge and experience than his close-knit team can offer alone. His natural thirst for competition and hunger to improve his craft are matched by therealisation that his future opponents will provide much sterner tests. Morgan sees getting on the road to spar with the best talent he can find, including former-and-current champions, as forming an integral part of his fight preparations and his ability to progress. So much so that the boxer even making took a trip overseas to the United States to the infamous Mayweather Boxing Club AKA 'the Doghouse'. Here, as TV's popular All Access documentary series has made famous, Queensbury rules play second fiddle to a rough and tough 'last man standing' school of boxing. This transatlantic education provided Morgan the opportunity to share the ring with Demarcus 'Chop Chop' Corley, the one-time opponent of Floyd Mayweather Jr. and a taste for what boxing can offer at the highest level.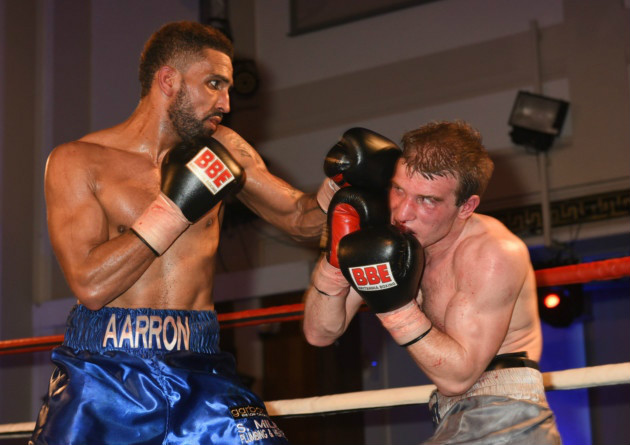 So where did it all begin for Morgan?  He sinks back into his chair and opens up. 'Some of my earliest childhood memories were sitting in my front room watching Nigel Benn on ITV. If I'm honest, I started out in boxing to just get fit and to lose some weight. When I started training, I was 90-something kilos! I was sporty growing up but in my teenage years, music was my focus.
[sam id="30″ codes="true"]
'I was an MC.' Morgan now prefers to let his fists do the talking, but I'm mindful that one slip up could postpone or even derail his plan to make some serious noise in the British super welterweight division. So far his professional campaign has run without a hitch with ten victories from as many fights, however, it wasn't always this way for the London man.
As he leans forward, Aarron tells me. 'My first amateur fight was for Islington Amateur Boxing Club on a Lions Amateur Boxing Club show. I believe it was in Hoxton. I was 100% sure I won the fight. I was gutted when they gave the decision to my opponent. I had another fight soon after that which I lost too. I remember thinking that boxing might not be for me but in my head, I thought let me at least have five bouts and I can hope to finish on three and two. Then I won the next three so I thought let me have 10. And it went on and on.'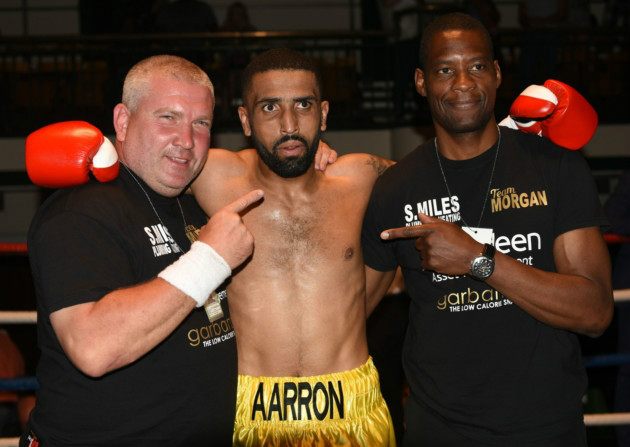 Once Morgan started taking the sport more seriously his attention shifted to turning professional.' I felt like I wanted a fresh challenge. It wasn't so much I was fed up with the amateurs; more I wanted to do something new.' When Morgan turned over in late 2013, he looked to his former Islington Boxing Club and enlisted coaches Roy Callaghan and Bevis Allen to be the trusted voices in his corner. It's a partnership that Morgan deeply values and has yielded impressive returns to date. 'Bev has been there from day one. Roy too. They've helped me inside boxing and outside of it too.
'In today's society it's rare you can safely say someone has your best interests at heart. I think that's important. We seem to all be in sync- on the same wavelength. Half the time I might think something then Bev will mirror exactly what I was thinking. It works well.' With a week to go before the 28-year-old makes his return to London's York Hall there is a look of focus and intensity in the boxer's eyes. 'I'm looking forward to giving my fans a great show, after that, I'm looking at the big names in my division and I'll be gunning for titles.'
You can follow Aarron 'the Marskman' Morgan on Twitter @AarronMorgan