[sam id="1″ codes="true"]
Carl Frampton goes into the biggest fight of his life on Saturday night when he challenges undefeated three-division world champion Leo Santa Cruz for the Mexican-American's WBA world featherweight title at the Barclays Centre in New York.
Frampton the undefeated unified super-bantamweight champion is taking a big step up against one of the best around in Santa Cruz (32-0-1, 18 KOs) But the Belfast boy is also a seasoned world campaigner and is coming with everything he has. Which makes this matchup a five star mouth watering fight for the fans and one Frampton can write his name in the boxing history books, by becoming a two weight world champion and claiming his place as one of the elite pugilists on the scene.
Santa Cruz holds the physical advantages in the fight, he is three inches taller than the Irishman and boasts 7 more inches in reach. On fight night he will be bigger in stature than his opponent, but Frampton (22-0, 14 KOs) who was big for super-bantam, says he feels stronger in the higher division, and feels it will be better for him come fight night.
"I've worked very hard in the gym and I feel strong at 126 pounds. This new weight suits me and you will see the result in the ring." said Frampton.
"I'm a different animal now at 126 pounds. I was only performing at 70 or 80 percent of what my capabilities were. I'm feeling strong and I'm a different fighter. This will be my best performance."
The New York bill is a stacked one with some great fight lined up and Frampton is enjoying his time in America and is looking forward to performing on the big stage against an opponent he has nothing but total respect for.
"Nothing can compare to this opportunity. People know me in Belfast, but Leo Santa Cruz is a three-weight world champion who gives me the opportunity to become more well known." continued Frampton.
"This fight sells itself. I respect all my opponents until I'm disrespected myself. I respect Leo because of his actions and because of the great fighter that he is.
"I'm honored to be on a bill with so many great fighters. There are four fights that could probably top a bill in their own right. I'm honored to be here and I'm going to get the victory on Saturday night."
Santa Cruz also shown his respect for Frampton and knows he will not be in for an easy fight, calling it a 50/50 contest, but warned the Tigers Bay star he will leave everything in the ring.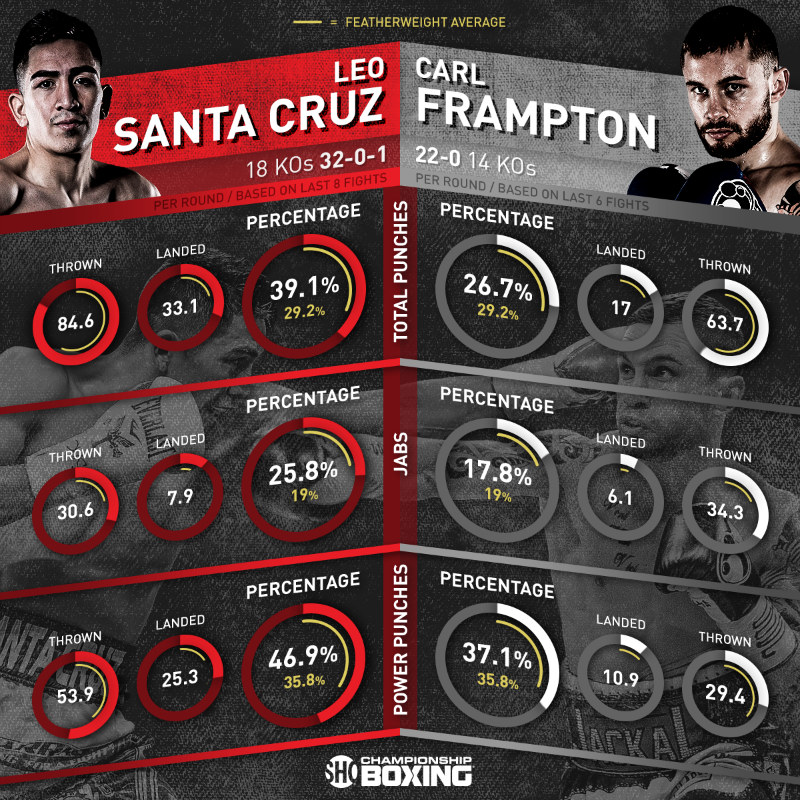 "I know that this is going to be an interesting fight. We're both undefeated and we're going to make it a war. Neither of us wants that first loss. We're going to leave it all in the ring. This won't be an easy fight. It's a 50-50 fight. The fighter who wants it the most will win the night."
Frampton has the chance can to become the first Northern Irishman to win world titles in two weight classes, he is already an hero back home, but his stock will go through the roof if he can pull off the victory and he will become one of the big draws on the global boxing sphere.
"I'm preparing for Santa Cruz to come all night and throw a hundred punches a round," Frampton said when imagining how the fight might play out against the non stop punching champion. "But I promise you when I start hitting him hard, he'll think twice about coming in.
"I'm faster, and I think that I can definitely punch faster. I have better feet than him. I think the main difference here will be how hard I punch. It's all well and good coming forward and throwing a lot of punches when you are getting hit by guys who aren't big punchers. But when you've got a big puncher standing in front of you, you won't be as keen to come forward, and I think that that might be the case."
It all has the making of fight of the year and if both of these warriors bring their 'A' game that is just what we will have. Frampton is super-confident and evaluating his keys to the win in what would be considered an upset, he went on to say the fight with a Santa Cruz type boxer is one he has craved and is confident he has the style to do it. "It's about getting his respect early in the fight," added the Jackal.
"I have to hit him hard and hurt him in the first or second round to make him respect me. Look, Santa Cruz is a type of fighter I've been craving for my whole career, someone who comes forward and throws punches. That's what I feel that my style works best against."
You can watch the fight live on BoxNation – More Details here.