By Frank Warren
There was a genuine buzz of excitement and anticipation among boxing fans when we announced back in June that two undefeated and top class super welterweights were ready to put it all on the line on a July date in Cardiff.
Liam Williams and Gary Corcoran did not disappoint. It was a superb night at the Ice Arena and the atmosphere was electric when the local favourite and the Wembley man entered the ring.
The bumper crowd had also just witnessed two world title contests as an aperitif.
The Cardiff public fully embraced big-time boxing making a return the city and Williams, from Clydach Vale, made it a night to remember for them by overcoming Corcoran in the 11th gruelling round.
It was a terrific scrap, but one that was made all the more memorable by the partisan din generated inside the arena.
It was the sort of match-up the fans crave and really buy into – so we are going to do it again, back in Cardiff, at a bigger venue in the heart of the city.
Again it is two unbeaten fighters and again Williams will be challenged by an inhabitant of the famous Peacock Gym in Canning Town.
Ahmet Patterson, however, is a completely different proposition to Corcoran. Corcoran is a marauding force more than willing to take his lumps over the stretch, whereas Patterson is more calculating with fast hands and quick feet.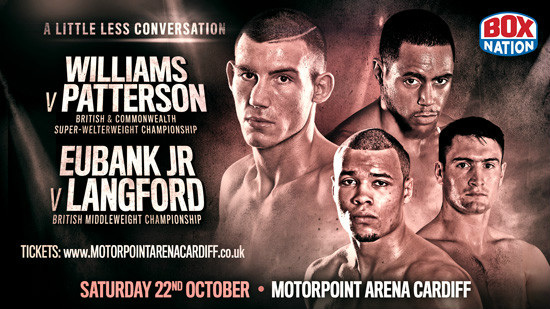 His footwork – perhaps as a result of his days as a street dancer – is smooth and smart, allowing him to exploit the angles – and he can punch a bit too. He is a confident, charismatic personality who is easy to warm to and we probably won't see the pre-fight angst that ignited Williams-Corcoran before a punch was thrown.
Patterson is the WBO Intercontinental title holder and was mandatory for a shot at Williams' British belt before injury delayed proceedings. He is ready now and this is his chance to really step into the spotlight and show what he is about.
We already know what Williams brings to the ring and he is a top class operator, improving all the time under his excellent trainer Gary Lockett.
If his aim is to house his Lonsdale Belt for keeps he is certainly doing it the hard way with Corcoran and now Patterson seeking to force a change of address. It is simply a top domestic division at the moment, with the likes of Jimmy Kelly jnr and Joe Pigford also striving to get in the mix.
[sam id="1″ codes="true"]
In the co-headline attraction we step up a weight with another British title blockbuster. Chris Eubank and son may divide opinion but there is no doubt the boy has got talent and is a force to be reckoned with in the middleweights.
For our man Tommy Langford it is a natural step up. The 27-year-old Commonwealth and WBO Intercontinental champion has passed every examination set before him so far with flying colours and could have chosen to exploit his No.2 world ranking and leapfrog into elite contention.
He will take his chance when the time is right, but first he wants to take care of domestic duties. He is going to have to do it tough against Eubank Jnr, whose record suffered its only blemish against now WBO world champion Billy Joe Saunders.
He has restored his reputation on the British scene with relatively straightforward wins over Nick Blackwell and Tom Doran but, although he talks about toppling the top boys, he is yet to embark on a walk in that field.
I know some are predicting another routine defence for Eubank, but I believe Langford has much more about him and will not adopt the gung-ho approach of the two previous challengers.
Langford boxes smart and with stealth, his defence is first class and he is not in the business of walking onto shots. Eubank will be set puzzles he has not encountered since his defeat to Billy Joe.
So it is going to be quite a night at the Motorpoint Arena, with Bradley Skeete's defence against Shayne Singleton making it a British title treble on our BoxNation-televised show.
Talking of trebles, we also have a third coming together of Tom Stalker and Craig Evans with Stalker's WBO European lightweight title at stake. To say these two are evenly matched would probably be an understatement, given that their first two fights ended in a draw.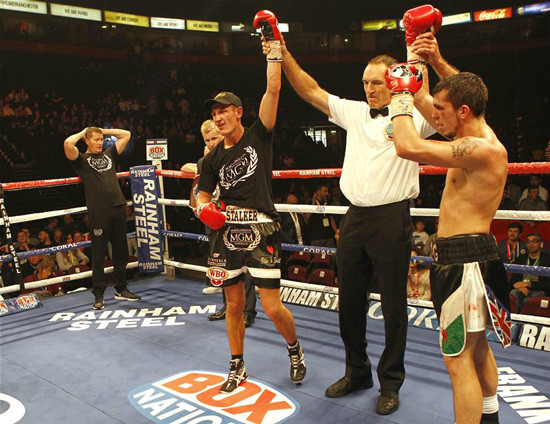 The first was an absolute belter back in October in Manchester when Stalker was perhaps rightly dismayed by the judges not declaring him the winner. So they went again at the same venue in December and, on this occasion, Evans felt hard done by – although there was a more compelling case for that one to be called even.
Stalker claimed the vacant belt at the third time of asking in June at the Echo Arena and Evans is now rightly his first challenger.
Surely we will get a winner this time around!
Possibilities for Flanagan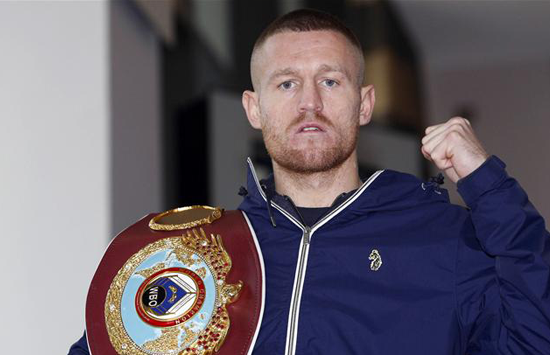 The mandatory challenge of Felix Verdejo for the WBO world lightweight title held by Terry Flanagan has been put on hold after the undefeated Puerto Rican was unfortunately injured in a motorcycle crash.
Big battles still lie ahead for Terry in a division of numerous possibilities. Dejan Zlaticanin is linked with defending his WBC title against Mikey Garcia, while IBF super featherweight champion Jose Pedraza is reported to fancy trying his hand at lightweight.
Former world champion Juan Diaz is another possibility for Terry and we are talking with Bob Arum over a potential November date. Watch this space.
[sam id="1″ codes="true"]
TO WATCH THE CARDIFF SHOW ON BOXNATION
BoxNation subscription is £12 per month plus £8 registration fee for Sky TV. €15 per month plus €10 registration fee for ROI Sky TV customers. £11 per month with no registration fee for Virgin Media customers. £12 per month and no registration fee for TalkTalk, Freeview, EE, online and app (iOS, Android, Amazon) customers. No minimum term.