On October 15th, Derry Mathews (38-10-2, 20 KOs) will return to the ring to face Luke Campbell (14-1, 11 early) at the Echo Arena in his hometown of Liverpool. This will mark Mathews's first time back in the ring since a unanimous points decision loss to WBO Lightweight World Champion Terry Flanagan. Britishboxers caught up with Derry recently to get his thoughts on the upcoming fight.
Having been out of the ring since 13th March earlier this year, a solid training camp is required from "Dirty" Derry, who marks his 51st professional contest with this upcoming bout against Campbell. I asked Mathews how training was going so far, to which he responded by telling me: "So far so good, I've started well. I've had sparring already which is unusual for us—it's all building up in the tank now, ready for fight night.
"I don't fight every few weeks at this age, so it's been a long time out, so I thought we'd start sparring earlier and see what happens. I'm enjoying it more than anything."
Enjoyment is key at this stage of Derry's career you would think; without it, there would be little motivation to get up for those 5am starts and push his body to its limits.
[sam id="1″ codes="true"]
To quote one of boxing's frequently used clichés; Campbell will be stepping into the lion's den next month when he travels to Merseyside. Derry is one of Liverpool's most popular fighters and will almost certainly make his way to the ring as the more popular man, despite being the 'away fighter' in the match up.
I asked just how much of an advantage that has on fight night, to which Derry replied: "People say that when that bell goes, you're on your own in that square circle, but my city, we're a boxing city, when they're pushing you on it's such a boost. I can't wait to be there in the Echo Arena on fight night, with the fans screaming my name."
Unlike other Merseyside fighters, Derry opts not to display any reference to Liverpool or Everton, I asked if he felt this helped with his popularity, he told me: "My trainer is a mad Evertonian, most of my mates are Evertonians, so I wouldn't disrespect them like that. We're a great football city and a great boxing city, so why not all stick together?"
This fight came as somewhat of a surprise due to the usual reluctance between Eddie Hearn and Frank Warren to work with each other. I enquired as to whether it was difficult to convince Frank to accept this fight.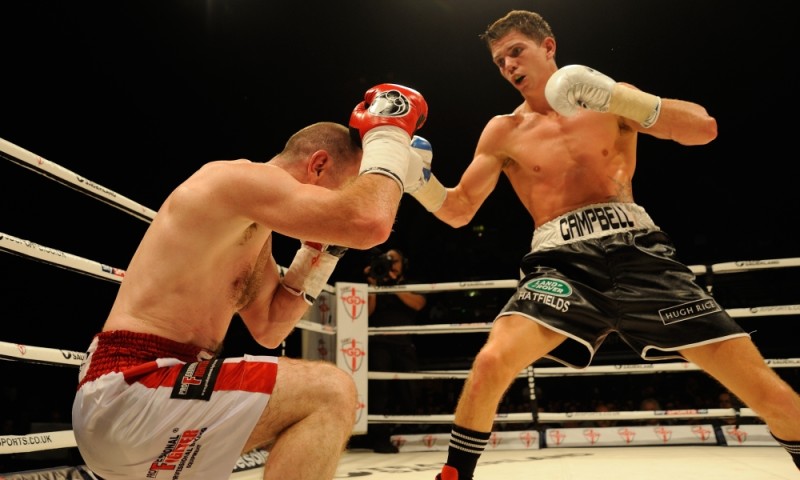 "I didn't deal with any of that, that's all through my manager," stated Mathews. "Frank believes in me, my team believes in me, and I know I'm gonna win."
Warren and the whole of Queensberry Promotions will be hoping for a repeat of Eggington Vs Skeete from earlier this year, whereby Skeete came to a Matchroom show as the away fighter and left with the victory (and the British title on this occasion).
Derry had previously joked on Twitter about being busy if a fight with "Coolhand Luke" was offered to him, but since the loss to Yvan Mendy, and other recent performances there is no reason why he wouldn't fancy the job at hand.
I asked Mathews what had changed, to which he responded. "At first, when he turned over: 'I thought this kid's special, I think he'll go to the very top'. You don't win a gold medal if you're not good at boxing. I've seen his fights where he's stepped up and to me, he hasn't adapted to the pro game very well. So when this fight was presented to me by my manager, I jumped at it.
"Fighting in my home city, in front of my home fans, against a Matchroom fighter? It doesn't get much bigger than that."
It's clear that he's now extremely confident going into this fight, and why shouldn't he be? Coming off the back of a tough points loss to Terry Flanagan, and a victory against Tony Luis before that (to win the Interim WBA Lightweight Title), it's certain that he will be
It is Campbells toughest test to date. I asked Mathews for his prediction on the fight. "I want to be clever, I think I'll be too strong, old man him, and school him in there," he answered. "I know I'll win, I'm that determined'.
To conclude our conversation, I asked Derry what his thoughts were on a potential all Manchester unification fight between WBA Lightweight Champion Anthony Crolla and WBO Lightweight Champion Terry Flanagan, simply put he replied: "Well I've beaten one world champion and the other one beat me. I think Flanagan wins, he's the best in the world for me and I'll be doing some sparring with him next week."
Luke Campbell Vs Derry Mathews defines what is commonly known as a 'crossroads fight' and it's sure to be an exciting spectacle on October 15th.
[sam id="1″ codes="true"]