Last Wednesday I spent a wonderful and eventful evening at the Venture A.B.C. gym in Birkenhead, and what an enjoyable evening it was. 
I got there just before 5pm, just in time to see the youngsters going through their paces. Boys and girls from 4 and 5 to 8 and 9 years old. Did those kids love it! John Ratchford, who takes the classes with his assistants and Sean Trodden, definitely has a gift for teaching youngsters.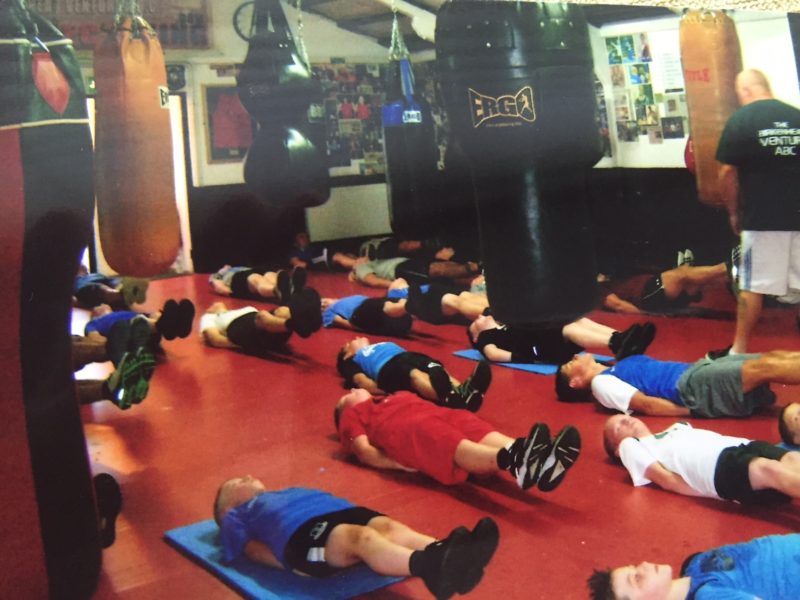 Sean Trodden putting the youngsters through their paces at the Venture ABC in Birkenhead, a great local club I like to visit.
Next were the juniors and seniors. Again, I counted 53. From 11 year olds to those in their early twenties. The exercises and bag work were really good then they did pad work. I was very impressed. Then came the sparring. 
Ben Burnham was boxing Kirkby's Harry Woods—an England international—on the Saturday for the English light heavyweight title and Ray Boyer was boxing Mickie Parsons of Broad Plane in a 75kg eliminator. both boys were having their final spar and I was very impressed by both. 
Ben lost on a majority decision and Ray won. Both were hotly contested bouts. 
One notable absentee was Chloe Woods. This young lady was joining the England squad for the Ladies European Championships. A few weeks ago Chloe defeated Irish European bronze medal winner Katien Fryers on two occasions. No mean feat. 
The redeeming feature about this club is that there are no stars. Everybody from the raw novice to the top boys and girls are all treated the same and only good can come from that. 
After all that,  weights were checked and then it was time for the ladies class. Altogether, 115 people had attended the gym that night. I remarked to Sean Trodden: "Ever thought of making a comeback? You're putting the work in!"
Now to another topic. A lot was said and written over some of the dubious verdicts handed out in the Olympic Games. Yes, some were shocking. However, let's look a bit closer to home. A lot of decisions in the pro and amateur game in this country are garbage to say the least. 
In the pro game it looks as if certain referees definitely favour the house boxer. In fact, it's so apparent and some of the judging takes a bit of working out. I was at a show at Liverpool's Echo Arena with my friend, ex-Golden Glove ABC and Rotunda boxer Gerry Higgins. I said about two certain bouts that if they went the distance, they would be given as draws so that the house fighter would not be beaten. I was correct. 
It is similar in the amateur set up in many ways. How many majority verdicts favour the more established clubs? 
For instance, in the last two seasons Birkenhead's Venture Club has had six finalists in the National Finals beaten on majority verdicts. That alone gives you food for thought.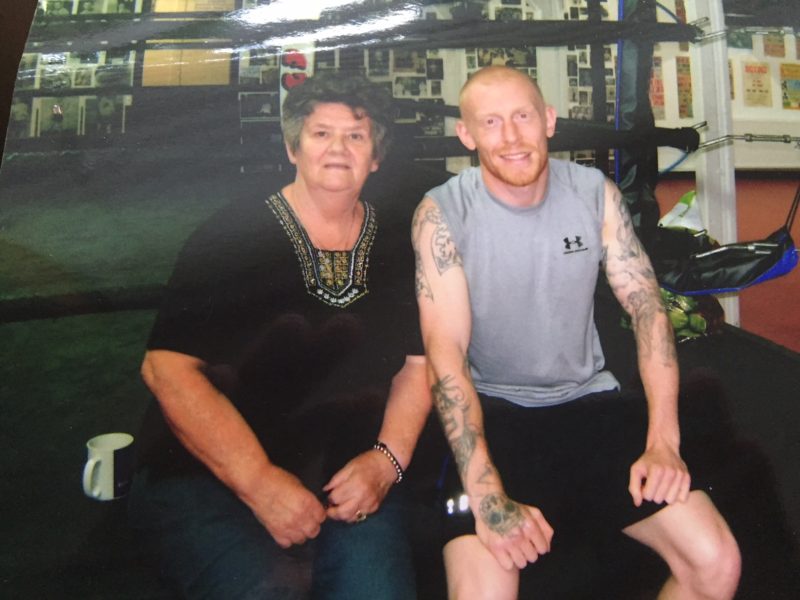 Mrs Tommy Dix with Venture's Central area champion Sean Lewis
When I attend an amateur show I always pay attention to the officials and the referees in particular. This has come to fruition on quite a few occasions. 
One notable occasion came when I was helping out at Deva ABC. One of our boxers was going to Liverpool to box on a Sunday afternoon show. The boy concerned was Dave McDonagh and the date was very significant as Dave's baby was to be christened that evening. Well, what an eventful day. Dave Evans picked my wife and I up. Dave arrived with his brother Hughie and his wife with the baby girl in a lovely crib. 
One thing I knew about Dave McDonagh was this, he would follow instructions to the 'T'. Also, over the years I had quite a lot to do with his family. All were well mannered and had no quit in them. 
After the weigh-in I asked if Dave could go on earlier due to the christening as his bout was due on last. I was informed, 'No way' as his opponent had sold nearly 400 tickets. 
I had seen his opponent box and he was good but I knew Dave would handle him. Dave Evans, the Deva coach, asked me to instruct Dave McDonagh. I said: "Get to the centre of the ring first and throw your jab fast and hard, not as a point scorer but to go through the man. Force him back and keep everything at arms length. Don't give the ref any excuse to warn you. The pressure is on him if you force him back. Work everything off the jab. Jab- left hook to the body-hook to the head and double your jab. 
"The pressure will get to him and he'll start over reaching in the second round. That's when you bring your right into play." 
I phoned Shea Neary up and told him where we were and he said do what Tommy says and you'll win. 
Needless to say I'd weighed the officials up and I was proved correct at that show. Tony Dodson, the ex-British super middleweight champ, John Naylor and Paul Burns were in attendance. I mention these names in case any readers know them and they can ask them if it's true. 
Needless to say Dave McDonagh followed my instructions and won handily. However, I give full marks to his opponent who told my friend, photographer Terry Churchill: 'Whoever told Dave McDonagh what to do read me like a book and I want to meet him for some advice.' 
With my experience, not only were the Olympic judges found to be wanting but we also need to address the situation here in amateur and pro ranks.
Good luck, God bless.
Tommy Dix
[sam id="1″ codes="true"]