BBTV VIDEO: Tales from the Allotment with Tommy Dix.
In this first episode of 'Tales from the Allotment with Tommy Dix, Tommy speaks about his old friend and guardian Joey Fennah, a good boxer in his day who's career was cut short by world war 2.
Joey was a Para who survived a firing squad and escaped German capture twice.
Tommy speaks about some of the other influences in his life and much more, including when Randolph Turpin defeated Sugar Ray Robinson in London.
Tommy is a wealth of boxing knowledge having been in and around the game all his life. This is the first part of this allotment series which we hope we can keep bringing you for a long time to come.
Watch the video above and visit our BBTV channel for more Tommy Dix Videos
Collyhurst & Moston ABC show at


Vasa Night Club, Manchester – 17th May 2018.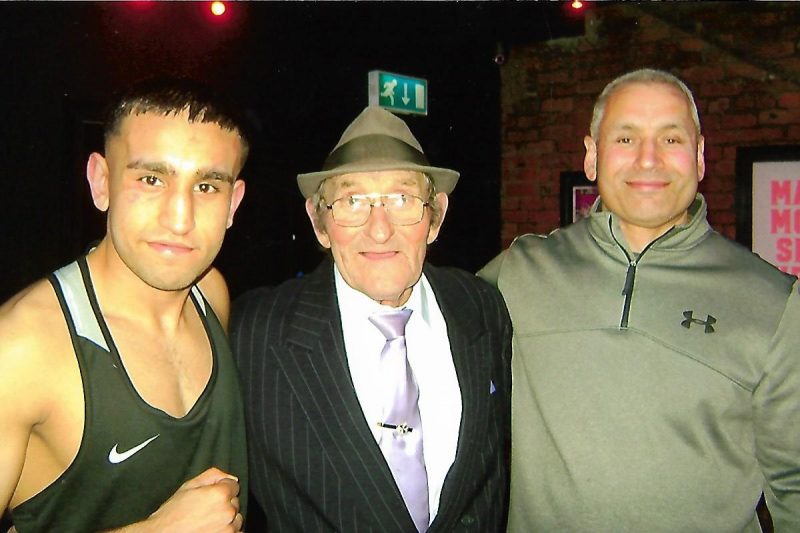 It must have been a matchmakers nightmare with six bouts being cancelled at the last moment, however all's well that ends well and the capacity house was treated to an excellent night's boxing.
The 5 skills bouts were exceptional for participants so young. The matchmaking of these skills bouts was perfection itself.
Junior Female 3 x 2
Ellie O'Brien (Collyhurst) lost a split verdict to Beartown ABC's M. Morgan in an even steven bout. Whenever it looked like Ellie was getting on top her counterpart would come steaming back. Both showed good leads with their jabs and neat footwork. This bout was a pleasure to watch. Both girls were well schooled and showed an excellent variety of punches.
Junior Bout 3 x 2
Collyhurst's George Kileen gained a majority points verdict over N. Danson of Fit XL ABC in an absolute cracker of a bout . For his undoubted skill and talent, young Kileen was pushed hard by a classy, resolute adversary. Kileen came out firing with combinations off his left jab and was met by an opponent with a sound defence and a capable counter puncher. This bout had the crowd on its feet with the skill and fine fine boxing these boys produced. This bout brought sustained applause at the end of three fantastic rounds.

Senior Bouts 3 x 2
Collyhurst's N. Ndebele gained a split verdict over No Limits ABC's N. Dube in another mouth watering contest with Dube attacking with gusto forcing Ndebele to box on the retreat. This bout too had the crowd on its feet as Dube threw every shot to separate Ndebele from his senses. Dube would lead with his jab and then throw combinations. Ndebele for his part would use evasive tactics and then fire back with his combinations. The officials decided Ndebele had shaded a great bout.
Senior Bout 3 x 2
U. Zamir (Collyhurst & Moston) gained the spoils over No LImits' Anaour Khasal. This too was a bout that was evenly contested with Zamir showing a nice lead, a good combination of punches and a sound defence and he needed those attributes to gain the verdict over a resolute foe that never gave him a second's peace in an absorbing bout. Khasal showed a good variety of punches and pushed Zamir hard.
Senior 3 x 2
Collyhurst and Moston's Wycombe King gave a brilliant virtuoso performance in defeating No Limits' M. Trainor. Wycombe King gave a wonderful display of aggressive boxing mixed with excellent defensive skills.
There was no feeling out period by both boxers and Trainor went straight into the attack only to be met by King who blocked and parred his shots and came back with hard shots to head and body. Trainor is made of hard stuff and tried to stem the tide.
However this night belonged to Wycombe King, his jabbing to head and body was beauty to behold. His variety of punches, eye catching , try as he did Trainor could not match Wycombe on this night, and took a standing count in rounds two and three. Trainor, though defeated, can hold his head high as he gave his all and Wycombe King was in fantastic form.
This bout was a fitting end to a wonderful night's boxing.
Until next time, good luck, God bless,
Tommy Dix
BBTV VIDEOS