BRILLIANT CROLLA KO'S BARROSO IN MANCHESTER
WBA king takes out danger man in seven rounds
Anthony Crolla put on a professional measured display of pressure boxing, before knocking out Ismael Barroso in the 7th round to retain his WBA world lightweight title, at the Manchester Arena on Saturday night.
Crolla took a few rounds to get into the fight as he walked down his challenger with his guard held high, cutting the ring off well, he steadily applied the pressure, making Barroso work for every minute a round. The pace started to tell on the Venezuelan midway through the fight as Crolla began to land with telling punches as he wore his man down.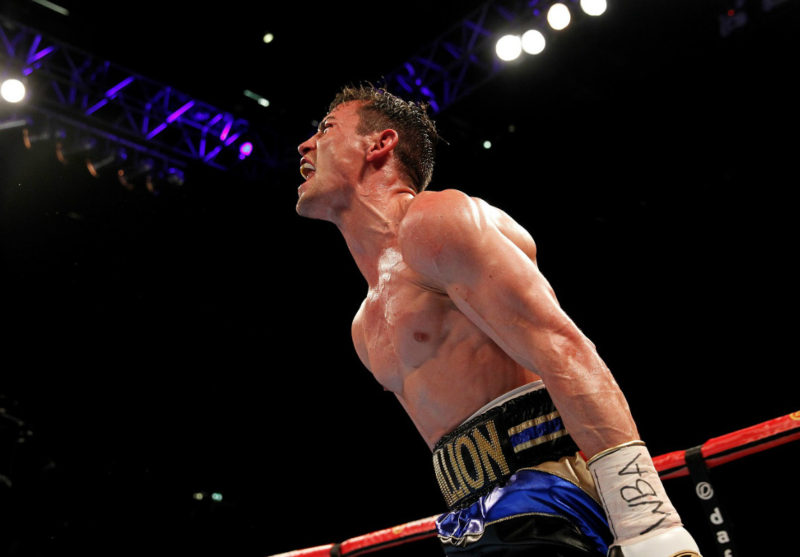 It was a superb performance from Crolla in the first defence of his title, but the Mancunian had to take plenty of shots in the first part of the contest and his red face bore the signs of the leather Barroso was landing. But Crolla's guard was always tight and no punches of note got to his tucked in chin, but the early signs were worrying.
But in true Crolla style of late, his pressure fighting style eventually told as Barroso started to blow. Crolla sensed his moment and took it. The fight had gone out of Barroso and Crolla sensed his moment, storming into the visitor before delivering a crunching body shot to hang onto his belt in front of a fantastic crowd in Manchester.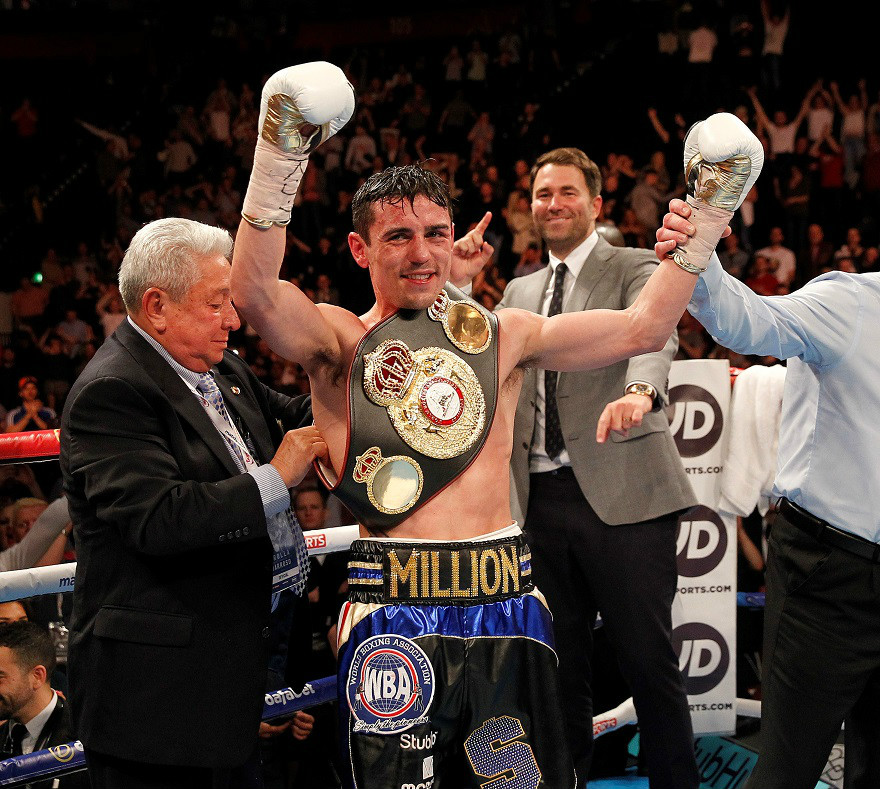 "I honestly knew that I would beat him," said Crolla. "It got my back up people saying that I would swerve him. This is my house; no-one takes my belt from my house.
"I am improving every fight. He hits hard, believe me, but I have worked too hard. The team has pushed me so hard for this one. I knew how the fight was going to go after 30 seconds. He felt a body shot in the third and it was just a clipping one, I knew he was hurt to the body and that I could get the stoppage.
"These are the nights you come into boxing for – people said that I would be remembered well after tonight and they were right, I hope everyone enjoyed it and the nights here are only going to get better."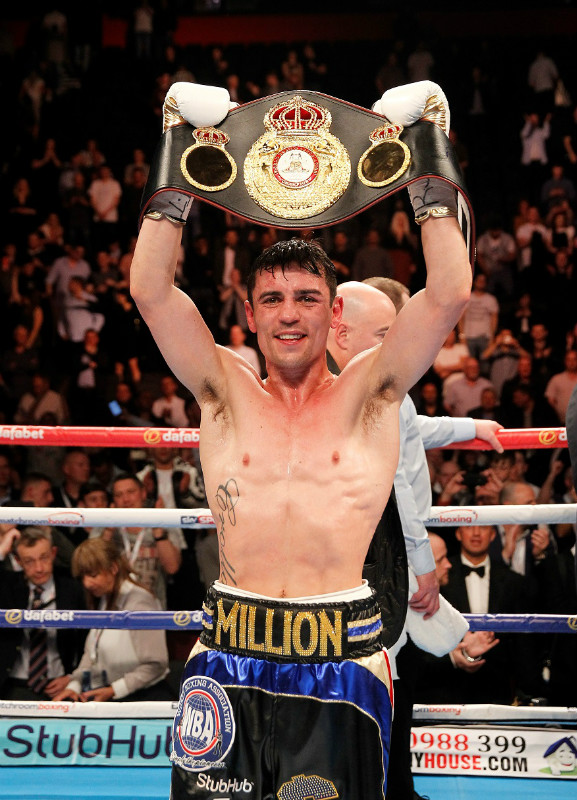 [sam id="1″ codes="true"]
On the undercard
Shayne Singleton stopped Anwil Anwar in round eight of their ten round welterweight contest.
Singleton looked like he was going to make it a quick and easy night as he dropped Anwar in round one from a left hook. Anwar was able to steady himself and have success over the next handful of rounds by getting in some good right hands. With the fight being on an even level, Singleton landed a big left that sent Anwar down in round eight. Anwar was clearly hurt, and Singleton jumped all over him and the fight was quickly stopped at 1:37 of round right.
Singleton is now 23-1 with eight knockouts. Anwar is 22-6.
Martin Murray tuned up for a June 25 showdown with George Groves by stopping an overmatched Cedric Spera in a scheduled 8-round Super Middleweight bout.
Murray dropped Spera with a left to the body in round two and finished him off with hard right that sent Spera down and out at 1:47 of round two.
Murray is now 33-3-1 with 16 knockouts. Spera is 12-5.
Marcus Morrison scored a 2nd round stoppage over Jefferson De Souza in a scheduled 10-round Jr. Middleweight bout.
Morrison dropped De Souza with a left hook in round one and the bout was stopped in the 2nd.
Morrison is now 11-0. De Souza is now 16-2-2.
Hosea Burton scored a 4th round stoppage over Michal Ludwiczak in a scheduled 6-round light heavyweight bout.
Burton dropped Ludwiczak with a left hook in round three. Burton scored another knockdown from a left hook in round four and the fight was stopped shortly after at 2:58.
Burton is now 16-0. Ludwiczak is 13-4.
Tommy Coyle (22-3) won a decision over Reynaldo Mora (7-13-1) in a super lightweight bout via referee score of 59-55.
Sean Ben Mulligan outpointed Kevin McCauley over four rounds in impressive fashion. Mulligan had loads of fans in the arena supporting them and he didn't disappoint with a measured display. The Manchurian's movement and selection of punch was impressive and McCauley had no answer to the zuberance and pace of Mulligan, who goes 5-0.