TERRY FLANAGAN V ORLANDO CRUZ
In this eagerly anticipated return to the ring for Terry Flanagan, many were disappointed not to see a unification bout of some description, however team Flanagan remained upbeat and philosophical in the build up to the event.
Orlando Cruz is no mug, a fighter that loves to exchange and throws serious leather. Flanagan's trainer Steve Maylett was only too aware going into this fight that there was no room for error if Terry is to fulfil his dream of being involved inmega bouts next year.
Previously, Cruz had only really lost to elite and credible opposition and despite suffering disadvantages in both height and reach, looked confident and lean entering this big clash in Cardiff. Last time out Terry Flanagan defended his title against Fana in a dominant performance but one which left him and his trainer frustrated.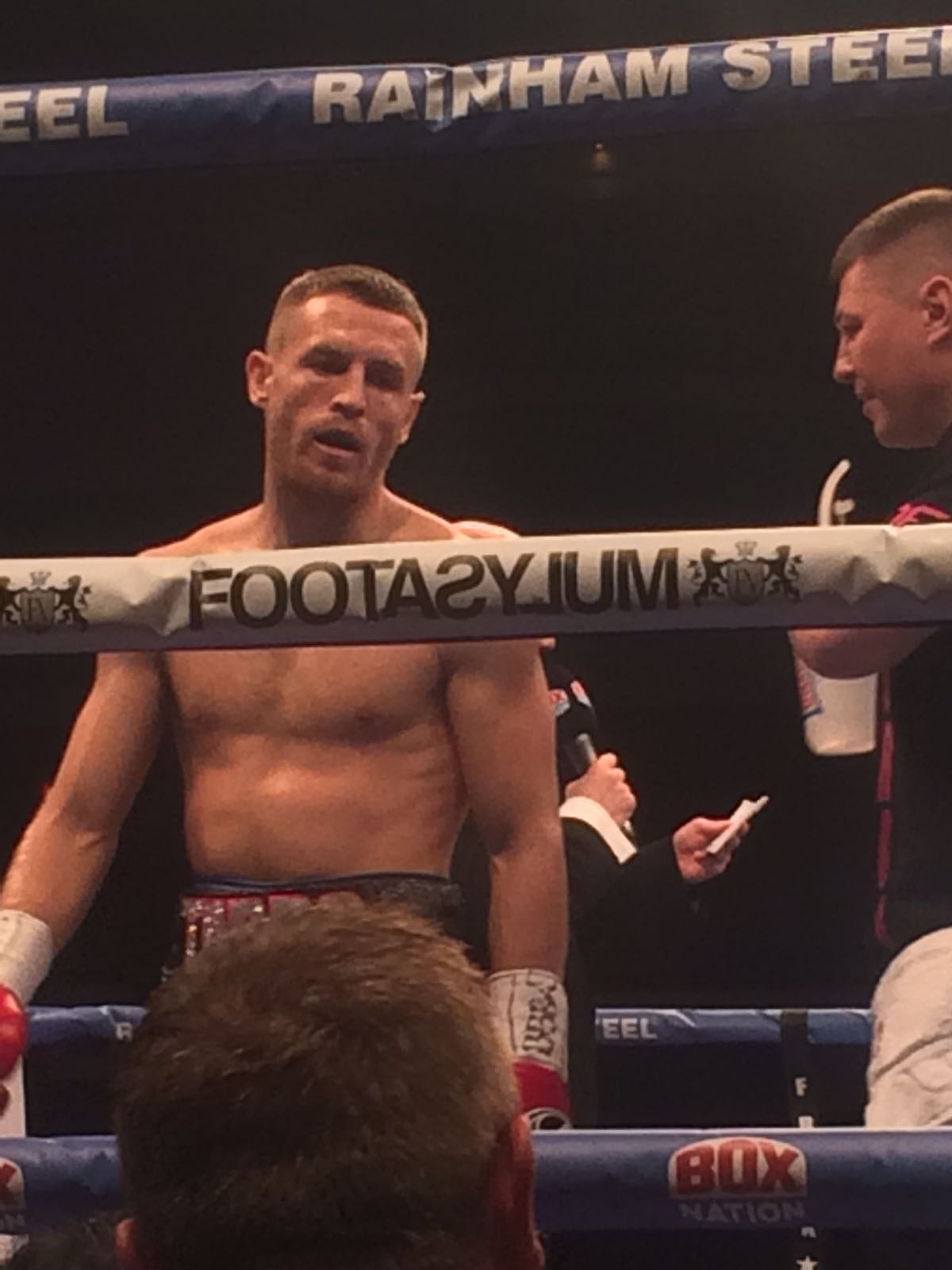 Flanagan is a superbly fit athlete and the mood of the camp in the last few weeks has been determined and focused. Attempts by the media to draw Terry into a debate about his opponent's sexuality have been expertly handled with class and have not phased him. Preparations have been meticulous and top sparring with likeable Liverpudlian Tom Stalker have helped him prepare for his southpaw opponent.
[sam id="1″ codes="true"]
The fight was in most part a showcase for Flanagan. He looked dominant from the get go. Towering over his smaller opponent, Turbo boxed smartly in the initial rounds, putting his punches together well and focusing on ring positioning and not giving ground.
The middle roundssaw the champion stepping in with his feet and landing hurtful shots to body and head of the Puerto Rican challenger. Cruz was flustered, complaining to the referee on several occasions, straining under the constant thudding shots coming his way.
The champion eventually caught up with Cruz in the 8th round. A volume of punches in bunches essentially broke the will of the challenger. Terry Flanagan now looks forward to some big unification bouts ahead, a possible move to the 140-pound division but firstly, a well-deserved rest. Flanagan wins by eighth round stoppage.
TOMMY LANGFORD V SAM SHEEDY
Likeable Brummie Tommy Langford was the latest victim of the enigma that is team Eubank. Chris Eubank Jr. pulled out of their fight due to tennis elbow amidst various speculation, resulting in stand in opponent Sam Sheedy.
Sheedy entered the contest with only one defeat in 18 bouts but did not bring with him the domestic hype that Langford could have expected from the hot shot from Brighton. On paper at least, Sheedy and Langford looked to be evenly matched with the styles seemingly set to provide an entertaining spectacle.
[sam id="1″ codes="true"]
Last time out, Langford looked an improved fighter against Timo Laine. He was harder to hit and appeared a more balanced fighter with good transition between body and head.
The fight itself lived up to the hype. The early rounds saw Langford assert his rugged style upon Sheedy with great success. After weathering an early storm, Sheedy came back with flashy counters and some flamboyant antics as he attempted to lure Langford into his game. The fight had a great flow and was gruelling and exciting to watch. Langford took a split decision but for my money, he won with a few rounds to spare.
Langford wins via split decision. 
LIAM WILLIAMS V GABOR GORBICS
Liam Williams certainly has the type of following that fighters dream of. The big Cardiff crowd was rocking at the very sight of their man, a robustly built junior middleweight with power and heart to burn. His late replacement, a game Hungarian fighter was not phased by the baying mob and showboated during pre-fight rituals. The early exchanges were feisty and fan friendly, neither fighter wishing to take a backward step.
The power Williams possesses is evident, every shot ringing round the arena. Williams is an old-school fighter; his skills are evident but he'd rather sit down on his shots and go toe to toe. Eventually Williams just had too much for the rugged and game Hungarian, the bout coming to a close in the 8th round after a hurtful barrage of punches from Williams. Williams wins TKO 8th
CRAIG EVANS v THOMAS STALKER III
An eagerly awaited decider between two fit but battle hardened fighters. Until now judges have found it hard to split the pair with two contested draws previously.
The partisan home crowd roared their man into the ring, Thomas Stalker must have felt a million miles away from home as he entered the arena to do battle. The fight was intense from the get go. Stalker opened brightly, boxing smart and picking clean straight left hands down the pipe.
Both fighters seemed hungry, determined, ready to unleash. Unleash they did, the middle rounds were dramatic and absorbing with both fighters trading powerful back hand shots. Serious leather was a thrown in an ebb and flow battle. Down the stretch, Evans came into his own. He found a second wind and at times outfought Stalker. Evans looked energised by the Welsh crowd and came back again and again with blistering combinations and hurtful body punches.
A tough and gruelling battle ended with an embrace. It was a genuinely entertaining fight. Evans took the decision via a majority decision however for my money he looked to have won the fight handily. A great and intense domestic tear up, a fourth fight anybody? Evans wins on points
FULL RESULTS
2016-11-26, Motorpoint Arena, Cardiff
Thomas Stalker
L
MD
10/10
Craig Evans
Alex Hughes
W
PTS
8/8
Harry Matthews
Liam Williams
W
TKO
8/10
Gabor Gorbics
Jay Harris
W
RTD
4/6
Phil Smith
Tommy Langford
W
SD
12/12
Sam Sheedy
Terry Flanagan
W
TKO
8/12
Orlando Cruz
Nathan Gorman
W
RTD
3/6
Igor Mihaljevic
Reuben Arrowsmith
W
PTS
6/6
Ivica Gogosevic
Jason Sillett
L
PTS
4/4
Henry Janes
Kid Galahad
W
TKO
3/8
Reynaldo Mora