On Monday November 14th 2016 I paid a visit to Birkenhead's Venture Club, the boys and girls who enter a real boxing gym for the first time, the beginners, the schoolboys and girls, the youths, the seniors and the pro's and I was amazed at how many trained on Monday night in the amateur section. 
There were over 40 youngsters, altogether with all amateur sections it hit over 100. The coaches were really kept busy, the amount of work Sean Trodden, George Treble, Danny Kelly and the other coaches put in is amazing. Everyone who passes through the door is treated the same and receives first class coaching. This is proved by the fact that in the last seven years Venture have had 21 national finalists, 11 of them won and 10 runners up, many on majority verdicts, that speaks for itself. The workload is amazing. For example in the next 7 days alone the clubs' boxers are out. On Thursday 17th Callum Day boxes on the Stockbridge show, on Friday 18th Lou Fox, Ryan Salmon and lady boxer Caitlin Lane Smith are at Nantwich, also on the same night at the Egan Show in Wythenshawe, Manchester, Connor Payne, Leighton O'Driscoll and Jay Pearson will be on show.
The club set up by the late Jimmy Egan, and now run by his sons Steve and Shaun, always puts on a great show for the amateurs and it should be no different at the Forum on November 18th. Get yourself along for some Friday night boxing, you won't be disappointed, there will be some fantastic talent on show in both corners.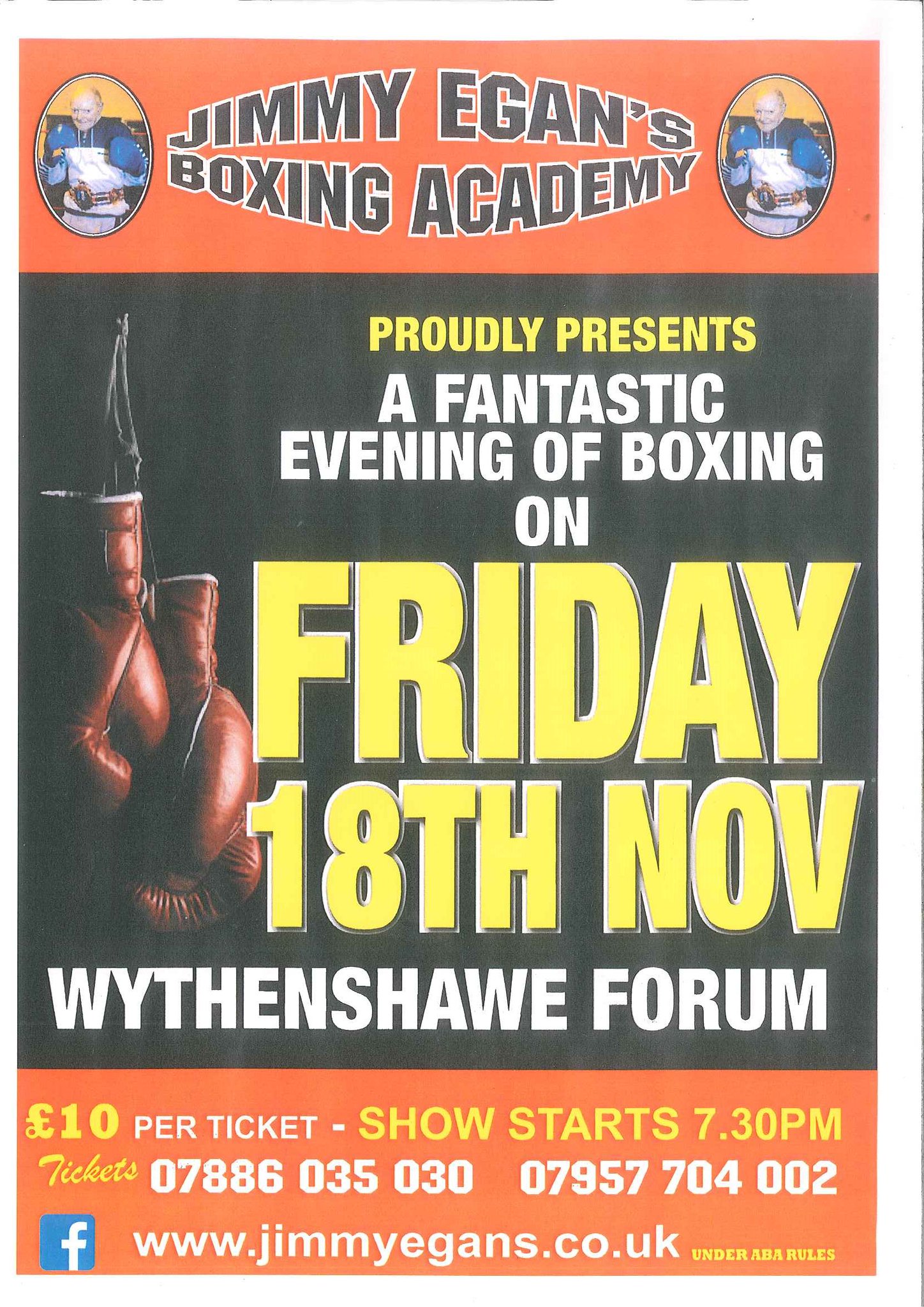 On the 24th Sonny Ward and Frankie Doyle at Kirkby and Friday 25th four boys fly the flag at the Gemini Club, J. Pearson, C. LIversage, K. Mooney and D. Price. You can see by that that this club is only too willing to show case its boxers away from home. This gives the opportunity for the boxers to gain valuable experience. 
One youngster I am impressed with Tom Musker, ok he's only had 3 school boy bouts, 2 wins but each time I see him he's improving and he has that wonderful gift all good boxers have in the gym – eyes and ears open and mouth shut. 
[sam id="1″ codes="true"]
I managed to catch a few words with Chloe Watson – Venture's English International, 16 year old Chloe (pictured below with Venture coach Danny Kelly) won her first bout in the European's by 2 round stoppage but was adjudged to have lost to a Hungarian by a split verdict in the next round. Chloe is now looking forward to the English championships in February. This unassuming young lady is a credit to her family, club and Birkenhead.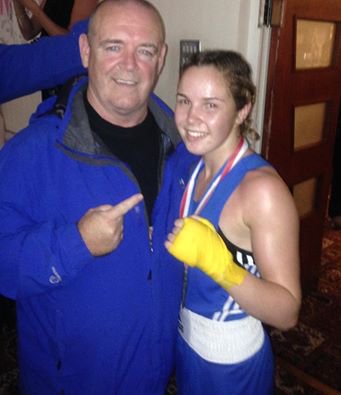 Then it was time for me to take a look at Sean Lewis' preparation for his Central Area title defence against Adam Ismail at Wigan on 3rd December. I was very impressed with Sean's work rate and variety of punches and the sparring was first class, a very good variety of boxers styles to keep Sean on his toes. This bout should be a cracker as Sean's up for it and Adam is seeking revenge, unfortunately I will not be there as I'll be in London that weekend. 
Today that ultra talented former Liverpool boxer Danny 'Boy' Peters is coming to visit me. Danny attended the last hook and jab show in Warrington and told me he was very impressed by the Venture's Boxers performances as they had been well schooled. 
I hope to visit the Collyhurst and Moston Club soon and see for myself how this club turns out such talented boxers and of course I'll be having a laugh and joke with my old friend Thomas McDonagh. 
The redeeming factor for the boxers from The Venture and Collyhurst is this; if ever they decide to turn professional their trainers and management is in place and the promotions are in place. 
I honestly believe in the next few years many professional champions will emerge from these gyms where old school methods prevail. 
Just as I finished what I had written over the Venture Club last night I got in touch with Chris Maylette over the Black Flash Promotion at the Fusion nightclub in Liverpool on 26th November. Three local boys make their debuts in Marcel Braithwaite, Byron Abiru and Stephen Floyd. They are matched with Anwar Alfradi, Kevin McCauley and Ibrar Riyaz respectively. These will be excellent learning bouts for the Liverpool hopefuls. 
Also on the show are two of Manchester's top prospects, Sean Ben Mulligan and Mark Heffron.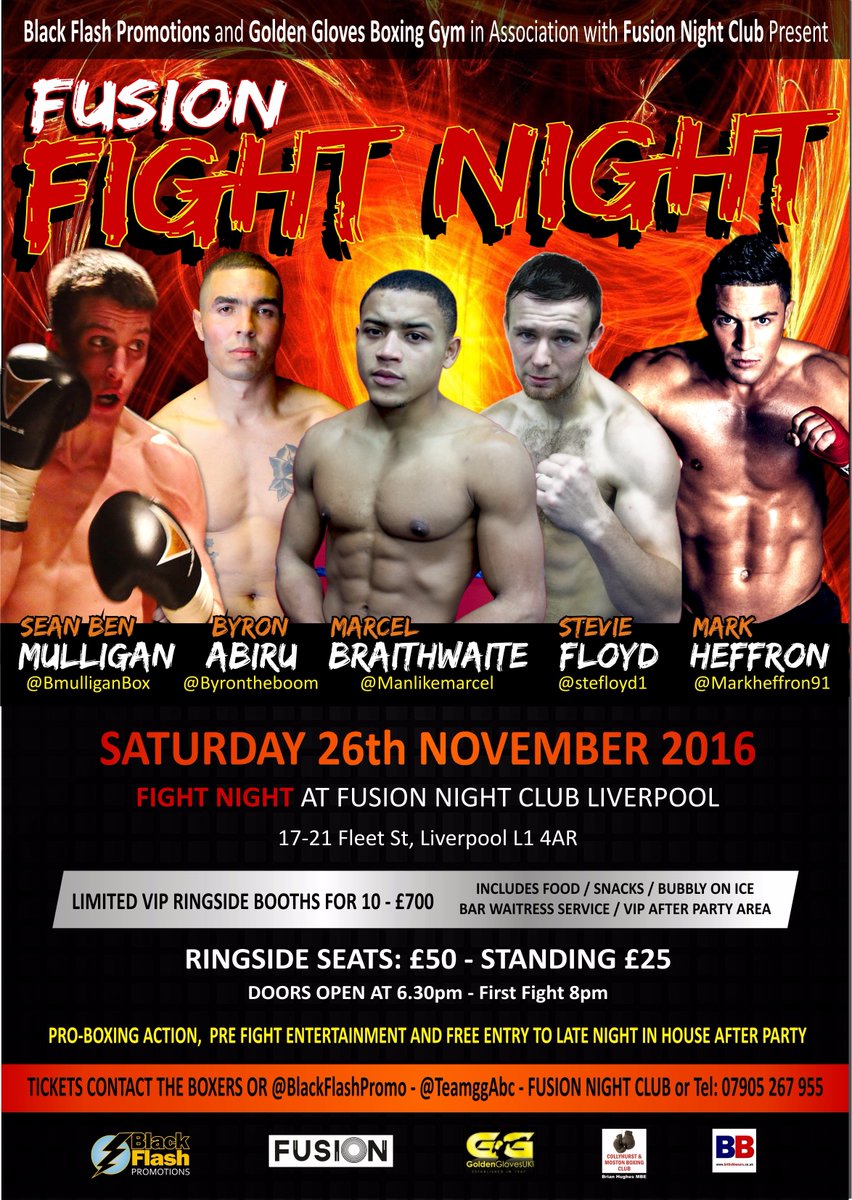 Young Sean Ben Mulligan is a lovely box-fighter who I feel has alot going for him and could well go to the top. The same goes for Mark Heffron who has a punch that can deem a referees score card not needed. 
With three Merseyside hopefuls and two of Manchester's top prospects a goood night is in order. If this Black Flash Promotion is as good as the last at Middleton Arena it's not to be missed. 
The tickets are priced at £25 and £50 for ringside. The Black Flash Promotions shows are very similar to those wonderful Munro / Hyland shows of yesteryear. 
Tommy Dix