Of all the weight classes in the sport, super-middleweight must be one of the most competitive. Britain has produced some global stars at 168lbs in recent years, led by the likes of Carl Froch, who beat everyone there was to beat aside from Andre Ward, and then ruled the division in the American's absence. James DeGale, who couldn't secure a title shot against 'The Cobra', nevertheless managed to win the IBF title against Andre Dirrell last year, while the only man to better him, 'Saint' George Groves, has fallen just short of world honours 3 times, and put himself in contention for a fourth attempt after beating Eduard Gutknecht at the weekend. 
Now these domestic elites have new company, as Liverpool's Callum Smith looks ready to stake his own claim at a belt. Smith has been in the public eye for a long time, and in all honesty, is probably a little late to his own party. Exceptionally talented and unbeaten in 21 fights, he was identified as a title contender over 12 months ago, but a showdown with WBC champion Badou Jack has thus far eluded him, with the American choosing to unify against DeGale instead. He has, however, been promised the winner of that match; "I know [a world title fight] will be [my] next fight," he said to Sky Sports last month. "[The winner] won't be allowed to have another fight in between, so it shouldn't be too long. [The WBC] will speak to whoever wins that fight and myself and come to an agreement with a date." 
Before that however, Smith must overcome someone waiting in the wings who is looking to spoil his well-laid plans. Luke Blackledge is one of the many prospects in hot pursuit of the frontrunners, capturing the Commonwealth belt on his way to a 22-2-2 record and an eight fight winning streak. After plying his trade on small hall shows, the opportunity he had been waiting for finally became a reality; he will meet Smith on December 10th, and challenge him for his coveted British title on the undercard of Anthony Joshua's world title defence against Eric Molina in Manchester. 
[sam id="1″ codes="true"]
"That's the one I've been looking for and it's finally come off," said the 26 year old. "I've got a warmup fight on the 22nd of October in Bolton, a six rounder… just to get some rounds in against a taller opponent, and then the British title fight on the big bill [in December]". As expected, Blackledge is confident of causing an upset. So confident, in fact, that he has relinquished his Commonwealth belt for the chance to do so. "I couldn't defend my Commonwealth belt [and simultaneously fight for the British title] in December. I didn't want miss out on my British title shot to defend my Commonwealth; I've had that two years. So I vacated it."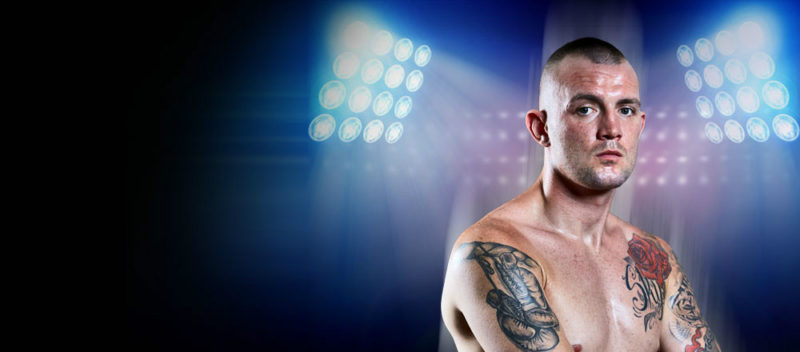 The British title isn't the only opportunity to take advantage of. Blackledge, (pic above) who won his Commonwealth belt on a relatively modest show in Lancashire, has only appeared on a wide public platform two times, one of which was a first round knockout loss to Rocky Fielding on the undercard of Carl Froch – George Groves in Manchester 3 years ago. He has mainly been found headlining smaller events in town halls in Blackburn or hotels in Bolton, which are nothing to be ashamed of but are a far cry from the arena shows that have so far been the hunting ground of boxers like Smith, who is increasingly becoming one of Eddie Hearn's key draws. 
A Matchroom Promotions regular, Smith has fought on television numerous times in venues like the Olympia and the Echo Arena in Liverpool, the 02 Arena in London, and the Barclaycard Arena in Birmingham, headlining on occasion. For Luke, sharing the ring with someone of Smith's calibre is a chance to enjoy some hard earned exposure, and could lead to more should he deliver a good performance. Taking Smith the distance would be seen as a huge accomplishment, especially if he can keep the contest competitive. 
That, however, is easier said than done, because Smith is in such an enviable position for a reason. Of four talented boxing brothers, Callum is the one many believe has the most natural talent, high 
praise considering all 3 of his siblings have already fought for world titles. He possesses a mature boxing brain and power in both hands, his left hook to the ribs being one of the meanest body shots of all active fighters in the sport. He lacks a big name on his record, but has shared the ring with the likes of Rocky Fielding (W TKO 1) and Christopher Rebrasse (W UD 12), and looked good in beating them both. The few times Smith has actually been put under pressure he has shown sound defensive skills, staying calm and not over-reacting before working things back into his favour. 
This isn't wasted on Blackledge, who is fully aware of what he is up against. "Callum's a class fighter. He's not made many faults… [he had] that performance against Rocky [Fielding]… he's had some hot performances, don't get me wrong. But I'm not not going to fight him just because he's Callum Smith and he's unbeaten. I'm a fighter, I want his belt, so I'm going to fight him." On being cast as the underdog by many, he shrugged; "That's the sport I'm in. I'm fighting one of the best fighters in the world, he's ranked Number 4 in the world, he's ranked Number 1 by the WBC, I've got nothing to lose and everything to gain… This is why I started boxing. I'm just grateful and happy to be in this position.
[sam id="1″ codes="true"]