Last weekend, December 3rd – 4th, I visited ex boxer and my friend Jessie Keogh, it was a cracking weekend. On Saturday evening we attended the great small hall show and the matchmaker deserves credit for the great job he did. 
I was very interested in how Michael Devine performed in his bout with defending Southern Area lightweight champ Ben Day. Well Michael put on a virtuoso performance to win the title in two rounds. I was impressed with his work off the jab. Though Day tried to frustrate Michael, Michael was in command and was all business in awesome fashion. 
I had met Michael Devine at the 'Black Flash Promotion' at the Fusion the week prior in Liverpool and it was a bonus for me to see him crowned Southern Area Lightweight Champion at York Hall. 
On the Sunday Jessie and I attended the London Ex Boxers meeting at the John Black Inn, Islington. What a turn out. I sat at a table with Jessie, his pal Mick Williamson (the cut man) and ex Liverpool heavyweight Billy Aird. I also met Sylvester Mittee, Colin Lake – who I knew from my association with Munro / Hyland Bros, Ivor 'The Engine' Jones, Dixie Dean (he could fight!) and Harold Alderman. 
Jessie had got me a signed copy of Sammy McCarthy's book and what a pleasure it was when I met Sammy, what a lovely man. I told him how when I was a paper boy at Sylvia's in Brook Street, Chester, I used to get the 'Ring' mag. It was 1 /6 or 1 /9 then every month and the Boxing News, I think it was 6 pence and it was then out of my paper round money and in 1954 Sammy McCarthy's photo was on the cover of that month's 'Ring' magazine.
Then I had the pleasure of meeting up with that wonderful Liverpool with welterweight boxer Tony Smith whom I had not met since I used to watch him at the Stadium. We talked about his bouts with Wally Smith, Johnny Cooke, Larry Baker and Albert Carrol – that wonderful glove artist from Bethnal Green. My mind went back to the night Tony and Albert fought and what a wonderful exhibition of the noble art it was, so many memories came flooding back. 
Well I had two gloves signed, one of which will be a raffle prize at the next Venture ABC show. I thank all for the wonderful time I had last weekend, especially Jessie Keogh. Yes it was a wonderful weekend. 
I am also looking forward to a pre Christmas treat, yes it's the Black Flash Promotion in Newcastle on 17th December.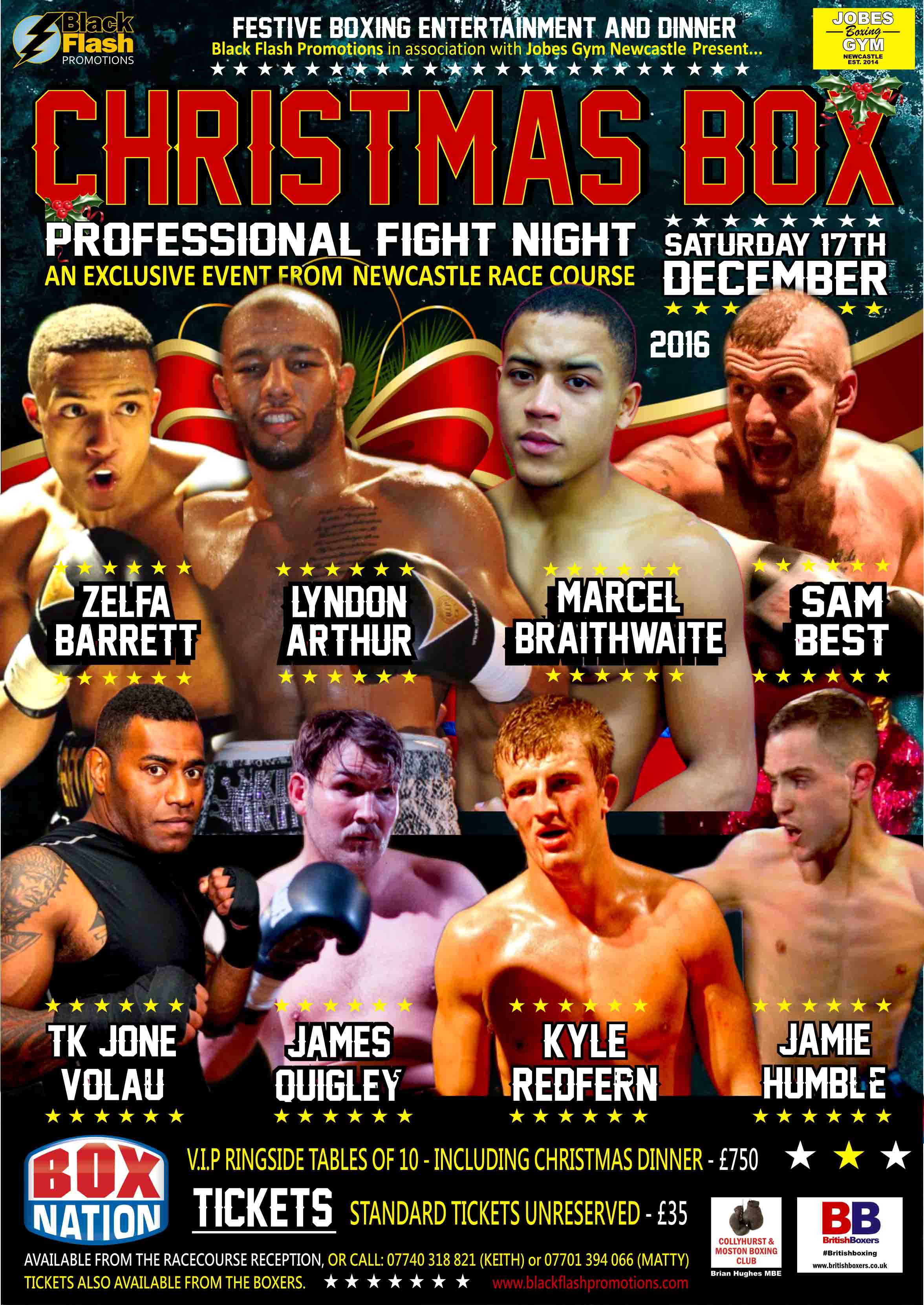 Three of the North West's top prospects – Manchester's Zelfa Barrett, his cousin Lyndon Arthur and Liverpool's Marcel Braithwaite will be strutting their stuff and what prospects they are I can tell you. I have been invited up to Newcastle and I hope to make the trip. 
Zelfa is one hell of a boxer/fighter, knowing him as I do and seeing his attitude of listening and a willingness to learn I feel he is a champion in the waiting as is Lyndon, it's all there for them to succeed, they have what it takes, it's up to them. 
Marcel is also a boy of immense natural talent and is also a very intensive listener. I have been impressed with his undoubted talent and ring craft. It is years since I have seen boxers block punches with their shoulders and deflect punches with their elbows like Marcel does. I have heard on the grapevine that Marcel excelled in sparring with an ex world champ, to be quite honest I was not surprised. 
The North East fans who attend the Black Flash Promotion on 16th December have a feast in store. I also look forward to seeing the North East prospects on the bill too. In particular I like the look of the young unbeaten Sam Best, the Newcastle lad trained by Matty Jobes. And I am sure there will be a few others on the bill worth having a look at in the North East, like Manchester and Liverpool, they breed them tough up there.
I wonder if my old friend from Middlesborough Graham O'Malley will be present? Now that boy went in with some real top class boxers. See you there, until next time.
Good luck, God bless.
Tommy Dix