After my battle to give up the drink and the business of securing the grant to do our house up to standard etc., In the early 90's I started to take an active interest in boxing again. 
My father and a great friend of mine, Len Pearce, along with myself had seen a young man box against Chris Saunders from Sheffield—the man was Shea Neary. Little did I realise that night what an impact that night would have on my life on December 1st 1992. In a conversation that night my Dad and Len (who was a Major in the British Army and a Burma veteran) said: "What do you think Tommy, that boy can be a world class fighter?" I said: "He can go all the way if he gets the breaks". 
My father, who had had his leg amputated and was in a wheelchair, loved his boxing; every Saturday night I'd go around to his house and we'd talk about great fights, the fighters of past and present. 
At that time the Ellesmere Port area had an A.B.A. champ who'd turned pro, his name was Paul Lloyd, what's more he was promoted by two Liverpool men, Stephen Vaughan and John Hyland, and they put shows on at Chester's Northgate Arena. 
I spoke to my Dad about it. He said: "I can't get it, would be too late—but you can do something for me? Tom, you know the game, a lot of reporters don't, why don't you start writing, you might be able to help a few get a break?"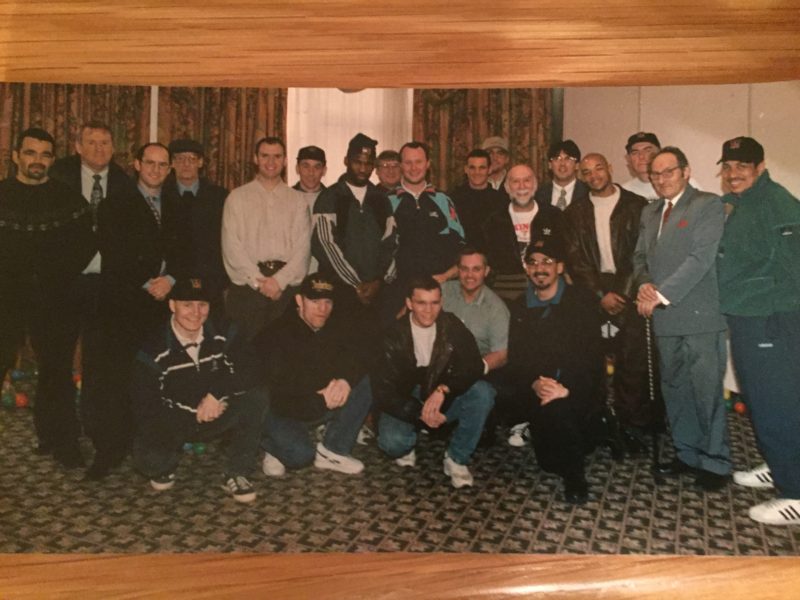 Pic after Shea's weigh-in and his first big break on TV.
Left to right: Kenny Willis, Charles Atkinson, John Hyland, John Hyland Snr, Steve Hyland, George Naylor, Terry Sutherland, Marty Caine, Paul Lloyd, Matthew Ellis, Stan Hoffman, Neil Munro, Adrian Stone, Al Gavin, Tommy Dix, Hector Rocha. Front Row. Paul Butler Snr, Shea Neary, Alex Moon, Richie, Al Romano.
Well a neighbour of ours had a relation who had started up a free paper. I went to him and he said he'd give it a go. I said nothing to anyone, I just made it my business to go to the next promotion. 
Paul Lloyd was boxing at Chester against Birmingham's Marty Chestnut. I went along with my pals, two ex boxers Kenny Evans and Joe McArdle, a relation of Gary Thornhill, who was also on the show boxing Miquel Matthews. It was a good night's boxing. Tony Mock made a winning debut and Gary's bout was on last. A lot had left the hall when Keith Garner raised Gary's hand. 
[sam id="1″ codes="true"]
Keith Garner shouted "Tommy Dix" and said: "Tommy, where have you been?" I smiled and told them "It's a long story". He said "Come with me" and took me back to meet John Hyland and co. John and Stephen Hyland invited me to the Powerhaus Gym in Pembroke Place. I went and took them a copy of my report out of the free paper. They were impressed. 
I became a frequent visitor and what a galaxy of talent was working out in that gym: Andy Holligan, Tony Mock, George and John Naylor, Paul Lloyd, Gary Thornhill, John Sillo, Peter Culshaw, Alex Moon—it was a hotbed of action. 
It was there that I met Terry Churchill of Photo News. By now I was doing the reviews for the promoters' programmes. There was another free paper on Merseyside called The Merseyside Observer. I started writing for that paper, I wanted nothing for it, just to get the fighters recognised,—if I could help to do that, that was good enough for me.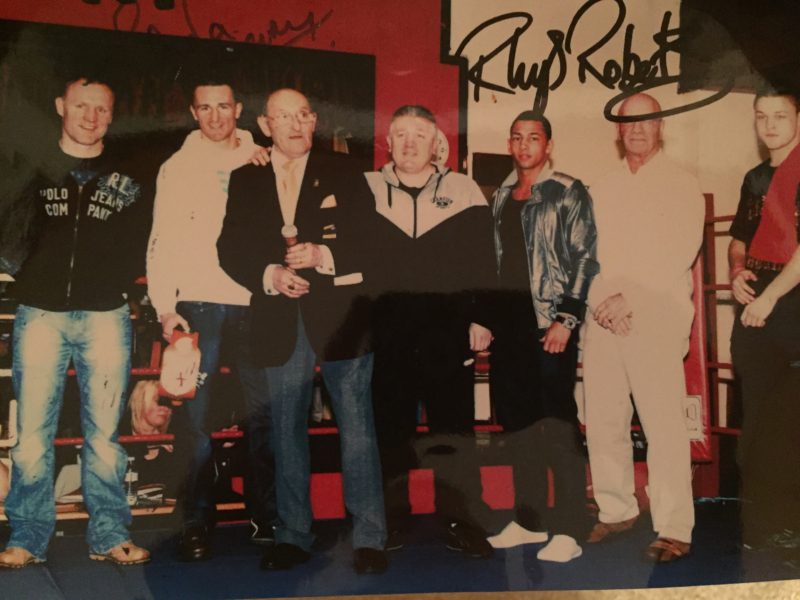 For all the talent in the Powerhaus Gym one man was missing and that man was Shea Neary. Terry made arrangements for us to go and watch Shea train. Talk about impressed, this was really something. I said to Terry: "This boy's a throwback to the Dempsey era. If the gym was locked he'd get on the roof and take the slates off to get in, he knock you out of the way to work the bag, he's got it alright". 
At the end of the session I said to Terry, "Hang on, he's still in the ring", and I said, "Shea, stay there". I get in the ring and said to Shea: "I am going to call you the Shamrock Express and do a write up". I said to Terry outside, "Terry, this guy does not want it, he needs it". 
That night at home I called it 'The Dark Shadow of the Shamrock Express over the Light Welter Division' and told when his name was mentioned it was as if a plague had struck. 
By now John Hyland and Stephen Vaughan had gone their separate ways. John Hyland secured the promotional options on Shea. Also John had secured Matthew Ellis' contract who was talked about as a future heavyweight champ. 
[sam id="1″ codes="true"]
John, in association with Neil Munro promoted their first show at Everton Park. Shea was down to box Hughie Ford who had given British champ Ross Hale a tough fight. When Vaughan/Hyland broke up Paul Lloyd stayed with John along with George Naylor, Alex Moon and Gary Lockett also signed with him. 
Well Shea won alright and Hughie put up a stern resistance, but he had to retire after six rounds. 
The media were now beginning to take notice. With the emergence of Shea, the signings of Matthew Ellis and Gary Lockett, television took an interest. Shea's next outing was a Central Area Title fight against Sheffield's Nigel Bradley with the referee stopping it in the second round of an out and out war. Gary Newbon was impressed. 
Well, Munro/Hyland secured a tv deal with ITV. Merseyside was buzzing, by now top amateurs Gary Ryder and Paul Burns had joined the Munro/Hyland Promotions banner. 
The first tv promotion was some event! Matthew Ellis making his debut and Shea Neary topping against top-class American Gary Sutherland who had a great record and was on the receiving end of a dubious verdict against the Olympian Kelcie Banks, yes it was some task that Shea faced. 
The night before the press conference I got a call from Steve Hyland, the people in charge of the press release had messed it up and could I help? I said sure, I knew all the fighters on the bill—Adrian Stone, Darryl Lattimore—they featured. Stan Hoffman, the American manager, the legendary cut man Al Gavin, top trainer Hector Rocha and Joe Romano. 
I wrote it, my wife typed it out and I went across town and faxed it off at 11.30pm. The next day I made the press conference and John Hyland came to me and said: "Tommy come on the top table". The conference went OK, now it was nearly time for the show.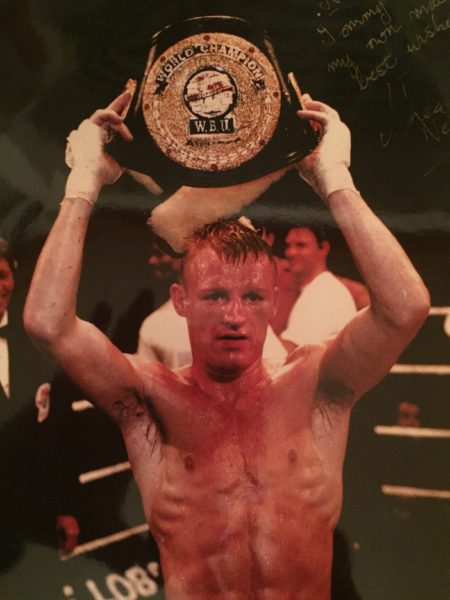 World champion Shea Neary The Shamrock Express
What a show it was: thrills, spills and drama. However, the house was on tenterhooks during the Neary Vs Sutherland bout. Sutherland was some slick switch hitter with quality moves. Shea boxed his way through the first round keeping a tight defence, then in the second round the most dramatic moments in a fight that I have ever witnessed happened. Sutherland split Shea's eyebrow, it was bad. The referee took one hard look. George Schofield said, "Let me sort it". With seconds to go, Shea let go with a right hand that had kayo written all over it. Gary went down and he was gone, Neary had snatched victory from the jaws of defeat. 
That night, not only had Shea made a statement to world boxing but George Schofield showed what a top class second and trainer he was. 
I will be going through all the rest of the bouts in Shea's career in my next account. Last week I was with Shea and his son and we talked about old times. He said: "Tom, we were all struggling but we had some fun". Shea and I are as close now as we always were. 
I can honestly say the Hyland Brothers, John McDonald, Neil Munro, Shea Neary, Terry Churchill, Danny Peters and all the boxers are diamonds—they never left me at the bus stop. 
Good Luck, God Bless, 
Tommy Dix. 
P.S. Sutherland defeated Ray Oliveira before he fought Shea and Oliveira fought Ricky Hatton years later, that's how good Sutherland was.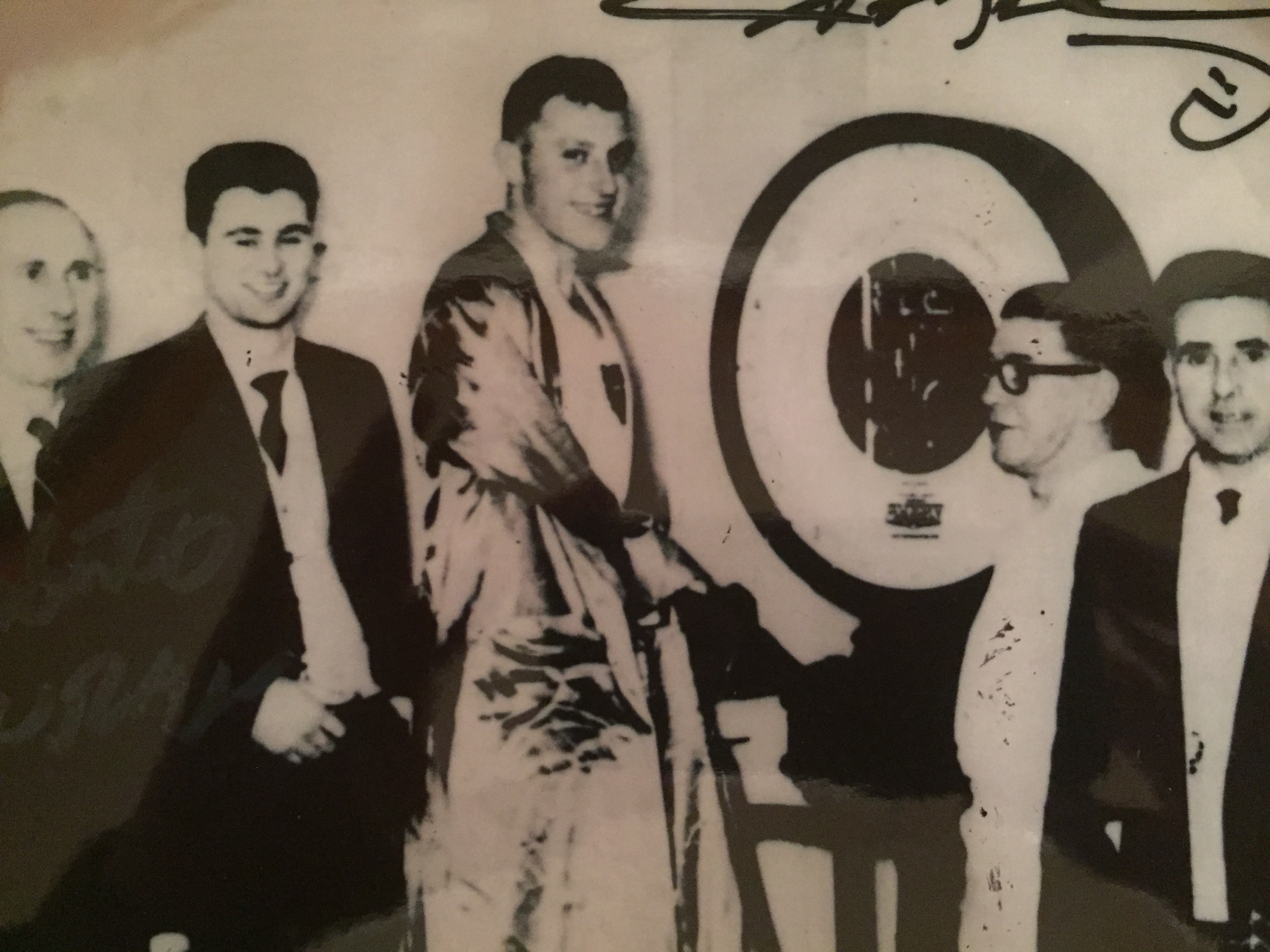 Pic of Tommy Dix age 18 in his early boxing days weighing in.
More from Tommy coming up soon –
read more of his stories here:
[sam id="1″ codes="true"]