Well Friday February 10th 2017 was definitely a day that I won't forget in a hurry. I had already made arrangements to visit Pat Barrett, Paulie Da Silva and the boys at the Collyhurst Gym. Also, the last time I had visited Steve Maylett at the Ancoats Gym I had told him of my wish to meet Terry Flanagan and I was made up when I was told he'd be training there on Friday afternoon. 
I got to Manchester at 9.30am and was picked up by Sean Ben Mulligan, one of the young prospects from the Collyhurst Gym. Once again the gym was buzzing, I had a real good chat with Pat Barrett and watched with interest as the boys were put through their paces. 
I was very impressed to say the least with the work ethic of the boys plus the technical expertise being taught by Pat Barrett. I am firmly convinced that these boys can go as far as they want to go in the game with the training and expertise on hand. It's going to be a busy time for the Collyhurst gym with Chris Monaghan boxing on the Steve Woods show on Friday 17th Feb 2017 and Pat Barrett's Black Flash Promotions has a show at the Fusion Nightclub in Liverpool the same night. I know a lot of people in the Liverpool area are looking forward to this show.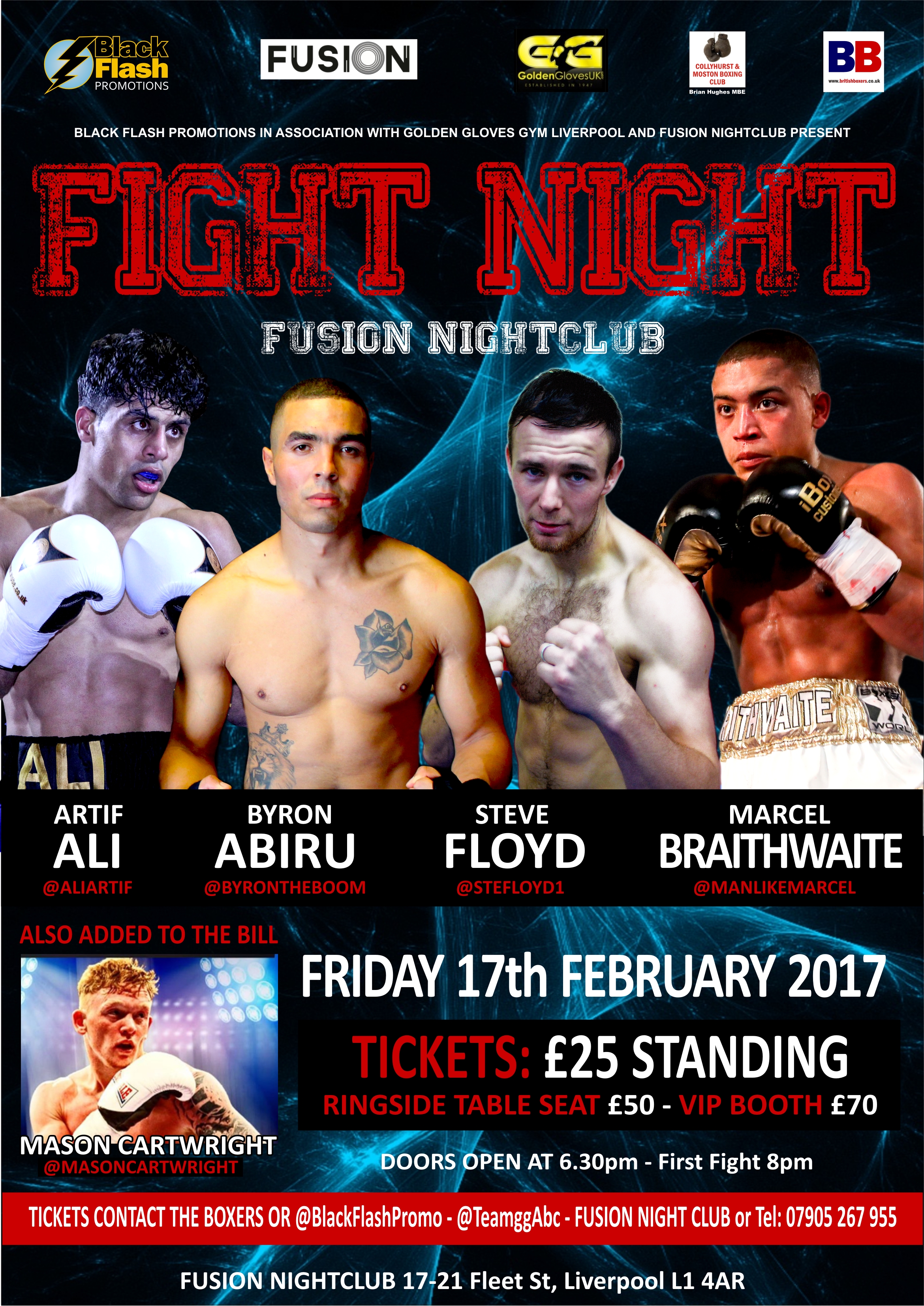 On February 24th 2017 Black Flash Promotions have a show at the Middleton Arena with that champion in waiting Zelfa Barrett, Mark Heffron and Lyndon Arthur on the show. To say I have been impressed with these boys' performances is an understatement, each one of these boys can be champions and have wonderful careers. 
After the session finished Sean Ben Mulligan took me to meet his friends at a cafe restaurant in Prestwich called Prestwich Balti where alot of the boxers go. What a lovely friendly place it is with the owners so friendly. There I met another boy who boxes out of the Anchors Gym, Anthony Leak who is boxing on the Steve Woods bill . 
Sean Ben Mulligan is out of action at the moment due to a broken collar bone but is itching to get back in action. His time will come but you can't rush these things. 
Ben then took me meet his father and brother then it was time to head to the Ancoats Gym. On the way we picked up a lady who was on her way had kick boxed and boxed. Her name is Michelle, she is still involved in the sport, she was on her way to help out at a school. Ben had to be on his way with Michelle for their appointment and left, not before we met a gentleman whose son goes to Ancoats ABC and just in conversation Mike Jelley's Bury ABC came up.
[sam id="1″ codes="true"]
I said I knew Mike and that we went back a long way. I then said I remembered Pop Jelley (Mike's father) bringing one of the Dolan brothers to box an English International, Tommy Wright, to De Havilland's, Broughton, Chester, in I think it was 1961. Tommy Wright was putting everyone to sleep but in Dolan he got all he wanted. Then came the bombshell, he was a friend of the Dolan's. What a small world! 
Then it was time to see Steve Maylett's Finest Gym and the Ancoats boys. As the boys were getting ready I had a chat with Terry Flanagan and told him how I'd seen him win the Prize Fighter in Liverpool, I was with my mate Gerry Higgins, an ex Golden Gloves and Rotunda boxer and how we noticed how geared up for it before he threw a punch. In fact we both remarked he could win it as he seemed so focused and he won it ok. 
Once again I was impressed by the training methods of Steve Maylett, and if there is one thing about the Collyhurst and Moston Club and the Ancoats Finest Gym, and it's a redeeming feature, there are no hiding places and no room for slackers. 
I spoke to Dale Coyne and told him I was very impressed with his performance in his last bout. Another boy I noticed was really up for it was Liam Taylor who boxed Tyrone Nurse at very short notice and put up a great show. Kallum De'ath looked sharp and worked really hard. 
The sparring was excellent and the time just flew. 
Anybody in the Manchester area with ambitions to make his name in the pro ranks can look no further than the Collyhurst or Ancoats gyms for them to reach their full potential. The world can be their oyster, ok the training is tough, it's hard but boxing is not a Sunday school. 
Yes, Friday 10th February was a day I'll never forget, thanks to all who made this day happen and especially to Sean Ben Mulligan for taking me around. 
It's only right to say I was overjoyed with the performance of Zhanat Zhakiyanou in lifting the WBA Bantam title from the talented Rua Shee Warren in a great bout. Not many would have given him a chance after receiving two knock downs in the first but he rallied and won a deserved verdict. It's a pity Ricky Hatton doesn't still have TV as with the talent in Manchester what a showcase it would be. On his performance no wonder Zhanat Zhakiyanou has been avoided. It was nice to see Mike Jackson in the corner. 
Until next time..
Good Luck, God Bless. 
Tommy Dix.
[sam id="1″ codes="true"]