Well the back end of 2017 was not good for the family, on the 14th December our son in law, Ray, passed away leaving a big void in the family. Fortunately my daughter and Ray had moved from the Cotswolds to our area due to Sandra taking a new hospital post. Prior to that both my wife and I had our fair share of hospital and surgery visits that never seemed to end. Consequently it was virtually impossible for me to make any arrangements.
I only hope this year, 2018, is a big improvement as I have alot to look forward to.
On the amateur scene being vice president of the Birkenhead Venture ABC, naturally I am keen on how the club's boxers fare. The girl's Chloe Watson and Caitlin Lane Smith are doing well and there are a couple of other young ladies who I feel will soon be ready for competitive action.
In Ben Burnham and Ray Boyer the club has two outstanding boxers who give their all and young Tom Musker is a talent who I think will reach the top.
However I am very impressed with the small youngsters and I feel sure that if some of these youngsters keep at it they can become stars of the future. In this age group any number from 30 to 40 can turn up and don't they put everything into it. I hope to be present on Friday and it makes me feel young again when I see the enthusiasm of these youngsters.
Yes Sean Trodden and company do a marvellous job. The legendary Golden Gloves club of Liverpool will be holding their monthly show on 26th January 2018 at the Fusion Nightclub. As usual Wayne Smith will be pulling all the stops out to make sure it's a cracking show, what makes it more interesting for me is that three boxers from the Chester area could be boxing on that show and they are boxing for the Liverpool club.
Then in February the Collyhurst and Moston ABC have their show and that's not to be missed as once again a Chester boy, Wycombe King, is boxing on the show.Wycombe is developing into a fine prospect. Also on that show Adam Rasool hopes to make his debut for Collyhurst and Moston. Adam has not had the best of luck with bouts being called off but he keeps at it and I am sure he'll be an assett to the club.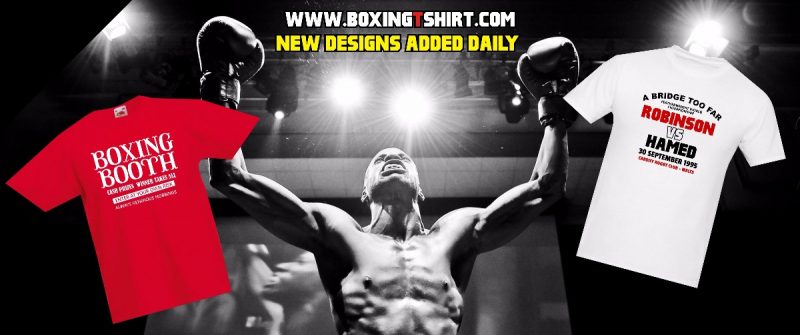 On the professional side of the sport I can't wait for the Black Flash promotion on 2nd March at Bowlers. These shows are always value for money and the sportsmanship is top class.
These small hall shows are essential for the young up and coming fighter to learn the game. This is where a boy can get a following. You believe me, these shows can and do create stars of the future. Just look how Zelfa Barrett set the Sheffield show alight and I can't wait to see Zelfa strut his stuff at the Copper Box in Stratford.
I am convinced Lyndon Arthur will do the same when the opportunity arises. Alot at Lyndon's weight are getting the hype but I believe Lyndon will be the daddy. Just as quite a few people asked me to get a photo autographed by Zelfa Barrett, I now have people asking me for photos of Lyndon. Another boy who will be out to making a statement this year is Sean Ben Mulligan. He's now got over his setback and his time is coming and being in the right place at the right
time is essential. Ben could not be in better hands to deliver what he has to offer in the game.
In the past I wrote about Terry Flanagan being unable to get the fights the fans wanted and he wanted but failed to get through boxing politics.
Could this happen again with that talented South African WBO champion Zolani Tete? Ryan Burnett has stated he'd like to unify the belts. Well Zolani Tete is virtually based over here so really there should be no problem and I am sure Mr. Tete would not be worried about meeting Ryan in Belfast as any boxer who would beat a Mexican in an eliminator in Mexico, win the title in Japan and kayo Paul Butler in the firey furnace of the Liverpool Echo Arena will not be perturbed in Belfast.
However I don't think Zolani Tete is in Mr. Eddie Hearn's promotional thoughts for such a match. My Only hope for Zolani Tete is that he receives the opportunities to win all the belts as in my humble opinion, he could well achieve that goal.
It has been noticed by quite a few boxing fans that some of the items I bring up in British Boxers are brought up a little later in other boxing magazines etc. I find this interesting and I am glad that these items are put out to the fans.
One item I will be keeping a close eye on is the refereeing and the judges scorecards, as some of the officials come up with some very queer verdicts and some referees bend over backwards to favour the home fighter.
A good referee is there to officiate, not to prance around like a pied bulled pony at a fair. People pay money to see a boxing match, not an overweight comedy act. One referee seldom sees any infringement by the house fighter and I have seen him found wanting on quite a few occasions, he'd be a good advert for Specsavers, and on too many occasions judges seem to favour the house fighter.
I have also noticed with some of the pundits that they don't actually tell it as it is, and in view of their track record they fall short in my opinion. One says one thing and they all nod their heads like dummies.
Yes I can't wait to get to the fights again, whether amateur or pro, let's get it on.
Until next time, Goodluck, God bless,
Tommy Dix
BBTV VIDEOS