Venture A.B.C. Show 8th April 2017 at the John Bibby Centre, Birkenhead.
How Sean Trodden manages to put on such a stellar shows beats me as every show seems to get better than the last and that takes some doing.
The bar was set with a beautiful skills bout between Jay McMahon (Venture) and West Wirral's Aiden Rogers that drew sustained applause from the capacity crowd.
The quality of the boxing was helped by the refereeing of Mr. Mick Jones who officiated in all of the bouts and gave a master class of refereeing that alot of his contemporaries could learn from.
Leighton O'Driscoll (Venture) won against Seacombe's Harvey Steward on a split verdict in a cracking contest.
Stockbridge's Sam Norris got the nod over Venture's Jay Pearson in another nip and tuck affair.
Kirkdale's Charlie McDonough won on a split verdict against Salisbury's Elliot Byatt in another close bout of clever boxing, crisp punching and fine defensive moves.
Junior Bouts:-
Wirral C.P's Martin Rooney outpointed Venture's Cameron Cloy Fox in a contest that featured good defensive work and fine boxing off the jab by both boys.
Connor Payne (Venture) got the verdict over Kirkby's Adam Wright in a cameo of a bout featuring excellent technique off both boys, lovely combinations, good defensive work and top class lateral movement off both boys.
Senior Contests:-
Charlie Hardman (Venture) got just edged out by Sefton's Anthony Welsh in an epic clash with Charlie forcing the action and Welsh boxing well off the back foot and not afraid to mix it when he needed to.
Venture's Justin Beacall lost by a split to Knowsley Vale's Michael Hedges in a bout that was full of first class boxing. Both boys showing excellent jabs and working combinations off the jab, excellent footwork. These boys had very little daylight between them and drew sustained applause at the end of a wonderful exxhibition of skill.
Masher Dodd with Justin Beacall and Michael Hedges, 
Knowsley Vale's Tony Mukanj defeated Venture's Connor Waite. Mukanj forced the action, though Connor came on towards the end, Tony had done enough to win the bout.
As great as the afternoon's boxing had been, the last two bouts were classics.
Ventura's Ray Boyer gained the split verdict over Kirkdale's Alan Joseph in a bout that had everything, Boyer bobbing and weaving to get inside with his body shots and hooks to the head and Joseph showing good lateral movement and countering with straight left jabs and right counters. There was no let up in the whole three rounds. These boys boxed as if their lives were on the line and how the capacity crowd rose to them with a standing ovation. Both boys gave an exhibition that proved what excellent coaching is all about. Ray Boyer received the best boxer award for his performance.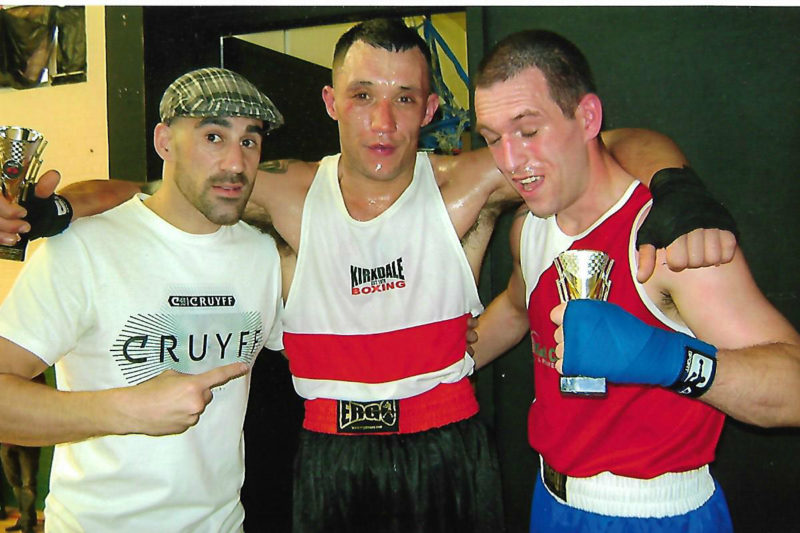 Masher Dodd with Alan Joseph and Ray Boyer.
The final contest was the Northern 69kg title bout between North Mersey's Joe Moylan and Seacombe Allendale's Lewis Mullineux.
As soon as the bell went Moylan was on the attack bringing into play combinations off his left jab. Mullineux for his part showed excellent footwork and fired in his quickfire combinations off his lead. The action was non stop, just as one seemed to be getting the edge, the other would come storning back. There was no let up as the crowd were treated to another wonderful bout. Both boys went for broke in the final round with the verdict going to Seacombe Allendale's Lewis Mullineux.
The prizes were presented by WBC International lightweight champ Sean 'Masher' Dodd, who also presented Venture's young boxer Tom Musker with a signed vest by Katie Taylor for reaching the national finals. Also in attendance was that great Merseyside former British and Commonwealth champion Andy Holligan.
Results
Skills:-
Jay McMahon (Venture) vs Aiden Rogers (West Wirral)
Schoolboys:-
Leighton O'Driscoll (Venture) won Harvey Stewart (Seacombe)
Jay Pearson (Venture) lost Sam Norris (Stockbridge)
Charlie McDonough (Kirkdale) won Elliot Byatt (Salisbury)
[sam id="1″ codes="true"]
Junior:-
Connor Payne (Venture) won Adam Wright (Kirkby)
Cameron Cloy Fox (Venture) lost Martin Rooney (Wirral CP)
Seniors:-
Charlie Hardman (Venture) lost Anthony Welsh (Sefton)
Justin Beacall (Venture) lost Michael Hedges (Knowsley Vale)
Connor Waite (Venture) lost Tony Mukanj (Knowsley Vale)
Ray Boyer (Venture) won Alan Joseph (Kirkdale)
Lewis Mullineux (Seacombe Allendale) won Joe Moylan (North Mersey)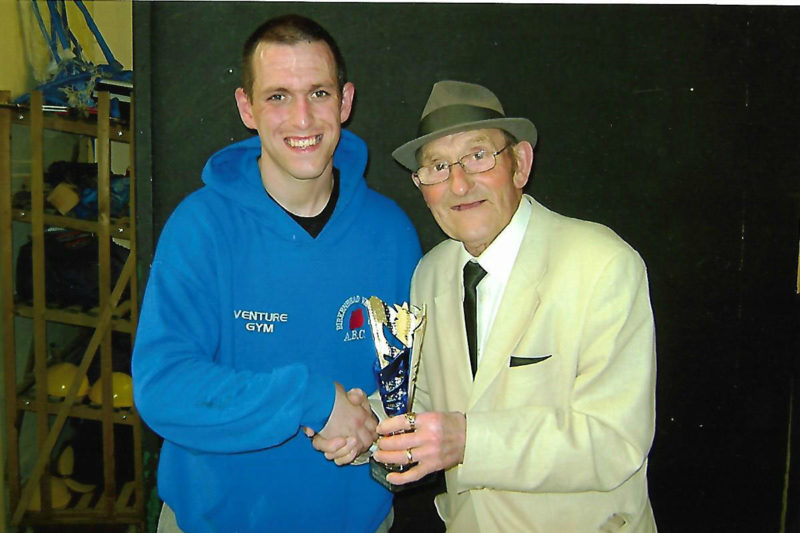 It was a throughly enjoyable night of boxing. Amateur boxing doesn't always get it's fare share of publicity, but between myself and the British Boxers website, here is a little to help for the youngens giving their all, like many others every week up and down the country. Get behind your local amateur clubs the best you can. They are indeed a breeding ground for well mannered, respectful and disciplined kids, the kind you wonder where they have all gone.
Until next time, good luck God bless,
Tommy Dix
[sam id="1″ codes="true"]