A lot of ifs and buts surround tonight's heavyweight superfight at Wembley Stadium between IBF champion Anthony Joshua and former unified belt holder Wladimir Klitschko.
What if Joshua is too fast? But what if Klitschko is too experienced? And so on, and so on.
New Zealand trainer Kevin Barry, who recently took his rising star Joseph Parker to WBO world heavyweight title success against Andy Ruiz gave Britishboxers his thoughts on an event that has gripped the sporting world.
[sam id="1″ codes="true"]
"Maybe this time he (Klitschko) won't be as cautious as he has been his whole career. Maybe this time with his legacy on the line he'll actually let his hands go," said Barry of the challenger's chances.
Barry, who once trained David Tua to an unsuccessful world title tilt against Lennox Lewis in 2000, has concerns about Klitschko's inactivity and wonders if Father Time has finally caught up with the once dominant king of the heavyweight division particularly after losing his WBA, IBF and WBO titles to Tyson Fury in 2015.
"We all know that Tyson [Fury] got inside his head and we all know that Tyson has a very awkward style but that awkward style didn't stop Steve Cunningham hitting and dropping him with a right hand (in 2013). When I looked at Wladimir's performance against Tyson you could see that the mind was willing but the body just couldn't react," said Barry.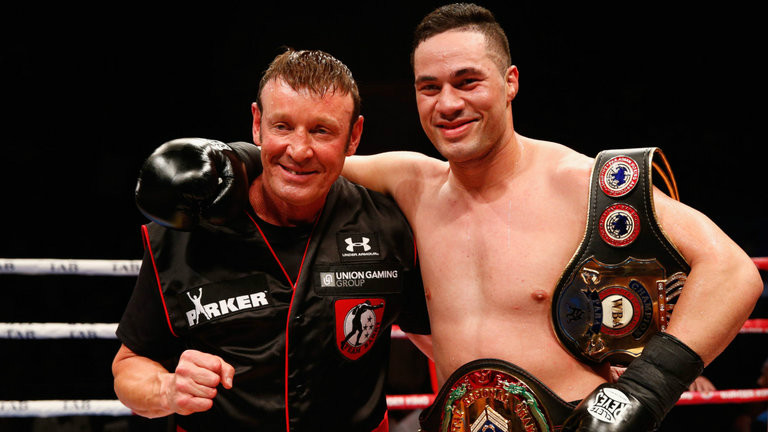 Joseph Parker and coach Kevin Barry
"When your reflexes and your timing go that's when Father Time kicks in and tells you, 'Hey your best times are behind you. You can't pull the trigger like you used to be able to'. Even though your mind wants to pull it, your body and the mechanism of your body doesn't allow you to do that. I saw that happen in the Tyson Fury fight. Once they're gone you can't get them back."
Barry told Britishboxers that he believes Klitschko's timing and reflexes are a thing of the past and fully expects Joshua to win easily. He did warn the Brit however to guard against complacency especially if he gains the upper hand in the fight.
"I think we'll see Joshua beat him to the punch, hit him with a lot of punches. I think the big thing in this fight is Joshua has to throw the right punches, the right series of combinations, not get careless and not get reckless. Even when things are working well for him one right hand can change a whole fight. I'd like to see him fight with a bit more poise and I think if he does that he should win the fight easily.
"I think it's a really interesting fight and it's a fight where we find out a lot about Anthony Joshua. This fight more than any other fight will answer a lot of questions. Anthony's a fighter we've all watched, similar to Joe, who's been improving and developing and getting bigger and stronger."
Parker, who will make the first defence of his own world title against Razvan Cojanu (a late replacement for the injured Hughie Fury) next weekend in New Zealand, had his fan cap on more than anything else when discussing Joshua-Klitschko with Britishboxers.
"I'll be watching, and you know what I'm excited about that fight. I'm excited to see who's going to come out victorious. Whether it's the experienced champion who's been a champion a long time or whether it's the new hungry champion with a lot of power, a lot of strength, a lot of drive. It's an exciting fight."
Parker will have one eye on the winner for a unification bout later in the year and found it hard to pick a winner from tonight's pay-per-view bout, but eventually found himself siding with the youth and hunger of Joshua.
"I see Joshua being very powerful and putting on pressure. I see Klitschko using his experience and trying to avoid the big punches coming his way and he's also got a big punch himself. So, for me it's quite hard to call. Everyone's going for Joshua, he's the champion for a reason. I'll sway slightly towards Joshua."
[sam id="1″ codes="true"]