Extravagant entrances are somewhat more associated with the world of Professional wrestling. When a boxer uses a consistent theme for his entrance that song become synonomous with that boxers entrance in fans minds. Be it Chris Eubank jumping over the ropes to simply the best, Prince Nasseem punching cardboard cut outs to thriller or more recently Kell Brook with All of the lights.
A good entrance can make a boxer feel big time. Whereas the guy standing in the ring with no entrance on a Sky TV broadcast is already telling viewers that he isn't going to be putting up much of a fight. It also makes the fighters come across as larger than life when the entrance is done well.
A fighter consistently delivering good entrances – step forward George Groves. The bus at Wembley, and even at Bramall lane with little production values he was there sat in his dressing room, walking out, beat changes and he changes his walk to suit. That let me know that things were about to go down.
Speak to fans watching boxing in the nineties and they'll often remark it isn't the same as it was in the days of Eubank, Benn and Nasseem. Each of these had iconic entrances – Benn with big Benn Chimes, Eubank with his simply the best moniker and the Prince Entrances were always a highlight of the show. The fans think of these guys as genuine stars – coincidence?
Recent years has seen Stormzy MC Joshua to the ring, Wladimir Klitshko using Red hot Chilli peppers cant stop as his regular theme, Kell Brook make all of the lights his, yet perhaps one of the most iconic entrances of recent years was when Vitali Klischko made a comeback and had numerous iconic previous world champions give commentary on their opinion of his career followed by AC DC hells bells chiming out. Type in Boxings greatest entrance to youtube and see it for yourself.
Another fondly remembered entrance is Ricky Hatton at the Etihad stadium as it is now known. Slow soothing blue moon before the beat speeds up and out pops Ricky in a fatman suit. This image lives with the fans as long as the fight itself.
I am sure Leeds fans look forward to Josh Warrington's entrance as much as the fight itself. Marching on together with Warrington standing on stage, the crowd chants together. Cutting sharply to I predict a riot by the Kaiser Chiefs with camera shots moving to the crowd to look at raucous bouncing supporters topless with shirts swinging and drinks flying in the air – everyone is having a good time, who wouldn't want to be a part of that!
Other memorable entrances have included Roy Jones Jr rapping his way to the ring and Floyd Mayweather being carried like a god. When a box office show rolls around in the UK, entrances of the main event are a talking point amongst supporters. German shows tend to deliver big entrances, The UK box office shows do, and very occasional American show although they've reverted to fighter walking to the ring. (I haven't been a fan of Boxer walking through a crowd with rapper moving rapidly next to him).
Al Haymon has identified this and introduced entrance ramps to solely focus on the fighter to his Premier Boxing champions series. It is almost like a wrestling entrance – where it falls down though is all the entrances are the same leaving very little room for creativity or differentiating.
Small hall shows don't tend to put as much time into entrances, it is normally fighter A making his way to the ring, followed by fighter B with just his entrance tune being the difference. What difference would a bit of lighting and Smoke machine make in terms of presentation? The better the presentation, the better the product looks and the more likely the paying spectator is to return.
With the entertainment value of fights being out of a promoters control where many times a on paper slugfest as turned into a boring huggathon – an entertaining entrance is one thing that could be guaranteed on every show. That's not to say its for every fighter as it would then lose its value, and no effort can be just as iconic example being Mike Tyson.
But when the fans have finished and gone home. If there have been no entertaining fights then there wont be much to discuss the week after, making it less likely to attract a new audience. With the entrances having this much of an impact on fans pespectives then why isn't it utilised more?
This is part of the reason why I wear a mask during ring entrance.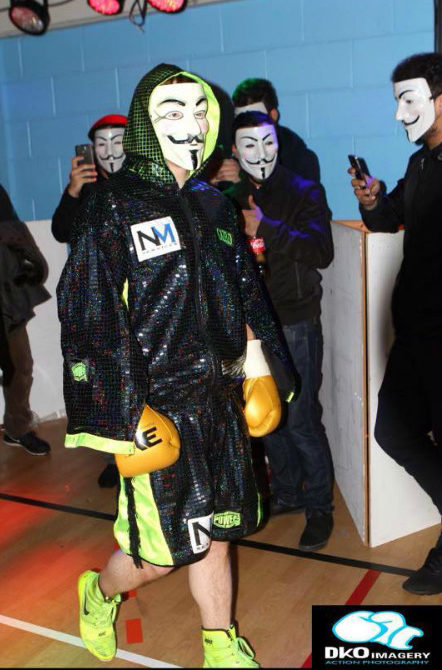 Author: Carwyn Herbert comes to the ring