It's a typically dreary Manchester morning and apart from the usual comings and goings of an inner- city neighbourhood, not much seems to be going on. That is, until you begin to make the short climb up the steps of the Collyhurst and Moston ABC.
Even before entering the gym floor you get the sense that you are entering a place where business is taken care off and things are being achieved each day- potentially great things.
I too am here on business of sorts: to interview one of Manchester's rising stars of boxing: light-heavy weight Lyndon Arthur (7/0/0- 6KOs), but the action in the gym is such that my boxing-fanatic's eyes begin to wonder to the direction of the ring- where Golden Gloves Gym's Marcel Braithwaite is currently engaged in a spar with Michael Ramabeletsa, under the watchful eyes of Pat Barrett and Wayne Smith.
Elsewhere, super-feather weight's rising star Zelfa Barrett can be seen putting in work for his up-coming English title fight, in Leeds on the 21st of October.In fact, in just about every nook of the gym young fighters are busy honing their craft but the past is also represented here, not just by Pat Barret (a British and European champion) and Thomas McDonagh (Commonwealth title), but I also spot Matthew Hall amongst the on-lookers. The torch has truly been passed on by legendary Manchester trainer Brian Hughes, and in short, the gym seems to be thriving.
Eventually I spot Lyndon 'King' Arthur, readying himself to step into the ring for some rounds, in preparation for his next outing on the Hughie Fury vs Joseph Parker bill at the Manchester Arena on the 23rd of September. He tells me we can talk after – that's fine. It isn't every day you get to watch a potential future champion in action.
A half an hour passes by and even the walls are sweating profusely. The imposing frame of Lyndon Arthur approaches, looking as relaxed as he had in fact done for most of the spar I just witnessed. It's time for our little chat.
With considerable hype surrounding the likes of Anthony Yarde and a few other UK light-heavy weights, I begin by suggesting to Lyndon that he is perhaps flying under the radar- some might say 'being slept on'. He understands but also disagrees with the wording.
"It's not like I'm under the radar, as in not busy – I've had seven fights so far this year!"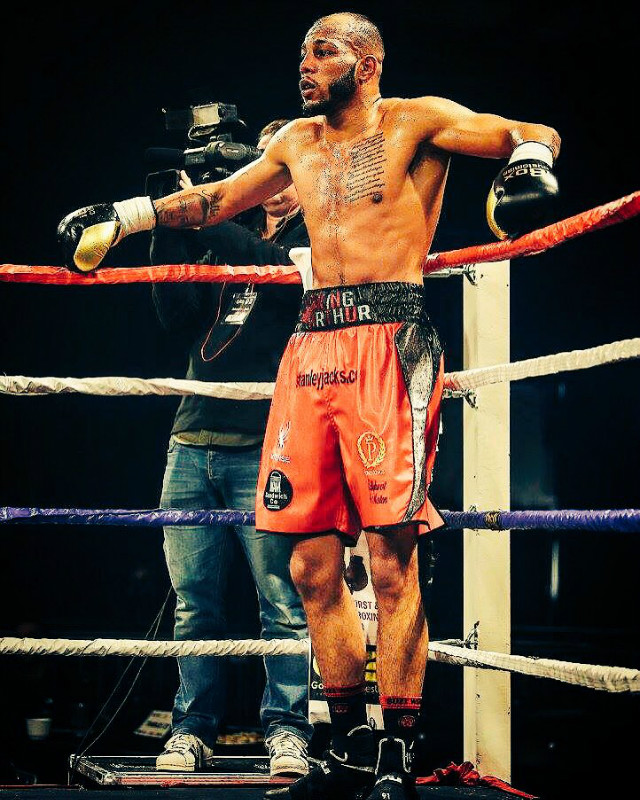 Lyndon is in fact, a very active fighter, whose KO-rate alone has got those in the know talking, with admirers ranging from the likes of Peter Fury to an emerging younger fan-base on account of his appearances in recent music videos (more on this later).
When describing his amateur career, which saw him claim the under 20s title and a place on Team GB, Lyndon makes it clear that he was always destined for the pro-game.
"I never knew about team GB; I didn't know how the Olympics worked; I was just boxing as an amateur, taking it fight by fight, winning championships. I was always training with the pro's, always training 3 minute rounds."
Lyndon is a Moston lad, growing up in the shadow of the Collyhurst and Moston gym- where even today, young fighters aspire to emulate their heroes; some of whom passed through these very doors. Despite possessing every attribute to compete as an Olympian, the aspirations around here are better matched by the likes of Floyd Mayweather and Mike Tyson – self-made men for whom nothing was given for free.
Lyndon Arthurs Last Fight
Lyndon is quick to credit boxing in providing him with a direction in life when it was needed.
"I've been silly; I've been stupid- we've all been young- one thing boxing has given me is structure in life- routine- in life that is what you need"
I suggest to him that younger fighters around here in a similar position may see him as a role model- he continues;
"'I'm just boxing- I'm just doing what I love to do- and as it goes I'm pretty good at it- and to other people it can be inspiring- but I'm just a guy from Moston."
It is clear then, that Moston has shaped Lyndon as a person. Our conversation turns back to boxing maters, when I ask him how the gym he grew up in has shaped him as a fighter.
"Being taught by Pat, who was trained by Brian- he was always taught to take a little bit from each fighter"
He goes on to cite influences ranging from Mayweather- to whom he credits his shoulder-defence- to Roy Jones Jr, who Lyndon looks to emulate as an out-and-out entertainer. Lyndon is clear, however, that he and his trainers always aspire to take from the best but only to create their own unique style of boxing.
The conversation then turns to looking ahead. How does Lyndon Arthur envision his career progressing in the next few years? He states very calmly that neither he, nor his team are in any kind of hurry. He wants to do it the right way.
"I want the Central Area title, the English title, the British title- I want to do it in levels. Boxing is all about experience."
Again, it is all too easy to forget that Lyndon only has seven professional fights at the time of writing. On his past opponents, he has this to say;
"It's not beating them- it's how you beat them. It's not that I haven't had tough opponents in front of me- I'm just good enough to take them out of there!"
Lyndon in the amateurs – Day of the Fight
As someone who has witnessed the majority of these bouts, I suggest to Lyndon that he may fare even better with more technically accomplished opposition- due to his ability to think and counter in the ring. He agrees.
"I'm a thinking fighter- as I'm jabbing I'm thinking- what can I do? What can I do in the next five punches? With a better opponent, I'll only get better"
We go on to discuss some current names on the British HW-scene. He reiterates on a previous point;
"I'm in no rush- they keep winning; I keep winning- them fights will be a huge domestic match ups- styles make fights; either way them fights are a year or two off."
I'll leave it to you the reader to speculate on who those future names may be.
One thing is beginning to become clear though: inside the ring as well as out of it, Lyndon Arthur is a thinking fighter with a bright future in professional boxing.
I let my curiosity win and ask him about his recent appearances on the music videos of Manchester's other 'King of the North'- one Bugzy Malone. It turns out that Lyndon and Bugzy came up together, both training here at the Collyhurst gym. As we discuss this, a deeper truth about Lyndon's philosophy on life begins to emerge.
"He's doing his thing and I'm doing mine- success breeds success- I know where he started- we weren't born rich. There's no point being around people that aren't doing anything- I like to be around people who are doing things- its motivation."
With this- we call time on our chat, as the sounds of battle next door carry on. Clearly, Lyndon Arthur and his team have thought things through and are not willing to rush. Perhaps you, the boxing fan should be rushing- rushing to catch this guy fight before he emerges onto everyone's radar. Think about it.
Lyndon Arthurs next fight will be on September 23rd on the undercard of Hughie Fury's world title challenge against Joseph Parker at the Manchester Arena. He is also schedule to fight on November 4th at Bowlers Arena in Manchester on a Black Flash Promotions show.
For tickets contact Lyndon Arthur on Twitter: @ellveay
Follow him on Instagram: @lyndonva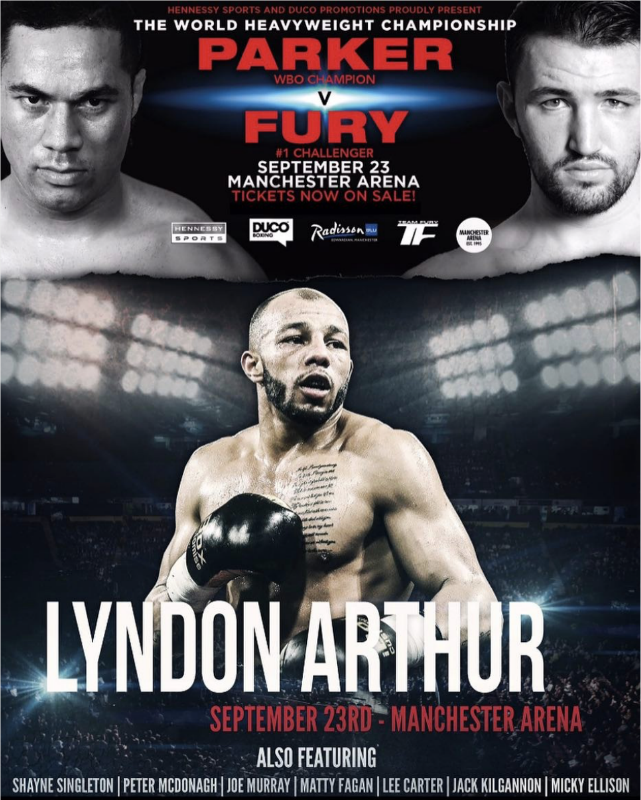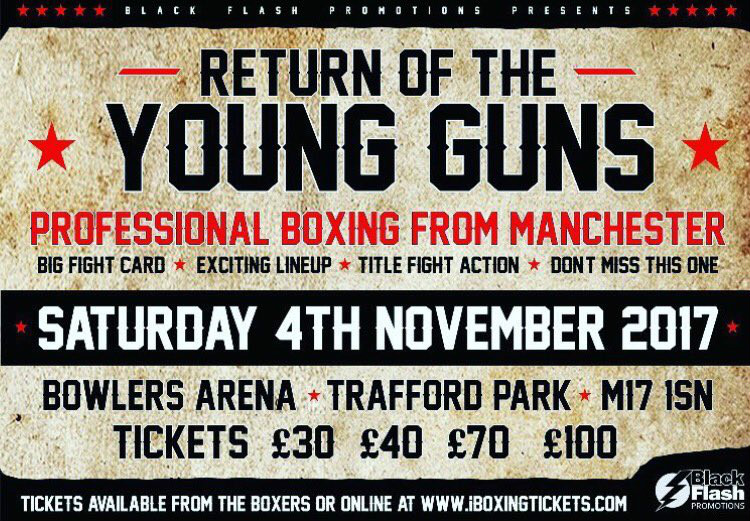 LATEST BBTV VIDEOS