It is 18 months since Super featherweight prospect Zelfa Barrett coined the phrase "diamonds in the dirt" to describe a promising but unknown group of boxers. Competing under the Black Flash Promotions banner, the ambitious young fighters wanted to show that ability, not hype, is the key to success in professional boxing.
So far, so good. Since Barrett's statement, Black Flash—who operate out of the famous Collyhurst and Moston gym in north Manchester—have unearthed a couple of high carat prospects plus secured television coverage and national exposure for their fighters. Over the past couple of months, the new generation collected their first pieces of silverware as Matty Ryan picked up a challenge belt and Alex Rutter won the Central Area super featherweight title.
When 25-year-old Lyndon Arthur makes his professional debut against Andy Neylon on the undercard of Anthony Crolla's huge lightweight unification clash with Jorge Linares this weekend, he will become the first international calibre amateur to represent the outfit. The former member of Team GB and WSB competitor may or may not emerge as a diamond, but he has ability and quietly goes about his business. In other words, he fits the Black Flash model perfectly.
"When I first started boxing, I didn't start out to be an amateur. I started out to be a pro," Arthur told British Boxers. "I never knew anything about Team GB when I started boxing, I didn't even know there were set-ups like that. It was never my goal to become a great amateur boxer when I started but obviously I did OK in the England Boxing Elite Championship Finals [only losing to current hot property and Olympic medallist Josh Buatsi in the 2014 final] and I got picked.
"In a sense I was surprise by how well I did as an amateur. My style was always going to be more suited to the professional side of things because of the gym I come from and the trainers that I've had—Pat Barrett and Brian Hughes. I wasn't surprised (by how well he did) but I did get further than I thought I would."
Arthur lives in Moston, just minutes away from the non-descript Co-Op on top of which the famous gym sits. The Lads Club was in it's heyday as he grew up and fell in love with the sport. Fighters don't tend to just slip away from Collyhurst, they keep coming back.
[sam id="1″ codes="true"] 
Michael Jennings takes time out from his own training career to carry out hand wrapping duties for a number of Black Flash fighters. Scott Quigg still returns to tick over occasionally. Tommy McDonagh masterminds the amateur programme and, should you join in one of his classes, Robin Reid is highly likely to pop in and hold some pads. Most importantly, Pat Barrett—Arthur's uncle—has taken it upon himself to ensure that the gym still runs on the same ideals that Brian Hughes set in stone all those years ago.
The proud history of the gym has seeped into Arthur since he first climbed the stairs and shadow boxed on the same beaten up wooden floor that those famous names did. "I just can't wait for the gym to be back to where it used to be," he said. 
"I want it to go back to the days when Tommy, Robin, Michael, Scott, Matty Hall and all those other guys were here. I want to be a part of that alongside Zelfa, Twinny [Matty Ryan], Sean Ben Mulligan, Alex Rutter and everybody else in the gym. 
"It's definitely coming. I don't think it'll be long. Maybe within a year or two we'll be right up there winning titles. Rutter's Central Area title will be the first of many. Positivity breeds success. Once Rutter got the ball rolling, that was the start for us."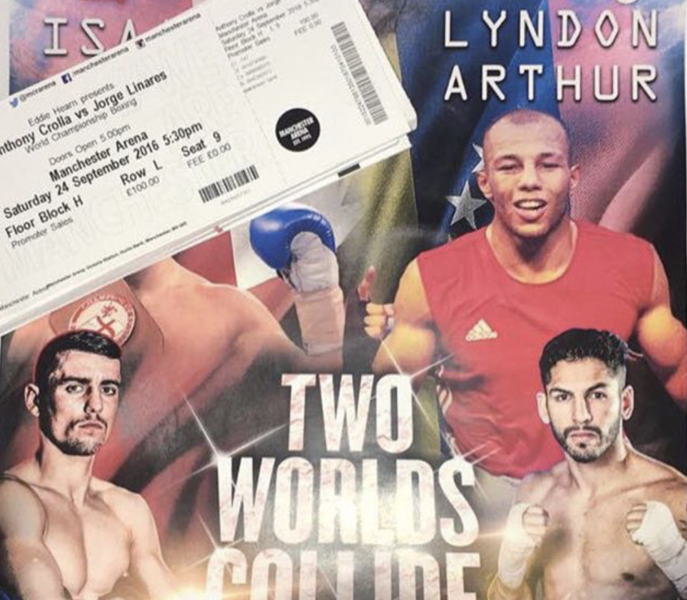 The "Black Flash" himself, Pat Barrett, is an extremely hands on coach and whilst he isn't the type to do any hand holding, he certainly wrapped a caring arm around his group of young fighters as they took their formative steps in the sport. Now, there are hints that they may be about to start running. Arthur has the ability to catch up to his gym mates quickly and the light heavyweight division should provide him with the opportunity to make swift progress.
"There's not that many fantastic domestic light heavyweights, I don't think. I'm not taking anything away from them, but I do think that if I'm given the chance I will move fairly quick. When I get a little more experience in the pro ranks, I think I'll come on pretty quickly.
"Pat knows what he's doing, 100%. I also trust Pat 100% with my career. I know he wants the best for me and he wants to make me a champion. I won't nag him. I will put my two pence in though if it counts.
"I think it'll happen pretty quickly if I'm honest. I've sparred with a lot of professionals before. I've sparred with high ranked pros and good people down at Team GB. I've sparred all the number ones and twos in Europe as an amateur, so I don't think it'll take that long for me to find myself and find my feet as a pro."
For Tickets to watch Lyndon Arthur's fight: Contact @ellveay
Watch a Full in-depth video interview with Arthur and his coaches Pat Barrett and Paulie Da Silva above.
[sam id="1″ codes="true"]