Peter McDonagh says he is boxing's true 'Cinderella Man', and that his recent winning streak won't be broken when he stars on the undercard of Hughie Fury's WBO heavyweight title challenge against Joseph Parker on September 23, exclusively live on YouTube (DETAILS HERE)
McDonagh takes on Colne's Shayne Singleton at the Manchester Arena on a huge night of boxing, and is promising to finish his opponent in six rounds.  The pair clashed at a head-to-head photo shoot ahead of the fight, with London-Irish man McDonagh accusing his opponent of lacking heart.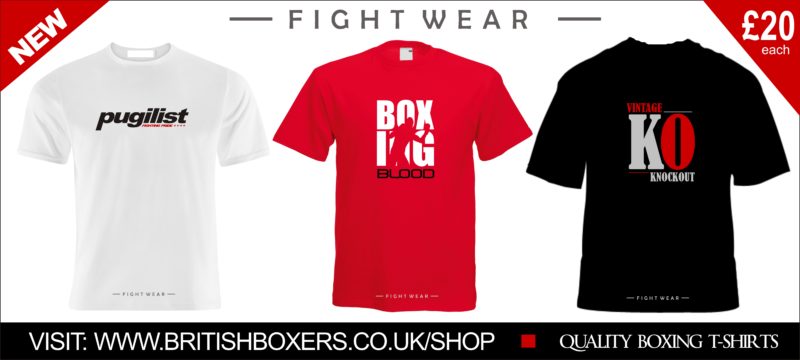 A pro since 2002, Peter may have lost 28 of 56 outings, but has fought some of the UK's best including Bradley Skeete, Bradley Saunders, Alex Arthur and Frankie Gavin, and has only been beaten inside-the-distance twice.  Since joining the MTK Global stable, he is now on a 10-fight unbeaten run and says his career has been truly resurrected.  
Opponent Singleton, 23-2-1 (8), has only lost to two top fighters – current European welterweight champ Sam Eggington and British welter ruler, Skeete.  Stopped in five rounds both times, Shayne says his future is at light-middleweight and that he is sure he will break down 39-year-old McDonagh in Manchester.
WATCH: McDONAGH AND SINGLETON CLASH AT PRESS CONFERENCE
Acknowledging Singleton is no slouch; 'Connemara Kid' McDonagh – who is trained by Hughie Fury's father, Peter Fury – has revealed that he specifically requested the chance to fight Singleton and insists he will put on a KO, crowd-pleasing performance and continue his career revival. 
"I've been there and done it and, let me tell you something, it was shown in both fights against Eggington and Skeete, that he swallowed it.  He showed he's a bottle job; he showed that when it gets hard, he don't want to know.  And the thing is, I will find it out; if you've got a bad heart then I will break it.  People in the game know exactly the fighting man that I am.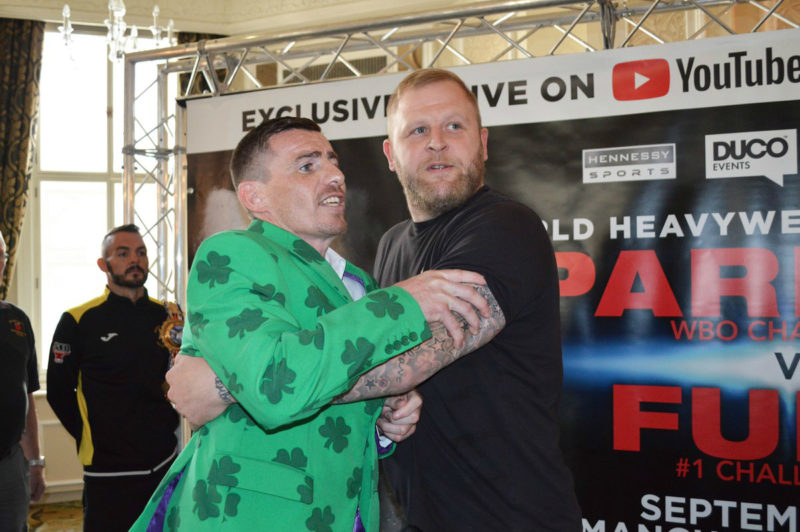 "Not everyone gets a second chance, and I am the true 'Cinderella Man'.  I was going to retire from boxing but I went over to Spain, sparring Bradley Saunders, and then MTK asked me to go back but I said 'it's over, I don't want to box anymore'.  But they said, 'we know you can fight, but you've never been looked after.  Come back over and see us'.  They asked me to give it one last go, they believed in me and here we are, 10 fights uneaten.
"I started training with Peter Fury just before this camp. Peter knows I can fight, I've been around him for years.  We've gelled very well, we've had a great training camp.  So, despite all the losses I've had, I'm in a great position now.  I've boxed the 'who's who' of British boxing, I've boxed the 'who's who' of world boxing!  I've boxed top fighters all over the world.  If you want to call me a journeyman, call me one, but I'm 10 fights unbeaten and that's down to MTK believing in me and giving me the opportunity.
WATCH McDONAGH AND SINGLETON HEATED HEAD-TO-HEAD
"I'm not losing on Saturday, but if it was to happen I'd retire on the spot because once I lose it's over, but if I keep winning then I'll keep on going.  I rate Singleton, he's a good fighter, he's only been beaten by two top kids, the European champion [Eggington] and Skeete.  I see me breaking him down after four or five rounds, and then stopping him in six.  I most definitely think it'll be an entertaining fight too.  I rang and asked for this because I knew the crowd will love this fight.  The fans will be the winners."
PARKER VS FURY
The WBO World Heavyweight Championship between Joe Parker v Hughie Fury headlines an action-packed card that also feaures: The Vacant WBO Intercontinental Super-Welterweight Championship between Jimmy 'Kilrain' Kelly v Stiliyan Kostov; The British Bantamweight Championship Josh Wale v Don Broadhurst; The British Lightweight Championship Eliminator Joe Murray v Matty Fagan. Plus Peter McDonagh v Shayne Singleton in a 10 Round Super-Welterweight Contest, backed up top talents: Ryan Farrag, Yusuf Safa, Lyndon Arthur, Jake Kilganoon, Jack Cullen, Mickey Ellison, Lee Carter and Alex Dickinson.
Parker v Fury is exclusively live on YouTube for £14.99 in the UK and €16.99 in the Republic of Ireland until midnight. Go to www.youtube.com/parkerfury for booking information.
QUESTIONS AND ANSWERS
Where will the fight night be shown? 
The whole show will be available on YouTube.com/ParkerFury on September 23rd 2017 from 6pm. Users should head to youtube.com/ParkerFury today and subscribe for free so as not to miss out in the pre-fight build up. On the night, there will a portion of the undercard free-to-view in the event build-up before switching over to the main event and the rest of the card on PPV.
You can watch this event anywhere online or on your smart TV, game console, PC, Mac, mobile, tablet and more. https://www.youtube.com/watch?v=KF0fqPBNCjI
How can fans buy the fight? 
Fans in the UK can as of now buy the fight in three quick and simple steps 
How to purchase videos for desktop and laptop users here
How to purchase video for iPhone, iPad, iOS users here
Users will have to sign up for a YouTube / Google account, if they don't have one already, which is easily done through http://accounts.google.com/signup
Once signed in, fans should head to http://www.youtube.com/ParkerFury where they will see a link to the PPV live stream. Click that video.
Fans will be prompted to pay for the event – which is carried out through Google Payments. Simply add your payment details and purchase the fight. This can be viewed on any one device which the user is signed into.
Will there be support available for fans?
Google will have a support team available for any issues on the night, options for support are listed on http://www.youtube.com/purchases once the purchase has been made."
LATEST BBTV VIDEOS