Amidst the clamor for the main event between Hughie Fury and Joseph Parker on Saturday at the Manchester Arena, a potential fire cracker lies in wait. An intriguing encounter between two strong willed men with different motivations. Shayne Singleton and Peter McDonagh are on a collision course and this fight probably wont go the distance.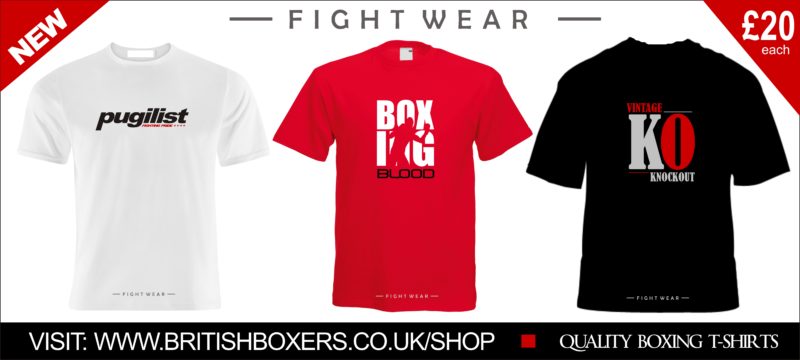 Shayne Singleton is a quiet man by nature, a tough man from the old Lancashire industrial area of Colne, a 40 minute drive away from the Arena. Speaking with British Boxers, Shayne looks back at a heated press conference in which he and his dance partner on Saturday, ratcheted up the aggression levels in the customary head to head. "I knew it would kick off" Shayne told us, with a sense of knowing in his voice. "He's underestimating me because of the Skeete fight, I knew he'd try to unsettle me"
Singleton is coming off a loss to Bradley Skeete, a man who now looks for a world title fight. But in an honest moment Shayne explained that he was "killing himself to make 10 stone 7" insisting, "the move up in weight will benefit me, I'll be fit and strong and punch harder than he can handle"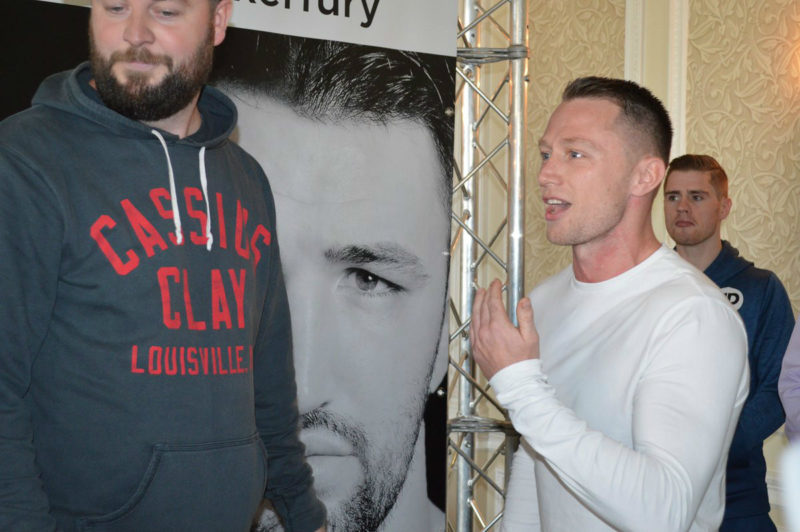 McDonagh himself has never been one to take a back step, he has mixed it with the best in the country with impressive wins over Michael Gomez and Curtis Woodhouse to name just a couple of prize scalps. His record does not to him justice and to his credit Singleton told us that "I respect him, he's no journeyman, he's a brave and tough fighter but I really believe in my heart that I will stop him late"
Shayne also added "He's been calling me a bottle job but believe me I'm no bottler and you'll see that on Saturday night"
A tantalising bout between a man in Singleton who needs to get back on track and a man in McDonagh who has promised to retire should he loose on Saturday. With both fighters predicting a stoppage, I'd make sure you clear the bar when this one's on! Good fight in prospect here people!  –   MORE BOXING NEWS
PARKER VS FURY
The WBO World Heavyweight Championship between Joe Parker v Hughie Fury headlines an action-packed card that also feaures: The Vacant WBO Intercontinental Super-Welterweight Championship between Jimmy 'Kilrain' Kelly v Stiliyan Kostov; The British Bantamweight Championship Josh Wale v Don Broadhurst; The British Lightweight Championship Eliminator Joe Murray v Matty Fagan. Plus Peter McDonagh v Shayne Singleton in a 10 Round Super-Welterweight Contest, backed up top talents: Ryan Farrag, Yusuf Safa, Lyndon Arthur, Jake Kilganoon, Jack Cullen, Mickey Ellison, Lee Carter and Alex Dickinson.
Parker v Fury is exclusively live on YouTube for £14.99 in the UK and €16.99 in the Republic of Ireland until midnight. Go to www.youtube.com/parkerfury for booking information.
QUESTIONS AND ANSWERS
Where will the fight night be shown? 
The whole show will be available on YouTube.com/ParkerFury on September 23rd 2017 from 6pm. Users should head to youtube.com/ParkerFury today and subscribe for free so as not to miss out in the pre-fight build up. On the night, there will a portion of the undercard free-to-view in the event build-up before switching over to the main event and the rest of the card on PPV.
You can watch this event anywhere online or on your smart TV, game console, PC, Mac, mobile, tablet and more. https://www.youtube.com/watch?v=KF0fqPBNCjI
How can fans buy the fight? 
Fans in the UK can as of now buy the fight in three quick and simple steps 
How to purchase videos for desktop and laptop users here
How to purchase video for iPhone, iPad, iOS users here
Users will have to sign up for a YouTube / Google account, if they don't have one already, which is easily done through http://accounts.google.com/signup
Once signed in, fans should head to http://www.youtube.com/ParkerFury where they will see a link to the PPV live stream. Click that video.
Fans will be prompted to pay for the event – which is carried out through Google Payments. Simply add your payment details and purchase the fight. This can be viewed on any one device which the user is signed into.
Will there be support available for fans?
Google will have a support team available for any issues on the night, options for support are listed on http://www.youtube.com/purchases once the purchase has been made."
LATEST BBTV VIDEOS