#BBTV regular the one and only Tommy Dix coming straight from the old school!
In the video above Tommy recalls the time he saw a familiar face in Mexico that led to his surprise meeting with legend Marco Antonio Barrera. Tommy also tells us of the time he sat on the top table with the Raging Bull Jake Lamotta. Plus his time with Roberto Duran, frosty reception from Chris Eubank and more…
In the video below Tommy gives his experienced breakdown and prediction on the highly anticipated heavyweight world title fight between current champion Deontay Wilder and former champion Tyson Fury in a battle of unbeaten forces.
Who will prevail? Tommy Dix has the answer.
Also below more videos from Tommy and also his latest blog, Around and About with Tommy Dix.
Who is Tommy Dix's Current No1 Pound for Pound boxer? And who does he think will win when Josh Warrington defends his IBF featherweight title against Carl Frampton in December?
We get the old school view on pay-per-view boxing from Tommy Dix.
On former British champion Nel Tarleton and more…
AROUND AND ABOUT WITH TOMMY DIX: LOCAL LADS DOING GOOD
Well what a great last couple of weeks its been for me in the fight game. The icing on the cake for me was when Wycombe King won the ABA Development Championship.
The week prior Wycombe (below pic) had won his semi final at Croxteth Sports Centre against a top class performer in Arron Price.
Many at Croxteth Sports Centre though Collyhurst and Moston's Adam Rasool (above) should have joined his club mate Wycombe in the finals at Oxford but it was not to be as Adam lost a split verdict in the semi's.
Then on Friday prior to the Development Semi Finals a young boxer from Chester who boxes for Birkenhead Venture boxed brilliantly to out point Rotunda's Seamus Blything on the Rotunda's show.
What a night that was it was a throw back to my era with a standing room only crowd fantastic atmosphere and first class sporting fans. What was great about this show to me was being able to meet Paul, Liam and Stephen Smith and young Ollie had his photo taken with Stephen. What ambassadors the Smith family are for Liverpool and boxing, a beautiful lovely family.
Yes its been a very good fortnight boxing wise and now a young boy from the Chester arear will be boxing for the Golden Gloves ABC on their show at the Fusion Night Club in Liverpool.
Being known as I am around the circuit people have said to me why is it Chester boxers are boxing for other clubs namely Collyhurst and Moston, the Golden Gloves and the club I am vice president Birkenhead Venture. Well that is an easy question to answer also by answering that question I could easily upset people however I am not in public relations and if people don't like what I say so what? I think that my advice that has been given to the young boxers has been and is proving correct.
The two boys at Collyhurst have designs on turning pro so does the boy at Golden Gloves. The boy at the Venture is in early days. This is the reason why these boys are where they are.
Wycombe King had already joined at Collyhurst, Adam Rasool was put into contact with me by that wonderful ultra talented boxer Danny Boy Peters.
I was impressed with Adam I found out he worked near Manchester and worked shifts so I made arrangements to visit two gyms in Manchester, Collyhurst and Moston also Ancoats why? Because in my opinion I knew Thomas McDonagh, Pat Barrett and Paulie DaSilva and they had been trained by a man who had no peers Brian Hughes. Any man that Angelo Dundee phoned up for a chat and Emanuel Steward wants as a partner says it all.
I had spent time with Brain at the Collyhurst gym and Thomas, Pat and Paul were carrying the same hymn sheet. I also have great respect for Steve Maylett at Ancoats as I have seen his old school methods and seen how he turns his boys out.
Adams father came with us and Adam seemed to get on straight away with Pat Barrett as Adam was looking around with his father Pat said I like him he's a fighter, I said Pat he reminds me of Sugar Gibiliru ex British Champ who drew with Pat once.
Well Adams father said Tom, Adam wants to join Collyhurst so I phoned Steve up and he understood. The beauty of Collyhurst for Wycombe and Adam is this, due to work commitments they cant always train with the amateurs so they train with the pros.
This is a great benefit for them as when the time comes for them to leave the Simon Pures they wont have to go anywhere else they are in the right place for them. Proof of that is Wycombe won the Development Championship and Adam lost his semi final on a very questionable split verdict.
Now we come to the two boys at the Golden Gloves, the boys work in the Merseyside arear and once again I have a long connection with the Gloves some of my great friends boxed for the Gloves Terry Wenton, Shea Neary, George Schofield, Danny Peters, John Hyland, Gerry Higgins and a lot more and I have professionals to work out with.
Now we come to Young Ollie when I was approached by a man Billy Grant over Ollie. Billy was an apprentice at the same firm as myself and knew of me boxing at the Relinese ABC and when that shut down I went to De Havilland and then when I travelled with my job it was wherever I was working. I made arrangements to meet Billy and Ollie's father. I put my cards on the table and said look no matter what people think about me or I about them if I thought they could bring the best out of Ollie i'd tell you to go there, however I believe the best club for him to go to is Birkenhead Venture, the reason being I have seen what the trainers there can do. Once more I was proved correct as Ollie Parr (pic below with coach Sean Trodden) virtually gelled straight away not just with the trainers but with his club mates as well.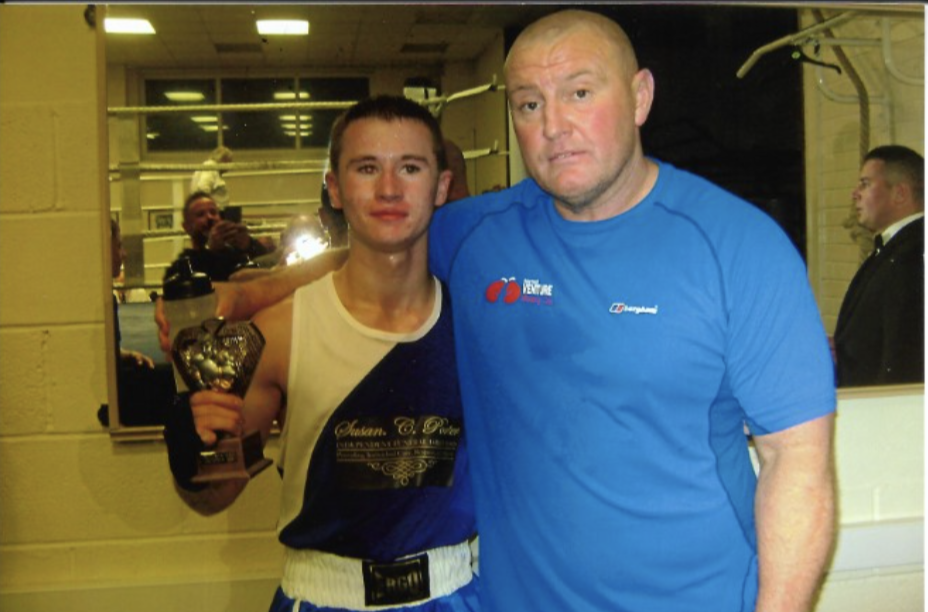 My old trainer who I say taught me every move I knew expect the wrong ones (Fred Pickering was his name) used to say a good boxing club is like a family.
I have found this to be true, Adam and his father along with others from Collyhurst made it their business to support Wycombe in his Championship win.
The same with the Golden Gloves Wayne Smith's boys are not short on support at shows or in championships.
Ollie Parr out of the ring for 12 months had a great turn out of support from the Venture.
So now you know why some boys from the Chester arear are at different clubs . one thing to notice at these clubs there second best is not good enough and why I rate their club trainers is this, most of their boxers have different styles. These trainers don't go out to alter the boxers style but try to eradicate the faults and improve the attributes.  I am pleased how these boys are coming along and who knows how far they can go?
Of course there is another reason for me to recommend these clubs along with their trainers it is the common denominator and a rare one at that, each of these trainers I have seen turn defeat into victory for the boxers. One name I have not mentioned who I also greatly respect as a trainer is George Schofield who I say is the most underrated trainer in this country. I saw George one night not just turn a fight around but turn a career around.
I have seen Sean Trodden and Danny Kelly turn defeat into victory on four occasions for Masher Dodd.
I have seen Pat Barrett and Wayne Smith turn fights around in a 50-50 bout I look at the corner as that can be the difference I hear TV pundits on about great trainers and they all nod their heads like donkeys. My assessment of a great trainer is when they can turn a fight around until then the jury is out.
I also look how a trainer can help not the most talented reach championship level and in that school there are very few tutors.
One  man I have been impressed with is Tony Sims. This gentlemen has all different styles in his gym and knows how to get the best out of them.
Panic is not in a top class trainers vocabulary or dictionary and Pat Barrett, Thomas McDonagh, Steve Maylett, Wayne Smith, George Schofield, Sean Trodden, Danny Kelly and Tony Sims are of that ilk.
I suppose this will cause some thought and disagreement but there again it would not be right for us all to see things the same way.
Until next time,
Tommy Dix
LATEST BBTV VIDEOS