Ben "Duracell" Jones knows a thing or two about the featherweight division after almost a dozen years in the business. Once ranked number four in the world by the WBO at 126 lbs, and still on the edge of BoxRec's UK top ten, he has previously held the inter-continental edition of their championship belt. His resume can also be extended to cover an English title and the WBO's European regional belt at super featherweight. But, it is in the division of Willie Pep, Azumah Nelson and Barry McGuigan where his true passion lies.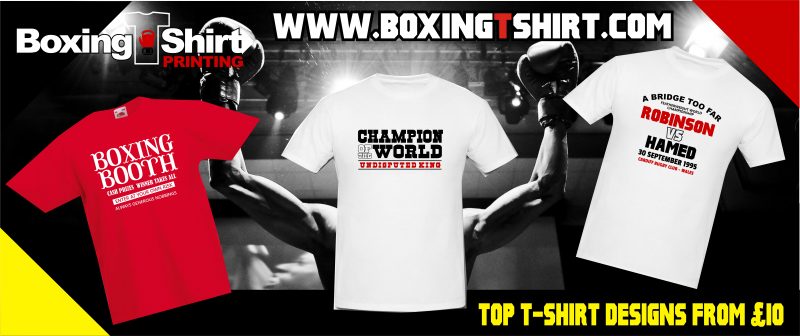 I caught up with him earlier this week to discuss all things featherweight. In the space of a frantic 40 minutes we cut through the upcoming Selby vs Warrington title fight, Carl Frampton's recent victory over Nonito Donaire and the extravagantly rude health of the division both at a global and domestic level. A landscape where a virtually unprecedented four British fighters occupy the world's top ten.
Jones, the affable Crawley puncher, has his own history with Lee "Lightening" Selby, a former-opponent that he talks about with warmth and respect. Eight years ago they met in a six rounder at the Brentwood Centre in Essex and the Welshman nicked a tight and perhaps contentious decision. Jones remembers the contest well.
"We were both on our way up. Shortly before he smashed it against Stephen Smith and others. His career quickly went from one extreme to the other."
"He started very well. The first two rounds were his. He could well have won the third as well. But, I think I won the last three. So, it was a draw all day long. I think he run a little bit out of steam and I kept up the pressure on him. It was supposed to be a ten round fight but it got changed a week before because of Selby's team. That suited him and not me."
Without any sense of animosity Jones feels the outcome could have been very different. Something that he concedes with a rueful smile may well have led to contrasting career paths for both of them.
""In the last round he kept checking the time on the giant scoreboard to see how long was left. A round or two more and it was mine. It's the difference with boxing sometimes. You can have the luck with you or not. Don't get me wrong he's a good fighter."
I mention an old interview where he described himself as Selby's "Bogeyman" and I ask him to elaborate. He says, with a chuckle, that it is all a matter of styles. That his high intensity work-rate, and closing down of space, was something that gave the then inexperienced Welshman considerable challenges. An approach that finds its obvious parallels in the technique of Josh Warrington, who is known for his strong engine and pressure fighter credentials.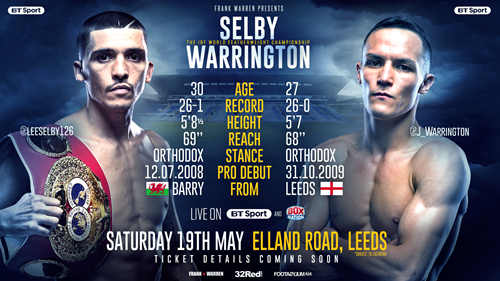 Jones recognises this comparison but throws out some fairly strong caveats. Despite, Warrington's recently improved stoppage ratio –including the likes of Dennis Ceylan and Patrick Hyland– he still doubts that the Yorkshireman has the necessary power to cause the champion significant problems.
"He's got a great work rate. I truthfully don't think he has got the power for it though. He has to smother Selby and put him out of his stride. But, if the punching isn't hurting then it isn't going to work. Warrington shouldn't bother him, but you never know in the later rounds. But Selby has the experience to know how to nick a few breathers here and there."
When Selby enters the ring to defend his IBF featherweight title for the fifth time on 19th May he will do so from the away corner. Fighting Warrington, at the famous Elland Road stadium, he will have to contend with a vocal and heavily partisan set of supporters. It will be a requirement for him to successfully negotiate the famous Elland Road "Roar" and to supress the "Mighty Leeds" ghosts of Don Revie, Billy Bremner et al.
Much of the pre-fight press has sought to create mileage out of this hypothesis. A version of the future where Selby will freeze in front of a fired up crowd or where the Elland Road faithful will sing and shout their man into extracting the extra energy reserves to force victory. Jones is unequivocal in his assertion that Warrington's home advantage will have little impact on the outcome.
"No. I don't think Lee has that in his makeup to worry about that. Lee came up the hard way jumping on shows that had nothing to do with him. It doesn't bother him where he fights or if they scream or shout at him. He's Welsh but most of his fights haven't been in Wales."
Back in the day, Jones' team were eyeing Josh Warrington as a potential opponent. With their similar styles it would have contained all the ingredients of a standout, high voltage, and crowd-pleasing encounter. But, one that Jones feels he would have won due to his additional edge in the power stakes.
"I would definitely have won, yeah. I would have loved every minute of it. He's not a huge puncher but he does have a massive work rate. In them days so did I. It would come down to who can punch harder. It would have been a cracking fight."
Not surprisingly, Jones is aligning himself strongly with Lee Selby, when it comes to picking a winner on the 19th May. However, he definitely feels that Warrington is not without hope of overturning the 1/4 price that the bookmakers have nailed on to the champion and readily admits to underestimating him in the past.
"No way did I ever think he would stop Patrick Hyland. I thought they had overlooked him. But, Warrington made him look very ordinary."
The man known as "Duracell" is reluctant to elaborate on how and when Selby will secure victory, but after some gentle cajoling offers a more exact prediction.
"Blimey! Yeah, maybe a stoppage. But, more than likely the judge's card, I think. If not then it will be Selby late. There's no reason to doubt him. He's been there done it and proved enough people wrong."
With the big fight prediction done and dusted we turn our attention to Belfast's Carl Frampton. The Jackal is somebody that Jones knows extremely well from numerous sparring sessions. Frampton's camp respecting and valuing the energy, commitment and intensity that he always brought to the gym. Jones, recalls these days fondly.
"I used to always spar with him. Frampton used to come to Crawley and I used to go up to Battersea and spar with him there as well. Barry (McGuigan) used to ring me all the time. There was a point when I was one of his main sparring partners. Probably because it didn't matter what shape I was in. I always had good energy and was strong enough to stay in there with him."
Following, Frampton's somewhat lack-lustre return against Horacio Garcia last November, there were some that thought the 31 year old was on his way down. In the run up to last month's meeting with Nonito Donaire there was speculation that not only was Donaire making the customary pre-fight noises of confidence but that he was linking them to numerous financial investments at Belfast betting shops.
However, on fight-night Frampton dealt impressively with the "Filipino Flash" on his way to a convincing points victory. A performance that was sufficient to crush the theories of his demise at least for the foreseeable future. Where some saw the Donaire fight as a potential banana skin, Jones takes a predictably more insightful view.
"That was a very well picked fight. Donaire is a great fighter but at the end of his career. When I saw him against Nicholas Walters I knew he was the perfect fight. One thing Frampton has is great timing. It's fantastic and he can punch. A very solid hitter.
"Donaire has come up through the weights and that was always going to be the difference. Even though he has been a featherweight for quite a few years. Once he got hit a few times he got knocked off his style and ran out of ideas. It was always going to come down to power."
Jones is doubtful that the boxing public will get to see the heavily anticipated decider between Frampton and Leo Santa Cruz in the immediate future. The Mexican and world number one is scheduled for a rematch with Abner Mares at the Los Angles Staples Center in a little over a months' time. More likely is a Frank Warren promoted matchup between the Belfast-man and the winner of Selby vs Warrington. A classic, domestic super-fight that is sure to capture the attention of the public and get the cash registers ringing with glee.
All of this points to a featherweight division that is in almost preposterously good health at every level. Close to home, beyond the names already mentioned, it contains the likes of Scott Quigg, Reece Bellotti, Kid Galahad, Isaac Lowe and Ryan Walsh. Of all these, it is Reece Bellotti that Jones feels exhibits the most potential to break out from the pack and move forward. His admiration for the Watford puncher who has stopped 11 of his 12 opponents –including Jones last time out- on the way to commonwealth glory is clear.
"Bellotti can hit. His boxing ability may not be fabulous but he can punch world class. That's a game-changer. Its early doors in his career and there's lots we don't know. If he's managed well and in there with the right people, he will do well."
So, on a personal note what is next for Jones? He has no dates set for a return to the ring but has some upcoming commentary stints in the US lined up. With his appealing mixture of knowledgeable bonhomie and honest dialogue, it is hard not to think that he will prove to be a natural for television punditry.
BBTV VIDEOS